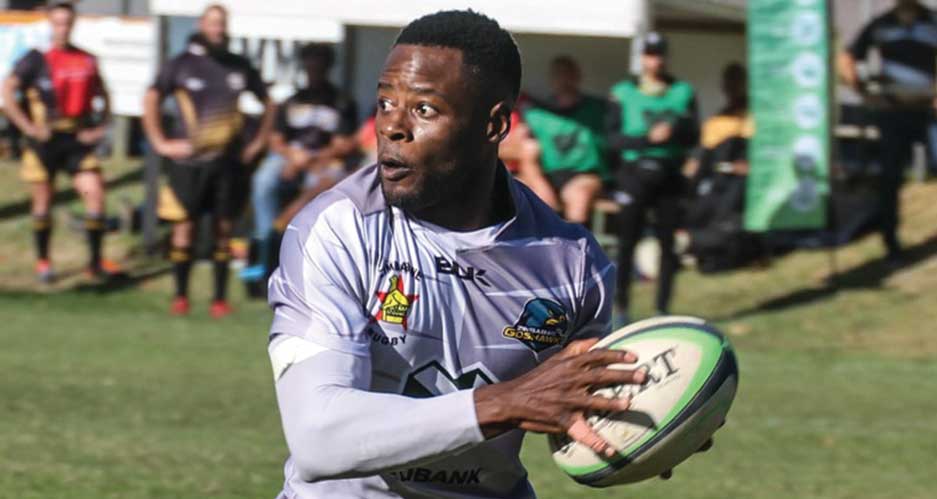 BY MUNYARADZI MADZOKERE ZIMBABWE national 15s rugby team captain Hilton Mudariki is contemplating establishing a sports-centred foundation to assist and develop sporting talent in the country as his career in national colours approaches the twilight zone.
Mudariki led the Sables in their failed bid to qualify for their first Rugby World Cup since 1991 at the continental qualifiers World Cup in France last month after losing 34 – 19 to Namibia in the semi-finals and eventually finishing fourth at the tournament having failed to beat Algeria in the bronze medal match.
The 30-year-old scrumhalf revealed that he wants to represent the country for a few more years as he established a foundation while several clubs are chasing his signature in the aftermath of the World Cup qualifiers.
"After some good performances in France, I have been approached by a few clubs and I am currently still weighing my options. In the future, I would like to represent the national team for a few more years. I am also in the process of setting up a foundation that will be sports-centric with a vision to help talent in Zimbabwe grow," Mudariki told GQ South Africa magazine.
He added: "Having been exposed to great coaches and players, I would like to pass on what I have learnt from them to the next generation so definitely I would like to be a team mentor. And from my personal admin team, I am not yet in a position to pick because I believe my team and I still have a lot of growing to get where we yearn to be."
A lot was expected of the Sables at the Africa Cup after they camped in South Africa for over 10 weeks and took part in the Currie Cup First Division to prepare for the Rugby Africa Cup tournament in France which also doubled as the qualifiers for next year's Rugby World Cup.
The team also played a Test with the Netherlands and won.
Mudariki says despite the disappointment of failing to qualify for the 2023 Rugby World Cup which will also be hosted by France, the team is now stronger and better which points to a bright future.
"First and foremost, the experience (in the Currie Cup and at the Africa Cup) was unbelievable. In South Africa, we had the opportunity to play experienced players, week in, and week out. This is something that had been lacking in our previous qualifier preparations.
"We played in the Currie Cup under the banner "Goshawks" and this prepared us well for our European tour. In the Currie Cup, we managed to salvage three wins in a row, something that a Zimbabwean team has not done since the early 90s.
"Furthermore, in preparation for our qualifiers, we had a one-off Test against the Netherlands and we managed to secure a victory. This was monumental, not only for our preparations but we managed to create history by beating a European side, something that has not been done in 25 years.
"The team is now stronger and better despite not qualifying but we have laid a formidable foundation for years to come. I am truly honoured to not only be a part of this team but to lead it," Mudariki said.
The Sables skipper also shared his sentiments on the scourge of mental health issues.
"As men, we struggle to speak but I have found my comfort in opening up and speaking about it. I encourage all men and society as a whole to talk about the issue that we might be facing.
"I also try to let my routine as an athlete assist me as it keeps my mind off things. Rugby gives a lot of pressure. I am not going to lie, but I am also fortunate enough to be in systems that have come with mental coaches," he said.
"The worst circumstance for any athlete or brand is the disease of negativity. You wake up one day everyone loves you, the next everyone is against (you). I am actually I am in a position where I can call on close circle to get me through it. My mother is my strongest support system," he added.
Hilton is the son of Zimbabwe Tourism chief executive officer Winne Muchanyuka while his brother of France-based brother Farai is also a key member of the senior national 15s rugby team.
He has been a key member of the Sables since making his international debut in 2013 while he holds the distinction of having captained the country in both the 15s and 7s formats of the game of rugby.
A product of South Africa's highly competitive schools' rugby structures, Mudariki represented KwaZulu-Natal province as a Michael House College schoolboy at the Under-18 Craven Week in 2010.
Soon after high school, he featured for the Western Province Under-19 Currie Cup side before moving to England, where he had stints with English giants Saracens and lower-tier side Amersham and Chiltern.
In 2014, he joined the University of Johannesburg (UJ) ahead of the 2015 Varsity Cup after being offered a bursary to study Sports Psychology and a rugby contract at the prestigious university, which is one of the feeders of the Golden Lions franchise.
After completing his tertiary education Mudariki moved back to the United Kingdom, where he spent two seasons at English second-tier side Jersey Reds before the uncertainty of Covid-19 derailed his plans slightly as he had to return home to Zimbabwe with one year remaining on his contract.
Related Topics