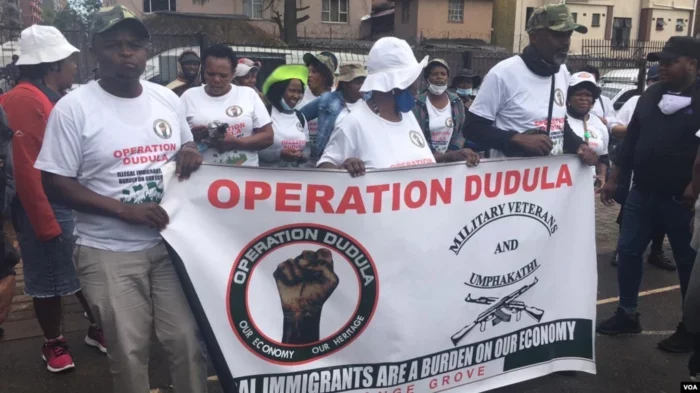 BY SILAS NKALA MIGRANTS based in South Africa drawn from different countries, including Zimbabwe, are reportedly resisting efforts by anti-migrants group Operation Dudula to close Yeoville market, which was founded by foreigners.
This was revealed by Zimbabwean human rights activist, Nobuhle Ajiti, who told NewsDay that members of Operation Dudula were trying to close the market, but migrants with the help of South African police and members of Julius Malema's opposition Economic Freedom Fighters (EFF).
"Yoville market, operated by migrants has been selling foreign foodstuffs such as egusi from Nigeria, and other foreign foods from countries such as Seychelles, Ghana, Congo and others," Ajiti said.
"Operation Dudula members want the market to close, saying they don't want foreigners selling their wares there. In the past weeks, they have been closing other markets and are allocating the spaces to locals."
"I was also on the ground to protect the market. Operation Dudula is now facing resistance as a growing number of South Africa nationals are beginning to protect foreigners," she said.
Ajiti, who early this year facilitated the repatriation of 22 Zimbabweans at the peak of Operation Dudula, said her job in South Africa, was to help vulnerable groups through various means including feeding them and reuniting displaced families.
Her organisation also assists foreigners on labour issues.
Follow Silas on Twitter @silasnkala
Related Topics