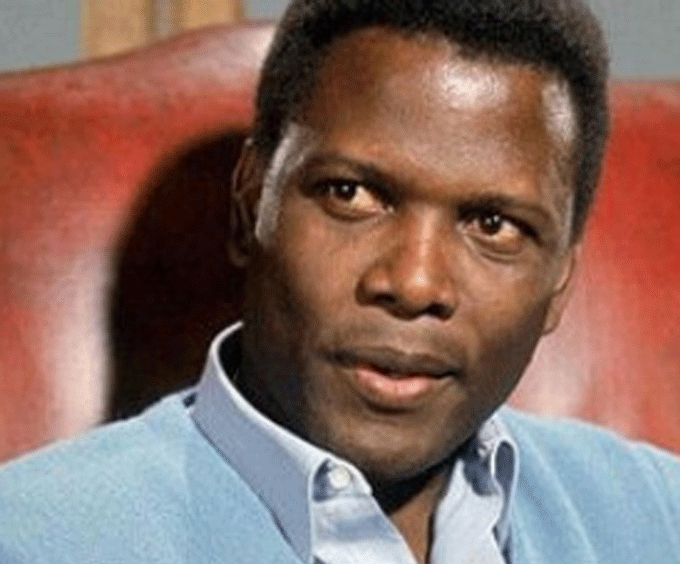 DR YVETTE ALT MILLER
A famous actor found success after a kindly Jewish waiter taught him to read.
Sidney Poitier, who died last week at the age of 94, was a towering presence for much of his life. The first Black Hollywood movie star, Poitier was the first Black actor to win an Academy Award for Best Actor, for his starring role in the 1963 movie Lilies of the Field. He appeared in over 39 movies and worked as a director, novelist and served as ambassador from the Bahamas (where his family lived) to Japan and the UN.
"I walked with kings," Poitier said about his seemingly charmed life. Yet in a 2013 interview, he revealed the secret to his early success: an elderly Jewish man who taught him to read, enabling Poitier to escape from poverty and illiteracy to achieve his potential.
Born in 1927, Poitier's parents Reginald and Evelyn Poitier were impoverished tomato farmers. "There is the phrase that says he or she worked their fingers to the bone," Poitier later recalled. "Well, that's my dad. And he was a very good man."
Poitier was born in Miami — three months premature — while his parents were in America on a trip to sell tomatoes. His parents already had six children, and they weren't sure whether Sidney would survive. His father even bought a casket, thinking there was no way his premature baby would make it.
Against all odds, Sidney survived, but his childhood was a difficult one. He wore flour sacks, lived in a series of impoverished towns in Florida and the Caribbean, and attended school for only two years — he left at the age of 12 to take a menial job.
By the time Poitier was 14, he was hanging around with an unsavoury crowd. His older brother Cyril was married and living in Miami, and his parents sent Sidney to stay with him to take him away from negative influences. Once he was living in America, Poitier decided he wanted to be an actor, and made his way to New York City in 1943, at the age of 16.
There, he auditioned with the prestigious American Negro Theater in Harlem, but when they handed him a script to read, Poitier wasn't able to make out the words. With so little schooling, he was effectively illiterate. Unfit for any other job, he went to work as a dishwasher in a New York restaurant where he met the elderly Jewish waiter who would change his life.
"There was one of the waiters, a Jewish guy, elderly man, and he looked over at me, and he was looking at me for quite a while," Poitier recalled. "I had a newspaper, it was called Journal American. And he walked over to me, and he said, 'What's new in the paper?' And I looked up at this man. I said to him, 'I can't tell you what's in the paper, because I can't read very well.' He said, 'Let me ask you something, would you like me to read with you?' I said to him, 'Yes, if you like.'"
They studied late at night in the restaurant, long after closing time. The elderly Jewish waiter — Poitier later described him as patient and bespectacled — painstakingly taught Poitier the meanings of punctuation marks and how to sound out words. Poitier later described: "He sat there with me week after week after week." They used newspapers to sound out words. During the day, Poitier listened to the radio to expand his vocabulary and diction; at night he read with the Jewish waiter. Eventually, after about six months, Poitier was finally a fluent reader.
He tried out again for the American Negro Theater, and was accepted as an apprentice. Still a complete unknown, Poitier had to work in the theater as a janitor, as well. One day, another of the theater's actors — none other than future superstar Harry Belafonte — failed to show up for rehearsals on a day that a Broadway producer was in the audience. Poitier stood in for Belafonte, and was chosen for the Broadway play: an all-Black production of Lysistrata in 1946.
Poitier continued to work on stage and in television, and still had to resort to menial jobs to make ends meet. In 1950, he finally gained widespread recognition as a serious actor for his role as a doctor pursued by a racist patient in the film No Way Out. Other hit movies soon followed, including Cry, the Beloved Country in 1952 and Blackboard Jungle in 1955, in which he plays a gifted, troubled, student.
He always insisted on taking dignified roles, playing upstanding characters with strong moral fiber.
Poitier wrote three autobiographies and one novel, a science fiction-tinged mystery called Montaro Caine, published in 2013. The main character, named Montaro, is a Jewish graduate student whose parents were Jewish immigrants from Austria. The book was critically panned and never sold many copies, but it might have been Poitier's tribute in some form to the elderly Jew years before who first taught him to write.
Once Poitier was established as a successful actor, he tried to find the waiter who'd helped him so much during his teenage years. To his lasting regret, Poitier never found him. — Online
Related Topics