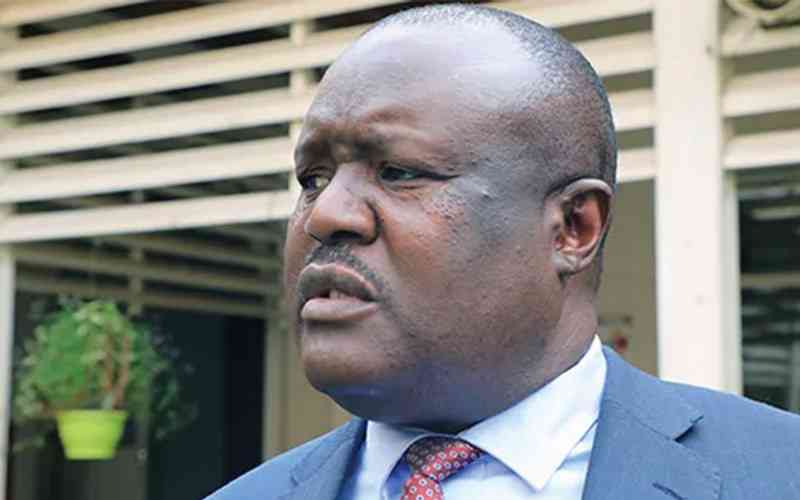 THIS week, the country's leader celebrated Independence from colonial rule by celebrating an invitation to visit our former colonial master.
On the eve of the country's 43 years of alleged Independence, Britain's ambassador cleverly slid into State House and gave, we are told, President Emmerson Mnangagwa a letter from King Charles, the owner of the United Kingdom, our former owner.
Our leader could barely hide his excitement, running outside and telling the world: "I'm most excited to announce that I have accepted an invitation to the coronation of His Majesty King Charles III. Yesterday I met with the British ambassador, Melanie Robinson. We also discussed trade, investment, and the special relationship between Zimbabwe and the UK."
And we thought this business of longing to be loved by the British was a Robert Mugabe thing. It is good to see that his legacy continues.
Hunger diaries
All patriots were in Mt Darwin for Tuesday's annual Independence Day celebrations. For those not in the know, this is a day where people are gathered in one place to be told to be grateful and that everything in the country is going well.
According to our owner, nobody in the country is hungry at all.
"This 2022/2023 season, our country is projecting over 3,2 million metric tonnes of cereals against an annual requirement of 2,2 million metric tonnes. Together, as one united and hard-working people, we have attained food security and food sovereignty."
Meanwhile, the perennially sceptical among us were reading a report by the World Food Programme, which says it had to feed over 700 000 Zimbabweans in February and March.
According to the report, there are 3,8 million people projected to have insufficient food this year. Those people will be shocked to hear that they "have attained food security".
These statistics are from agencies of the same government that says all our bellies are full. Clearly, someone is working hard to lie to our owner.
Pop-up Mohadi
It was a delight seeing our former vice-president, who is still vice-president Kembo Mohadi, officiating at the Independence Day celebrations.
There are some among us who were still harbouring crazy thoughts that being fired from the government means you have to stop doing your job. The man has never stopped, popping up everywhere and executing the same duties that he was relieved of not long ago.
After all, the man committed no crime. Why should one lose such a top job simply for showing love and affection to subordinates?
In Mt Darwin, Mohadi presided over the important matter of handing the Uhuru Cup to Highlanders FC, who beat rivals Dynamos in a penalty shoot-out on a pitch that would make any Fifa official proud, if it was in 1923. Clearly, our sports facilities are in good hands.
Most delightful was seeing Mohadi setting the match off by kicking a ball. Scoring, as the nation knows, is something this man knows very well.
Hit back-to-back
After begging his boss for another chance to lose an election, Ziyambi Ziyambi was granted his wish in the Zanu PF primaries last weekend. After losing the first round, he asked for another whipping. This time, he lost by an even wider margin, being deserted by 2 000 voters this time.
Suffering a similar fate was Justice Wadyajena in Gokwe Nembudziya, who also got another thumping, as per his wishes. Still, he insists that he is still loved.
"I come from Nembudziya where the people love their son and know who they want, regardless. The video of folks kneeling and welcoming me is genuine love that you can't coerce," Wadyajena said.
Well, it seems the people there show their love to people by voting them out.
Unruly Ndiweni
Muckraker was tickled this week by the actions of one Chief Ndiweni, who was ousted from his position for being unruly and for having an accent not befitting a chief.
With anger still high across the country following a documentary by Al Jazeera showing how our "vene vayo" are enjoying the country's wealth on our behalf, Ndiweni and a group of people did what any sensible person would do — they went to protest to a foreign government.
According to a post showing Ndiweni handing over a petition to a British "Bobby" manning the door at Number 10 Downing Street: "Chief Ndiweni hands over our nine pages of argument as to why 'Gold Mafia' stinks! Zanu PF stinks and the reek of corruption pervades every pore of the evil regime! Get thee gone Zanu PF."
Zanu PF must be reeling at these developments. Now that a chief has handed a petition to the British government, they will immediately stop looting.
Dastardly crime
It has been reported that a man was arrested recently for a dastardly crime that should shock the whole nation — he said the President has failed and could lose elections.
According to a report: "Prosecutors said on April 7, Dangirwa was at corner of Bank Street and Cameron Street and was heard by the complainant, a police officer, shouting that Mnangagwa was failing to run the country. He went on to say Mnangagwa would lose the elections. The complainant identified himself as a police officer and ordered the accused to stop insulting the President."
Such criminal activity should never be allowed to fester in our patriotic country. How someone can say our leadership has failed to do what it promised — things like containing inflation, creating two million jobs, ending loadshedding and fighting corruption — is absolutely treasonous.
Even more treacherous is the suggestion that he could lose elections. In what world should people say such things and still be allowed to walk free on our potholed streets?
We thank our security forces for always being alert to such criminal activity.
Spreading love
Muckraker, like all Africans, welcomes a statement by the president of the Pan African Parliament (PAP), Honourable Chief Fortune Charumbira, noting his grave concern on the outbreak and escalation of armed conflict between the Sudanese army and a paramilitary force in that country.
According to the chief: "Clearly, there can be no winner in this conflict. In that regard, the Pan African Parliament implores all parties involved to settle their differences through mediation and dialogue to prevent any further loss of invaluable Sudanese lives and work towards the restoration of lasting peace and stability in the country and the region."
He is right. We all know that our chief of chiefs is a stickler for law and order. He has never been known to break the law. We are, however, surprised, given recent developments, that our chief did not beg them to kiss each other and spread love, just the same way as an uncle loves a niece.
Related Topics