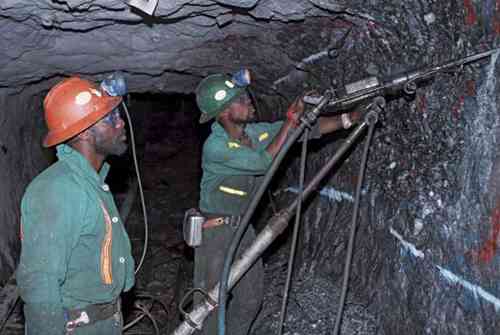 "A luta continua!" and "Amandla, Ngawethu!" were the two main solidarity phrases that dominated last week! A woman from South Africa spoke passionately about how a community has had to live on a very small piece of land and the women are struggling to feed their children. A child spoke from Zambia about how lead has affected their ways of life as a community and a man spoke about how his community had been affected by cancer as a result of the mining that is happening in his community.
All these stories sounded similar and were told with such rawness one could relive the community experiences with those telling the stories. What was even more telling were the community shared experiences and how there seemed to be such striking similarities. All these were the lived realities of members that lived in areas where mining took place.
Meanwhile, the mining companies were having their own parallel indaba with a totally different focus — how do they mine sustainably and within the shortest possible times? It got me reflecting on how as Zimbabwe we are managing our natural resources.
A minister of the word, an amazing Bishop from Zambia, spoke about how God created the earth and gave humans dominion over it. This kind of dominion is not about dominance but responsible utilisation of the environment that sustains life. Dominion is all about co-existence of flora and fauna. Sadly, it is the humans who have failed to co-exist peacefully with other species. In this regard though, the focus is on natural resources — humans have struggled over their lifetime to take good care of their environment.
By mining like there is no future, the humans have failed to show care for their environment and this has resulted not only in the struggling of the environment but other humans as well. It is human greed that they extract minerals from the earth with little regard for the land and the humans of that land.
Taking care of the land and each other has almost become a fallacy. As the different communities at the Alternative Mining Indaba spoke, it became painfully clear that there is a lot of politics around the mining sector. It is complex and at the centre of the struggle is humanity that is dismally failing to ensure safety for the environment and itself.
At the heart of mining is profit. Although many efforts have been put in place by the mining companies, it is evident that it is just not enough to balance the equation of environment and humanity. Humans are suffering as mining corporations extract minerals — from being dispersed from their land, losing lives, sources of livelihood, culture and all sorts of ills that come with their community having minerals that the mining companies need.
There are issues around a people's culture like their way of life that can never be replaced once they are moved from their land. How do they move with their family graveyards or their flora used as a source of medicine? Yes, mining can be happening alongside the preservation of a community's way of life. After all, taking care of humans and their land is what good stewardship is all about.
Zimbabwe was a constant example throughout the Alternative Mining Indaba with its lithium narrative being at the centre of the conversations. Well, diamonds also were mentioned and gold but I will focus on lithium.
Zimbabwe placed a ban on the exportation of raw lithium giving a few the privilege to keep exporting the precious and most wanted metal. The thing though is that looking at the global narrative around lithium, Zimbabwe may have misunderstood its place on the global lithium market. Questions then arise with this ban — is Zimbabwe capable of processing lithium ore and add value by manufacturing lithium batteries?
Does Zimbabwe's lithium shake the global market at any level if they maintain the ban? Is Zimbabwe conscious of what the global lithium trading is all about? Did whoever made the ban do due diligence around their decision?
Well, the bottom line from the indaba is that as Zimbabwe we may need to relook the decision on the lithium ban.
There is an urgent need for Africa, and Zimbabwe in particular, to relook the way mining is done so as to become better stewards of the natural resources of minerals and the humans that are affected by the mining activities. Communities need to be empowered enough to make the necessary decisions that can protect their land and also benefit from the mining done in their respective areas. The Zimbabwean government can support this preservation by ensuring that the rightful legislation is put in place.
Civil society can support this whole process by facilitating a process of empowering communities so that they know their rights and can rightfully demand what is due to them. Moreover, civil society can hold both government and mining corporations accountable for their actions as both duty bearers and business. This is a complex narrative but it is doable. More political will and commitment needs to be shown by the government to ensure that there is the protection of its citizen's rights.
Meanwhile, you and I can keep speaking out against human rights abuses we observe in the community and ensure that the primary role of humanity is to preserve the environment even as they realise capital is prioritised. It is doable and we keep exploring what is within our power to ensure we make a difference. It may be difficult but things are possible so we realise a new way of mining that places communities and their needs at the heart of mining. We deemed it people over profits! Love is not just about the eros we celebrated this past Valentine's Day, it is also about loving people and nature. Yes, we need to rethink our ways. Until then, we live, laugh and love louder in a bid to show the world that we were here, becoming better, making our mark, and leaving our footprint as we make the world a better place!
Chirenje writes in her personal capacity as a citizen of Zimbabwe. Twitter: @graceruvimbo; Facebook: Grace Chirenje; Instagram: @graceruvimbo
Related Topics