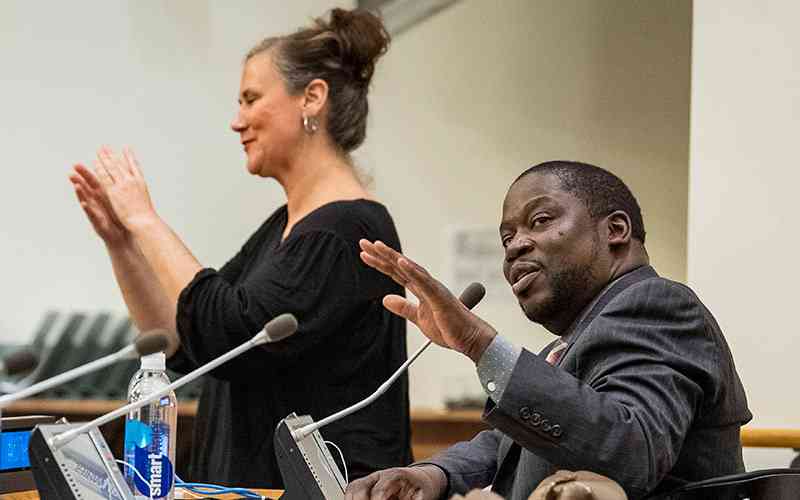 THE United Nations Convention on the Rights of Persons with Disabilities (UNCRPD) (2006) defines people with disability as those who have long-term physical, mental, intellectual or sensory impairments, which in interaction with various barriers may hinder their full and effective participation in society and on an equal basis with others.
Therefore, disability is defined as negative interactions that occur when a person with an impairment interacts with the attitudinal and environmental barriers.
Subsequently disability leads to loss of opportunities, hinders effective and full participation on an equal basis with others in society. Disability is an evolving concept and the fact that disability is heterogeneous makes it a complex phenomenon.
The different models of disability, which include medical, charity and social model, are still evident, but the Convention on the Rights of Persons with Disabilities (CRPD) promotes the human rights model, which is anchored on the understanding that people with disabilities are human rights bearers, who should have equal obligations as everyone else in society.
The World Report on Disability (WHO, 2011) estimates, 15% of the world's population to have a disability and 80% of people with disabilities to be in low-income countries, and more than half to be women. The situation has further exacerbated the poverty disability cycle and the intersectional barriers experienced by women and girls with disabilities. Disability is a cause and consequence of poverty.
Milestones achievements
The Disabled Persons Act (Chapter 17:01) though it has its weaknesses was a major law addressing the needs of people with disabilities since its enactment in 1992.
Zimbabwe ratified the UNCRPD and its optional protocols on September 23, 2013 and this was regarded as a major commitment by the government to align to international protocol and promote the rights of people with disabilities in Zimbabwe.
The Constitution for Zimbabwe Amendment (No. 20) Act, 2013 provides for disability and clearly recognises the rights of people with disabilities. Section 3 of the constitution provides for values and principles that include the recognition of people with disabilities among other founding values.
Further, section 22 of the Constitution mandates the state and institutions to recognise the rights of people with disabilities, and to consider specific requirements that enhance communication and promote their participation in development.
Hence, discrimination against a person with a disability is unconstitutional. Sign language has been adopted as one of the official languages in Zimbabwe. In June 2021, Zimbabwe adopted the National Disability Policy, which was a major milestone and commitment by the government to fulfil, promote, protect and respect the rights of people with disabilities.
The National Disability Policy is aligned to the provisions of the CRPD and aims to strengthen institutional and legal frameworks. According to the National Disability Policy (NDP) 2021, Zimbabwe estimates 15% of the population (about 15 million) to have a disability which is 2 250 000 people with disabilities.
Since then, Zimbabwe is in the process of adopting new legislation on disability, the Persons with Disabilities Bill, which is a commendable development towards the international obligation in promoting the rights of people with disabilities.
Challenges faced
People with disabilities are often marginalised and continue to face exclusion from mainstream development and that includes, access to education, health, employment, housing, political participation and disaster risk management to mention a few.
People with disabilities do not live in isolation, therefore, programmes and interventions need to be inclusive. However, society does not understand how disability affects the lives of people with disabilities.
There are cultural beliefs that have been imbedded in society; this includes stereotypes that devalue people with disabilities.
According to article 5 of the CRPD, non-discrimination is an immediate obligation and a pre-condition for addressing the rights of people with disabilities.
Attitudinal barriers are behaviours, perceptions and assumptions that discriminate against people with disabilities and are a source of other barriers that people with disabilities face.
Attitudinal barriers often emerge from ignorance, lack of understanding, being judgmental and misconceptions about people with disabilities.
People with disabilities are treated as inferior, objects of pity and are patronised instead of being empowered. In most cases, society assumes people with disabilities are incapable without giving them a chance to demonstrate their skills and they are denied access to opportunities.
Stigma attached to disability can lead to over-protection, neglect and mistreatment. For example, some families are still hiding their children with disabilities because they fear condemnation, as disability is viewed as a punishment for wrongdoing.
Some impairments are misunderstood, as a result people isolate to avoid offending the person with a disability because they are not sure about how to engage or interact.
Silent disabilities, such as the deaf or autism are not given attention. Organisation's view employing a person with a disability as expensive because of reasonable accommodation and they silently decline people with disabilities employment opportunities.
Changing the negative perceptions
Disability should not be viewed as deficit or shortcoming but as a responsibility where people can be supported to live independently. With a positive attitude, it becomes easier to address barriers that people with disabilities face by showing respect, focusing on their capacities and abilities rather than the disability.
Recognising the person first before the impairment and allowing the voice, choice and autonomy of people with disabilities enhances inclusion. It therefore, becomes imperative to avoid making assumptions and to learn about disability inclusion.
Organisations should systematically address attitudinal barriers through awareness, policies and procedures in order to enhance full participation by people with disabilities.
A multi-sectoral approach is necessary for achieving disability inclusion and disability should be adopted as a cross cutting issue across the various thematic areas in development.
In developing programmes, adopting a twin-track approach that addresses the specific needs of people with disabilities and at the same time promoting mainstream development will minimise the discriminatory attitude.
People with disabilities need to be empowered as disability exclusion makes them think that they are less of a person at same time the barriers faced are societal and there is need to raise awareness, provide knowledge and capacitate society to change the way they view disability.
Society needs to be made aware of their negative attitudes and beliefs that underpin their behaviour so that they can unlearn the stereotypes.
In light of the National Disability Policy and other related protocols, including the National Development Strategy (NDS1), people with disabilities should not be left behind.
The government is committed to achieve an inclusive society where people with disabilities realise their full potential; however, society needs to change their attitude and promote disability inclusion.
Tigere is a development practitioner.. These New Horizon articles published in the Zimbabwe Independent are coordinated by Lovemore Kadenge, an independent consultant, past president of the Zimbabwe Economics Society and past president of the Chartered Governance & Accountancy (CGI Zim). — [email protected] or mobile +263 772 383 852
Related Topics