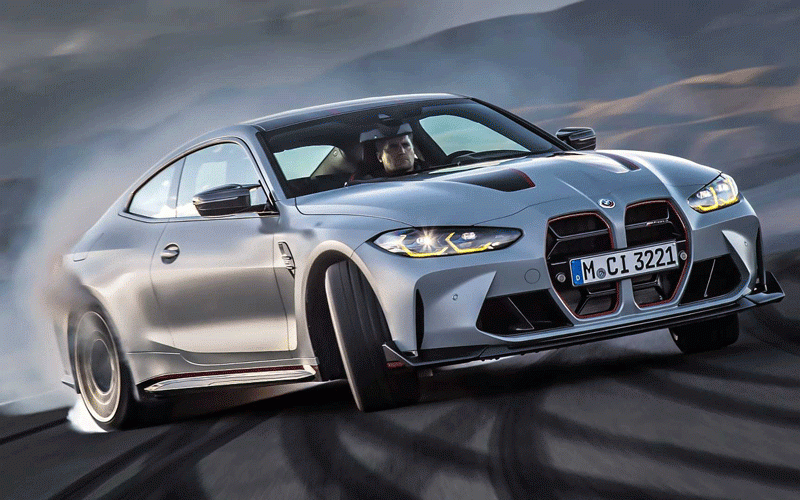 The track "Return of the Mack" was released in 1996 by Mark Morrison. The song is about his bouncing back after losing his girl. He mentions that he pushed and made it because he wanted to show the girl that he could make it. He talks about how she lied to him when he had admitted to her that he was in love with her.
As part of its 50th anniversary celebrations, BMW M GmbH is presenting a special-edition car based on its successful high-performance models in the premium midsize segment.
Well, the BMW M4 CSL is bouncing back!
This ultimate M car is BMW's answer to the Porsche 911 GT3 and the upcoming Mercedes-AMG C63 S E-Performance. Compared to this beast, every other M4 is a kitten.
Competition, Sport, Lightweight (CSL): a classic combination.
The BMW M4 CSL's bare-bones racing aesthetic is supported by a tried-and-true idea that uses cutting-edge technology and development know-how to produce a captivating result. "Competition, Sport, Lightweight" (abbreviated "CSL") refers to the crucial significance that weight-minimized design plays in obtaining success in motor sport. In 1973, the BMW 3.0 CSL, which was created by BMW Motorsport GmbH using the same methodology, won the European Touring Car Championship on its debut. Additionally, the M4 CSL is following in the footsteps of popular limited-edition cars from prior BMW M3/M4 generations, namely the storied BMW M3 CSL from 2003 and the BMW M4 GTS introduced in 2016.
Your initial experience with the BMW CSL trademark will always be memorable. It genuinely makes your world spin.
The CSL, though, is a unique vehicle. It is stunning. The CSL will outperform the ordinary BMW in every way. In a magnificent way, it makes turns that are even sharper. Through the throttle, the back axle may be controlled more easily. When you put your foot down, that awesome SMG gearbox changes even better. Once the tires have warmed up, the brakes start will bite to the pads like a rabid dog. They are quite effective.
Please take advantage of the opportunity to drive a BMW M3 CSL if you ever have the chance. It's one of the most comprehensive driving experiences you'll ever have in a road car, especially if you enjoy hearing the rush of the engine's loudness and hearing the mechanical wizardry that's happening underneath.
Although they reduce throttle responsiveness and do nothing to reduce induction noise, turbochargers are excellent for adding power. Okay, fine, the 911 GT2 RS may seem appealing in the context of turbocharged road rockets, but I can't think of another turbocar that I would actually find interesting.
Due to the crackles and pops that sporty cars today are tuned with; turbo automobiles seem to perfect the exhaust note. Please let me know in the comments if you are aware of a turbo car (from the factory, preferably) that sounds as nice on intake as an M3 CSL.
With an engine used from the M4 GT3 racing vehicle, the new BMW M4 CSL produces a whopping 405kW and 650Nm of torque. Unlike its predecessor, the CSL, this car's pulling power is available from as low as 2750 rpm, so you won't need to crank it to the redline to move quickly. From a complete stop, you can flat foot the M4 CSL and reach 100 km/h in 3.6 seconds. Maintaining your foot on the floor will allow you to reach 307 km/h before hitting the speed limiter.To demonstrate its performance potential, the new M4 CSL is currently the quickest road-going BMW product available for purchase. The vehicle recorded the quickest lap times for a series-produced BMW vehicle during test runs on the Nürburgring Nordschleife.
It stopped the clock at 7 minutes, 15.677 seconds on the version of the track that is typically used for comparisons, which is 20.600 kilometers long and excludes the straight at section T13. Its entire lap time for the 20.832-kilometer circuit was 7 minutes, 20.207 seconds, according to its official and notarized lap time. It surpasses the Ferrari 488 GTB in speed. It moves more quickly than Gumpert Apollo. Compared to the Pagani Zonda F Clubsport, it is quicker. You see what I mean.
The BMW M5 CS is the ultimate daily for a BMW lover, I would have responded with ease if you had asked me a year ago. But after the M4 CSL came out, I'll admit that if I were a BMW obsessive, this is the car I'd want as my daily ride, after all you only leave once.
It features every feature you could ask for, including tremendous power, a ton of technology, adaptive (variable) traction control, opulent elegance, and an instantly recognizable emblem. Interestingly, CSL vehicles are designed to be lightweight, and they were able to reduce the bulk of the M4 by about 92 kg. Is that enough to give it the familiar CSL feel in our hands? Although I don't know, I'm eager to find out.
The CSL drivetrain is the picture of flawless integration, notwithstanding some NVH conspicuities. A roaring, growling, hardly filtered music blasts you through time and space with hard acceleration violence. The simply stupefying carbon-ceramic brakes are the cure to the initially explosive, then steadily growing forward thrust. There's no denying it: This automobile instantly makes your eyeballs leap out before instantly making your earlobes flatten. The Ultimate Driving Machine is simply redefined.
I believe BMW is at its best when the vehicles follow the historical pattern of being more functional than a Porsche and more powerful than a Benz. Porsche is a tough opponent to overcome without being more expensive. It's excessively pricey and heavy.
Although the car is cool, such costs should be focused on completing the course as quickly as possible because much less expensive cars will outperform the BMW M4 CSL. That is inexcusable for a serious driver who is after power and brutal speed. I can't think of a situation in which I would choose the BMW M4 CSL over the Porsche GT3, which has a 0-100 km/h acceleration time of 2.7 seconds. BMW M4 CSL has a 0-100 km/h acceleration time of 3,6 sec. it will be more expensive than the Porche 911 GT3 by almost half a million rands.
Limited edition
Only 1 000 units will be manufactured making it a very limited-edition car. South Africa will get 15 only selling at 3,6 million Rands each. I am sure some Zimbo will get his hands on this quadruped beast and we will see it driving along Borrowdale Road in Harare early 2023. -[email protected]
Related Topics