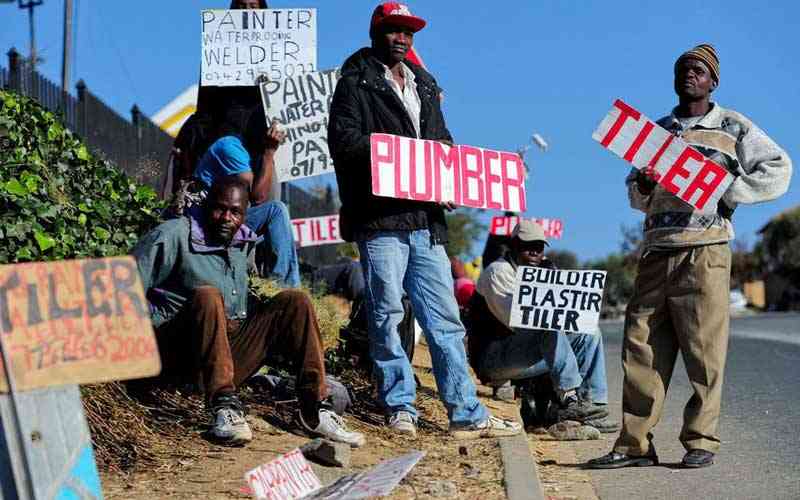 LIVING in a sea of rising tide of unemployment, 20-year-old Misheck Vushe fights every day not to be part of the national statistics among Zimbabwe's youth who have failed to get formal employment.
There are approximately 1 875 841 youths in Zimbabwe, as of March 2022, based on national statistics of the 15 to 34 age group as defined by the United Nations.
For Vushe, the day starts off, bright and early, like any formally employed Zimbabwean.
He wakes up, together with his 14-year-old younger brother, bath, dresses up and rushes to the intersection of Second Street Extension and Lomagundi Road.
At the traffic lights, which are always down due to, among other issues, load-shedding, Vushe gets down to business.
He goes to the middle of the intersection and starts controlling vehicles as traffic volumes rises during the rush hour.
While Vushe controls traffic, his brother sells various wares, usually, tissue paper. And, despite not having any training, Vushe is able to guide the traffic almost like a professional.
"I control traffic with my little brother and get money out of it. When the traffic lights are not operational, we grab the opportunity," he said.
"People leave some money and one good day, I can make around US$150 from passing motorists," Vushe told the Zimbabwe Independent in a recent interview.
On average, Vushe claims to make between US$20 and US$30 from passing motorists who appreciate his work.
"I stay in Epworth, and l am the breadwinner. l come here at around 6am in the morning to control the traffic and that is when I make more money," he said.
While the average working day starts at 8am in the morning ending at around 4:30pm, Vushe's day ends at 7pm.
Despite the earnings, Vushe cannot save as most of the money pays for bills and food at home where he stays with his mother, sister and younger brother.
His mother is blind and often ill, with the situation forcing Vushe to drop out of school at the age of 15.
The amount of money Vushe earns from controlling traffic is not a fluke, but a lucrative job as evidenced by another tout, Tinashe Sandi, 22.
Sandi lives in Mbare with his brother who drives a commuter omnibus.
The brothers lost their parents when Sandi was a teenager and dropped out of school while in Grade 7.
Like Vushe, Sandi's typical day starts quite early as he heads to the intersection of Coventry and Paisley Roads where the traffic lights are also down.
Traffic will be busiest during the rush hour as motorists dash into Harare's central business district.
However, unlike Ushe, once congestion eases after 9am Sandi walks back to Mbare to wash vehicles before returning to the intersection during lunch and the evening rush hour.
Sandi makes between US$30 to US$50 daily, again from well-wishers, depending on the time and day.
Sadly, however, Sandi does not use this for school or any business.
"Sometimes you do not have a choice but it's hard to go to school, to get money to even buy groceries so l had to go out and look for money, and controlling traffic has been giving me even more money than the side jobs that I do in Mbare," he said.
Both, Vushe and Sandi, are part of a growing trend of youths who have seen load-shedding as an opportunity to make money controlling traffic at intersections.
"What we have observed is that this is quite rampant in Harare. In towns like Gweru, Masvingo and Mutare, I don't know so much about Bulawayo, we don't see any of this," Motor Industry Association of Zimbabwe president Lawrence Nyamushanya said.
"I stay in Mutare and when I drive into Harare that is when you see these youths controlling traffic…It is the same with what is happening where we have pot holes, where youths fill in the pothole with gravel and sand and ask for cash."
Controlling traffic has been made more enticing with the ZRP and municipality traffic police not too enthused to doing it.
A police officer, speaking on condition of anonymity, said he earns around ZW$90 000 (US$176,47) and US$175 in government benefits monthly.
In fact, Vushe said the few times he had been bothered by the police, they complained that he was "stealing their jobs".
In an interview, Harare City Council spokesperson Innocent Ruwende said: "We will be soon deploying traffic police on affected intersections. While the city is in the process of installing new traffic lights and repairing those not working, cases of vandalism are on the rise with people stealing some components. Accidents are also claiming some robots."
Ruwende said it was illegal for civilians to control traffic adding that they do not deploy traffic police in congested intersections.
ZRP national spokesperson Paul Nyathi said where traffic lights are not functional motorists are urged to contact the police.
"For those areas where there are some children/touts, it is not allowed in terms of the law. If you check the City of Harare issued a statement reminding people who are doing it that they are risking their lives. It's illegal," he said.
"Where traffic lights are not operational, we call upon the motoring public to quickly advise the police and City of Harare. We don't encourage anyone who is not a municipal police officer or a police officer to control traffic because it's dangerous."
Nyathi encouraged some motorists to exercise caution to reduce congestion and accidents.
The deplorable state of Zimbabwe's economy has left many youths with little or no options to turn to as means to earn a living, due to lack of opportunities.
These challenges are mostly around a depreciating local currency that continues to erode the value of goods and services, cutting into business revenues and increasing costs, leaving firms unable to hire.
Zimbabwe National Students Union's (Zinasu) Benon Ncube said the rate of unemployment in the country was getting worse and that those who drop out and graduates were all unemployed.
"You find that a lot of youths are unemployed while a lot of companies are hiring. The tricky part is that these companies want three years' experience, but where will the youths get experience when they are not being employed?" he said.
"Also a lot of civic society organisations are taking advantage that youths are looking to get experience so they offer them jobs on a voluntary basis, but that very same person needs money. Youths in Zimbabwe are neglected and we pray the ministry of Youth creates opportunities for us."
Ncube said students were also dropping out of college because of the unaffordable college fees, as parents are struggling to pay the fees.
Government has promised to roll out programmes providing financial solutions to the youths like the Empower Bank initiative that would give entrepreneurial skills and access to finance to the youths.
The Ministry of Youth has also introduced the Presidential Youth Entrepreneurship Programme, which allows youths to access loans to start their own businesses.
However, despite all these challenges, the majority of youths remain unemployed.
As of the end of the first quarter, the Zimbabwe National Statistics Agency reported that 3 274 645 were employed from the working age population of 9 282 347 that covers both the formal and informal sectors.
Related Topics