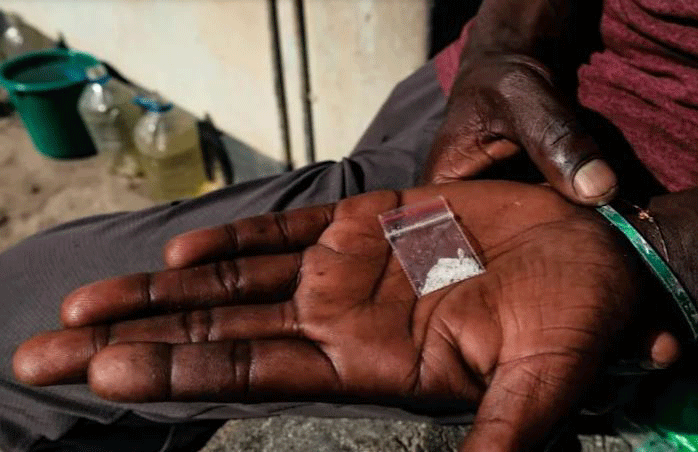 BY EVANS MATHANDA
The pervasive abuse of drugs among Zimbabwean youths is a situation that needs a permanent solution.
Something must be done.
The intake of dangerous drugs by young people in this country has reached alarming levels and some attribute it to the poor economic situation.
Talking about youths' participation in drug use every day, the impact is no doubt a major cause of the rampant economic crisis in our society.
The  drug abuse might become worse in years to come if it's not seriously tackled at this stage.
There are various kinds of illicit drugs that are widely circulated and abused to perform different functions among Zimbabweans either as sedatives, depressants or stimulants ranging from cannabis, cocaine, Bronco, and the one popularly known as Tumbwa.
These drugs have various properties that can alter the state of mind and make the user feel high and  very happy.
But the disadvantage of these substances far outweigh the benefits most of the youths think they derive. All of these substances have varying dangers to the health.
Drugs can affect users both psychologically and physically as they cause liver failure, kidney damage, heart failure, constricted blood vessels, heart attack, memory loss, paranoia, anxiety and many more diseases.
The World Drug Report 2021 is targeted not only at fostering greater international cooperation to counter the impact of the global drug abuse problem on health, governance and security, but also, to assist member states in anticipating and addressing challenges that may arise in the near future, according to the United Nations.
Studies have shown most Zimbabwean youths take drugs to manage stress in tough economic times.
In this case, dangerous drugs work as opium for the youths to take away pain.
However, drugs can only last for a short period of which afterwards one goes back to a normal situation and faces reality.
The cost of living is rising at an alarming rate, creating new economic hardships on the tail end of a very uncertain five years since President Emmeron Mnangagwa's rise to power.
Experts say the result could be more psychological strain, stress and anxiety for citizens.
But these problems are no unique to Zimbabwe. According to the President Emmeron Mnangagwa's 2020 Stress survey, over three-quarters of Americans (76%) cite money as a significant cause of stress.
And while the US economy appears to be healthier, personal financial problems still worry many Americans.
But, like most of our everyday stress, economic pressure can be managed.
There are healthy strategies available for managing stress during any difficult financial time.
Above all, the government should formulate national policies to safeguard youths, a move that will help the country to come up with systems that can make them quit drugs.
The government has set aside the National Drug Abuse Fund aimed at fighting the spike in drug abuse that is a threat to human capital especially amongst the youths.
But the question still stands on whether this is just for publicity or the government is committed enough to deal with the drug abuse scourge.
A better and sustainable solution is to create employment to reduce drug use by youths.
In November 2017, Mnangagwa hailed a "new and recounting democracy" after returning from exile to replace Robert Mugabe.
He vowed to create jobs in a country where some estimates say at least 85% of people are unemployed.
Three out of 10 young Zimbabweans have fixed jobs but not paying enough to sustain them for a month.
Many are idle and see no economic opportunity in the country forcing them to be economic refugees in neighbourhood countries.
For some, that leads to problems with alcohol and drugs.
Church leaders, community leaders, and government officials should use their social media platforms to preach the gospel that can reduce drug abuse amongst youths in Zimbabwe.
However, political campaigns and propaganda are eating the bigger pie in Zimbabwe's digital space.
The impact of drug and alcohol abuse in Zimbabwe and its effects on their physical well-being and mental health is not only a threat to human life, but it has a huge impact on economic development.
Drug dealers are making a killing in and outside Zimbabwe.
Of course there is fast money in drug dealing as goes a Shona saying: "Pane mari panemapurisa" (where there is money, there are police officers).
What laws are put in place to deter drug dealers.
Research findings show that there was a huge demand for methamphetamine during the Covid-19 period, as unemployment levels soared and youths opted for drug use to reduce stress.
National police spokesperson Assistant Commissioner Paul Nyathi confirmed that as of January this year, around 7000 people were arrested for selling drugs.
 *Evans Mathanda is a journalist and development practitioner who writes in his personal capacity. For feedback email: ev[email protected] or call 0719770038 and Twitter @EvansMathanda19
Related Topics