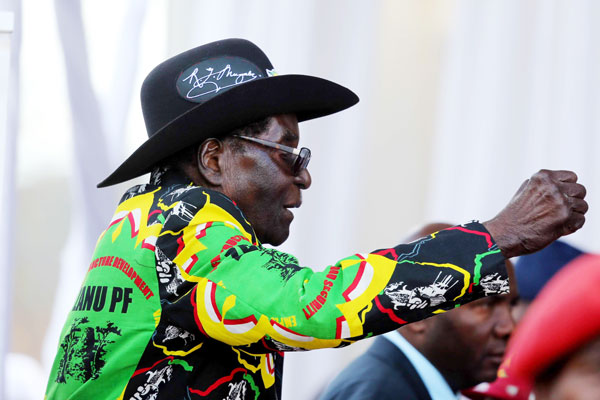 By KENNETH MUFUKA
This week marks the second anniversary of the death of Robert Gabriel Mugabe, the first prime minister of an independent Zimbabwe, on April 18, 1980.
While we acknowledge the fact that there are many people who benefitted immensely from state funds during his time as leader of Zimbabwe, and that these people swear by his name, the facts are different.
Mugabe was narcissistic to the extent that anybody, who differed dared not express that opinion, or they were marked for some sort of punishment.
He never carried a gun, nor did he fight in any of the colonial wars. He was a manipulator of men par excellence, and these men fell willingly to their fate.
The dates are important in understanding Mugabe's character, personality and that everything to him was a charade.
Independence came on April 18th. Immediately, he was in touch with the North Koreans and began the training and equipment of a tribal Zezuru army.
By October of that year, an investigative reporter had stumbled upon the news. Meanwhile, Zapu had been included in his government under the theme of reconciliation and harambee (working together).
It was all a charade. Like a chameleon, he was marking his time. In January 1981, Zapu members were accused of treason. Zapu commanders, Dumiso Dabengwa and Lookout Masuku were already in prison. Even though Justice Smith found them innocent, they remained in prison for another five years.
Gukurahundi Brigade was already in operation. There is a curious story in Cephas Msipa's biography. Mugabe called him to say that Zapu was treasonous and that their leaders had been dismissed. Msipa asked. "Was Josiah Chinamano one of them?" Now Chinamano was a devout Christian, as humble as a lamb, who had suffered greatly when both he and his wife served prison sentences (without trial) for more than 11 years. Neighbours took over their six children.
Mugabe had made up this treason story.
But the beauty of history is that all those who aided and abetted his vengeful career lived to regret it and many of them either turned into madhumukwa (an animal that is neither a horse nor a donkey).
Enos Nkala was used to destabilise the Ndebele nation. My uncle, Maurice Nyagumbo was number three in the party hierarchy. General Solomon Mujuru, a loyalist, is said to have been incinerated by a cigarette fire. Chris Makadenge did terrible things to Masuku, who died on his hospital bed with hands and legs under chains and his medicines withdrawn. Chris is living as a dhumukwa even as we speak.
Joice Mujuru, another stalwart who served loyally for 35 years, was accused of "witchery" and dancing in the nude, crimes which do not exist at law.
Why bother to say what everybody knows?
Voodoo Economics
Mugabe's claim to be a pure Marxist, aided and abetted by Kempton Makamure was nothing, but a charade.
Not only was he a Mercedes Benz Marxist, but at his death, his family owned 14 farms as well as Gushungo Dairies.
Wars whether winnable or not are expensive. After 10 years of research, I failed to find the purpose and purport for Gukurahundi. It was Cyril Zenda who enlightened me: the answer was hiding in plain sight. Malice against all who could possibly challenge his grip on power was his guiding light. Joshua Nkomo was an enemy, but so was Enos Nkala, the stalwart who aided and abetted his atrocities in Matebeleland. Nkala's sin was that he assumed that he and Mugabe were equals and that he could express himself freely.
Mugabe was so ignorant of economics that his land reform programme, supposedly his legacy, was initiated, not on economic grounds, but as a vengeful effort against white farmers who had bankrolled the MDC.
I am looking at a bank note, denominated to the value of $10 billion.
A banker who prints such a bank note should be sentenced to a life in a library and forced to read the Weimar German Republic inflation history.
The French traveller, Alex de Tocqueville observed that democracies can only survive if virtue is encouraged among citizens.
Mugabe saw virtuous citizens as a threat to his grip on power. He kept a small pocket note book with the details of possible criminal acts committed by subordinates. Thus Francis Gundyanga is alleged to have collected $28 910 in board fees from the Mines Ministry (2013-2016). No such board existed.
His defence is that his prosecution is political, an admission to the fact that malfeasance is only punished when the actors fail to show "stalwart support for their principals."
For all the talk about socialism, I remember George Kahari saying that: "Sekuru all this nonsense about Marxism is make-believe. Hapana zviri kuitwa. Vanozivei about Marxism?" (What do they know about Marxism?)
Mugabe was the con-artist par excellence. He is still highly regarded in Harlem, New York by our black brothers who revere him for his diatriabes against white people.
Even that too was only a charade. He surrounded himself with the powerful white friends like Billy Rautenbach and Nick Van Hoogstraten. Andrew Norman says in his book that when Mugabe wanted several Mig-Jet fighters from Russia in 2002, he called on Nick Van Hoogstraten to advance them the sum of GBP20 million for each jet (page 136)
Mugabe regarded the loss of his cherished knighthood (KCMG) conferred on him by Queen Elizabeth as the greatest affront to his dignity.
The great betrayal
As he betrayed his former colleagues, one by one, so he betrayed the country. He preferred to ruin the country, rather than give up power. The laws of divine retribution have it that all those who aided and abetted him, died in bitter poverty, which he deliberately induced on them or as in the case of Solomon Mujuru, under suspicious circumstances.
Do I need to repeat what everybody knows? Nkala sacrificed the love of his own tribe for the love of Mugabe. Edgar Tekere nominated Mugabe for leadership of Zanu. He was denied his parliamentary pension, lived his last days in bitterness and penury.  Dydimus Mutasa, once a "stalwart" Mugabeist, now lives the life of a dhumukwa.
To Mugabe the interests of Zimbabwe never rose above those of his own. Nor was he capable of loving anybody except himself. To call him a hero is to fail to learn the misdeeds of the past.
Ken Mufuka (with Cyril Zenda) spent 10 years researching for the book: Life and Times of Robert Mugabe: Dream Betrayed, 2017. The book is available in Zimbabwe from Innov8 Bookshops and in the world at kenmufukabooks.com
Related Topics