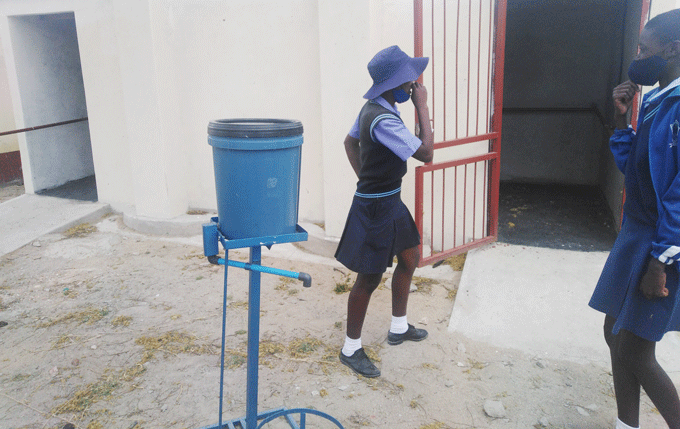 By Moses Mugugunyeki
Monica Ndlovu, a Form 4 student at Ivimila Secondary School in Mangwe district, Matabeleland South province dreams of becoming a nurse when she completes her education.
She is among a handful of girls in this part of the country that have remained in school, enduring discriminatory  gender norms and harmful practices coupled with the lure of better life across the border in either South Africa or Botswana.
While hordes of her peers cherish working as domestic workers and doing other informal jobs in foreign lands, Ndlovu believes she has to pursue her studies and become a nurse, a profession she is so passionate about.
She said her peers contemplate going to foreign soils because they have always received a wooden spoon from their parents when it comes to education.
"Most girls in my area have become victims of discrimination as parents or guardians opt to send boys to school, especially for further education," Ndlovu said.
"Due to this prejudice, the girls end up migrating to either South Africa or Botswana where most of them are employed as house maids.
"I have been fortunate because my parents understand the importance of education. I told them that I want to be a nurse and they are supporting me."
Ndlovu said apart from discriminatory gender norms and harmful practices, most girls drop out of school due to lack of proper menstrual hygiene facilities in schools.
"I know some colleagues that have dropped out of school after they were embarrassed when they were on periods," she said.
"One of the girls crossed into Botswana, while the other one works at a local shop."
Duduzile Moyo [not her real name], who could not proceed to Form 1 after passing her Grade 7 at Kwite Primary School in Mangwe's Empandeni ward three years ago, said her uncle could not afford paying secondary school fees for her.
"My uncle could not pay my school fees for my secondary education and I moved to Botswana briefly," Moyo said.
"The grass is not green that side as you might think, so I am back at home doing nothing."
Moyo said if given the chance, she was keen to further her education.
Her predicament is also being faced by a number of girls of her age in Matabeleland South province and globally who have been denied the opportunity to learn.
According to Unicef, around the world, 129 million girls are out of school, including 32 million of primary school age, 30 million of lower-secondary school age, and 67 million of upper-secondary school age.
Despite increasing international recognition that the education of girls is one of the most powerful tools for progress, girls suffer from discrimination when it comes to getting an education.
Zimbabwe's adult literacy rate of 96% makes it the highest in the region. However, women constitute 60% of the illiterate adult population and the school dropout rate, particularly among female students, still remains high.
Enrolment at secondary school level and tertiary institutions is also significantly lower for females than for males.
Speaking at the commissioning of a classroom block refurbished by the Zimbabwe Red Cross Society (ZRCS) at Kwite Primary School, Matabeleland South provincial education director Beatrice Manjere urged Mangwe communities to prioritise education of their children.
"There should not be any child, who should be left behind. Every child should be at school whatever barriers, be it hunger, schools fees, they should come to us and we will attend to them," Manjere said.
"Mangwe should not be left behind and if we don't push we will be left behind. We need to make sure that our children's future is well prepared by empowering them with the needs of education.
"As parents, you have a duty to play and let's work together."
Women's rights activist Lorraine Ndlovu-Sibanda said most girls in Matabeleland South drop out of school when they reach secondary school with the majority of them migrating to South Africa or Botswana while a handful get married locally.
"We have recorded high girls drop outs at secondary school and I attribute this to a number of factors," Ndlovu-Sibanda said.
"Some of these girls are forced out of school because parents would have failed to pay school fees while the majority of these choose to migrate to neighbouring countries.
"There could be numerous barriers to girls' access to school, including when families have limited resources, they may feel they have to choose between educating their sons or daughters.
"There are also issues of girls losing their dignity when schools do not have proper menstrual hygienic facilities. Some girls on period can be embarrassed and drop out of school when schools can't provide such facilities."
ZRCS secretary-general Elias Hwenga said his organisation through a project titled Resilience through Disaster Response Management: Comprehensive School Safety is building girl-friendly toilets at 15 schools the programme is being implemented.
The project is being supported by the Finnish Red Cross, Belgium Red Cross and the European Commission Humanitarian Aid Office with the aim of enhancing disaster risk management capacities and community resilience, including tackling poverty period.
"The comprehensive school safety project has been piloted in Mangwe district since the inception of the phase one in 2018," said Hwenga.
"The project has a national outlook were the ZRCS is working closely working with key government stakeholders to advocate for the increased adoption and embracement of the disaster risk reduction in schools.
"The other aspect has been the construction of girl-friendly and disabled-friendly toilets at schools aimed at addressing challenges faced by people with disability as well as girls on period.
"After our assessment, we discovered that girls were failing to dispose their pads under embarrassing and unhygienic conditions, hence the decision to come up these girl-friendly facilities."
Hwenga believes the project would go a long way in pushing Mangwe learners to stay in school.
"With a safe learning environment coupled with the construction by our organisation of footbridges in certain communities, there is likelihood that most learners in Mangwe would stay in school," he said.
Denying the girl child access to education is endangering efforts to realise the globally agreed Sustainable Development Goal number 4, which among issues ensures that all girls and boys complete free primary and secondary schooling by 2030.
According to the International Labour Organisation, over two thirds of the world's 860 million illiterates are women and the organisation claims that failure to educate girls' costs developing countries US$92 billion a year.
Social commentator Dorothy Chirwa-Tumbo said educating a girl was key to national development.
"Educating girls, in particular, paves the way for wider changes in families, societies and workplaces," Chirwa-Tumbo said.
"Educated girls are more likely to have better income as adults, they marry later, and they have fewer and healthier children as well as stronger decision-making power within the household.
"They are also more likely to ensure that their own children are educated, avoiding future child labour."
Related Topics