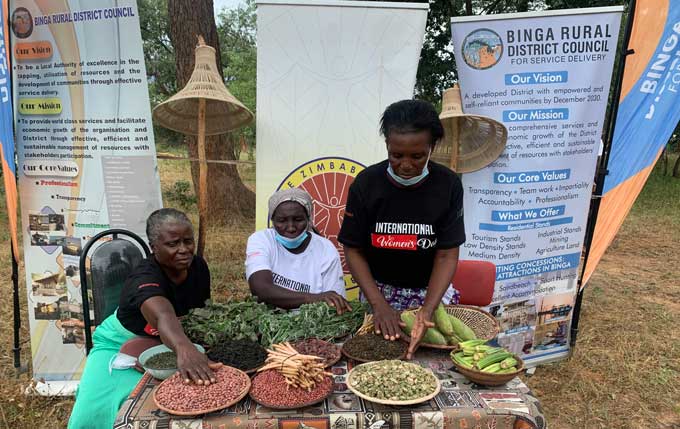 BY SHARON SIBINDI
Action Aid, an international non-governmental organisation working for a world free from poverty and injustice, has come to the aid of Nkayi women who are battling the increasingly dire consequences of climate change by helping them start projects.
Nkayi in Matabeleland North is one of the poorest districts in Zimbabwe and of late, it has been experiencing frequent droughts due to climate change.
ActionAid Zimbabwe, in partnership with the Health Education Food Organisation (Hefo) which implements programmes in Nkayi last Thursday held an International Women's Day (IWD) celebration at Nhlekisa village's market hub to celebrate achievements in its drive to ensure that women lead the way in agriculture through adoption of feminist economic alternatives.
Joy Mabenge, Action Aid Zimbabwe director, said his organisation was implementing various projects to promote smart agriculture in the face of climate change.
"I am happy to inform you that as ActionAid Zimbabwe we have various projects running promoting agroecology and climate smart agricultural practices as part of our work towards achieving resilient communities able to withstand shocks resulting from climate change," Mabenge told the gathering.
"International Women's Day is all about celebrating the social, economic, cultural, and political achievements of women.
"At ActionAid, we embrace the uniqueness of women and side with them to take up decision-making positions in all spheres of life."
He said this was evidenced by their strategic direction in supporting women-led humanitarian responses, adoption of feminist, green and just agro-economic alternatives and pushing for gender responsive provision of public services.
"The theme for this year's International Women's Day, March 8 (IWD 2022) was "Gender equality today for a sustainable tomorrow":  #BreakTheBias.
"Globally, women are increasingly being recognised as more vulnerable to climate change impacts than men, as they constitute the majority of the world's poor and are more dependent on the natural resources which climate change threatens the most," Mabenge said.
"Coming closer home, Zimbabwe has been operating in a humanitarian context since Cyclone Idai devastated the Eastern Highlands in 2019, this was followed by recurrent droughts and floods in the East and West parts of the country caused by climate change and compounded by Covid-19 which further affected access to basic goods and services by the marginalised and those living in poverty."
He said women, as the primary caregivers in the home, are by far, more affected by the adverse effects of the catastrophes we have encountered over the past three years.
"This called for urgent action in strengthening women's resilience to these shocks through promotion of agro-ecological practices and women-led humanitarian response to disasters," he said.
Mabenge said they seek to recognise the contributions of women and girls in Zimbabwe, who are leading the charge on climate change adaptation, mitigation, and response, to build a more sustainable future for all.
"Today, we will witness some of the best practices promoted by ActionAid Zimbabwe in building resilience for communities that have been led by women with the support of our LRP Partner, HEFO, in the hope that these best practices can be replicated in other provinces," he said.
"It is against this background that we seek to highlight and celebrate women and girls leading the drive towards sustainable agriculture through adoption of agroecology principles and practice.
"As such, this commemoration will raise awareness on the importance of women inclusion in decision making processes and bodies in the face of climate change and recovery from the global disaster, celebrate and highlight the women leading the way in agriculture through adoption of feminist economic alternatives in agriculture-agroecology."
Mabenge said this will amplify the voice and solidarity of women from across the national divide.
"Coming to Nkayi, we are not on a holiday look and learn, or monitoring and evaluation visit of some sort," he said.
"Our major goal is to come and stand in support with the forgotten woman from Nkayi, the rest of Zimbabwe and the whole world, living in poverty and exclusion.
He said as the country continued to witness the devastating effects of climate change on livelihoods, it was prudent to commit more support towards climate financing for more resilient communities through a multi-stakeholder approach.
"It is my earnest desire that policy makers in government and parliament will formulate policies that result in more climate financing and enhanced gender responsive service delivery," Mabenge added.
Women's Rights and Economic Justice manager for ActionAid Zimbabwe, Rumbidzai Makoni urged the government to do more to protect the country's natural resources.
"Let's have the government and the duty bearers also playing their part in ensuring that we push against activities that are being done by cooperates that further deteriorate the status of  our natural resources," Makoni said.
"We have experienced multiple cyclones within the past three years and that is all because of climate change.
"We are saying as ActionAid, if we adopt these agro-ecological principles and if we stop polluting the air and the earth we will be in a better position to improve food security and the general livelihoods and well-being of the people of Zimbabwe."
She said they also went to Nkayi to show solidarity and to showcase that green economic alternatives actually do have a space in the macroeconomic space.
"So here if you realize we actually have women's groups that are exhibiting," Makoni said.
"Some of the products that they make from the support that they get from ActionAid and HEFO.
"We live in a world where we are  over bombarded  with chemicals but today you will see that there is still strength and there is hope in agro-ecological practices that are led by women because most of the times we think women play a submissive or a background second class citizen role.
"But you will see here women that are fending for the families having a meaningful contribution in the communities' macroeconomic environment."
Related Topics