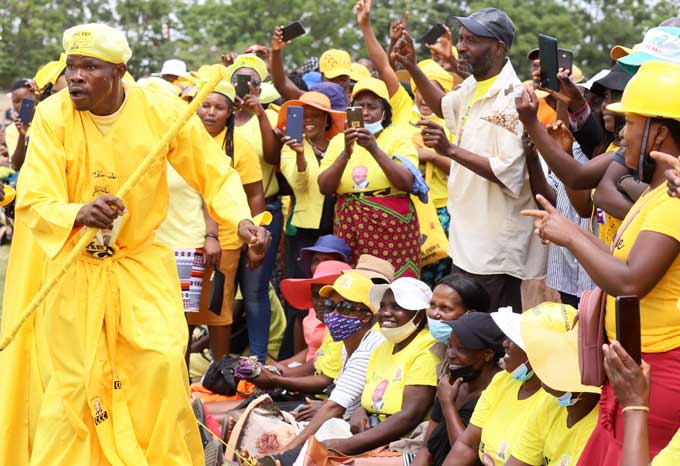 BY TAFADZWA KACHIKO
"I had accepted death, if I was in the countryside I could have died," said popular Citizens Coalition for Change (CCC) activist Godfrey Karembera as he narrated his torture ordeal from a hospital bed at Parirenyatwa Hospital in Harare where he is admitted.
Karembera, popularly known as Madzibaba Veshanduko, was allegedly tortured by state security agents at Harare Central Police Station on Thursday last week.
The activist, who is known for wearing a custom-made yellow robe, complete with CCC branding said he was "badly assaulted on his legs and back" by police officers using truncheons and he suffered lacerations on the back and on the soles of his feet.
On Twitter, the Zimbabwe Lawyers for Human Rights (ZLHR) said Karembera was facing charges of disorderly conduct for allegedly wearing yellow regalia and telling people in Harare's central business district to vote for CCC leader Nelson Chamisa.
At Harare Central Police Station, our lawyers @mudashoko @IdirasheC @DougColtart are trying to get access to Madzibaba ve Shanduko arrested in the capital city today. pic.twitter.com/2l65ZJhbqz
— ZLHR (@ZLHRLawyers) March 17, 2022
"I dropped off a kombi at Coppacabanna on Thursday morning.
"As I was walking I could feel that something bad was about to happen. I then checked to see if anyone was following me.
"Two people came at different times requesting a photo with me.
"I was then surrounded by many people," Karembera told journalists on Friday from his hospital bed.
"In a few moments a black car, which had no number plates arrived and some men who were in civilian clothes dropped off.
"Another grey 4 x 4 vehicle arrived with police officers.
"A man in civilian clothes with a satchel shouted, 'Right, today we have caught you. We have been looking for you'."
"I told them that I had not committed a crime.
"I was asked to get into the car.
"As we arrived at the police station I was taken to a certain room where I was asked to lie down.
"I was beaten severely in that room by four people.
"As they were beating me I accepted death.
"There was another one who covered my head with a sack and put his foot on my neck.
"He nearly killed me because I was suffocating.
"They first beat me on my feet and later took off my shirt and started beating me on my back."
Karembera said social media saved his life as news of his arrest went viral.
"As they were beating me, two men arrived," he said.
"One of them looked young.
"These men said that they had seen the news circulating on social media and ordered those who were beating me to stop and go up to the charge office to have a docket opened for me.
"I am happy that I was assisted, if I was in the rural areas I could have died."
Amnesty International said the attack against Karembera was meant to intimidate CCC supporters ahead of Saturday's elections.
"This brutal and vicious assault against Godfrey Karembera is meant to intimidate political opposition supporters in Zimbabwe ahead of the upcoming by-elections," Amnesty International said.
"This attack is a chilling reminder of the country's history of unlawful use of force by police around elections.
"It sends a message to supporters of the opposition that they will pay a price for aligning with the political party of their choice."
It added: "The police claim that Godfrey Karembera, known as Madzibaba Veshanduko, used abusive language against them or tried to deface the statue of Mbuya Nehanda holds no water.
"Police are trained to enforce the law and not to break it themselves — they must use the proper process to deal with suspected criminals, including bringing them to court for a fair trial.
"The police officers in question must be investigated and those found responsible must be brought to justice."
Karembera is one of the many activists, who met the unfortunate fate of political violence ahead of by-elections scheduled for Saturday.
The pre-election violence has claimed the life of a Kwekwe man Mboneni Ncube, who was allegedly attacked with spears at a CCC star rally in Mbizo by suspected Zanu PF supporters recently.
Thokozile Dube, a CCC councillor for ward 20, Umzingwane was allegedly attacked by Zanu PF supporters, who also vandalised her property for putting her party's posters on her security wall.
"They took my phone and they crushed it. They also destroyed my refrigerator, water tank and other property.
"After that they ordered me to remove the rubbish that I posted outside (CCC posters on walls) and ordered me to lie down after that," Dube said, speaking to the CCC-owned radio Change Radio.
Harare disc jockey Tafadzwa Matubuka's wife, Ellia, his father and himself were beaten by suspected Zanu PF youths last month.
This was after "drunken ruling party youths" were captured on camera by Ellia defacing CCC posters in Highfield where she stays with Matubuka.
Chamisa condemned the violence and asked Zanu PF leader President Emmersom Mnangagwa to act.
"Police officers are peace lovers and observers. I know that there are forces behind causing this challenge," he said.
"If Mnangagwa is serious about peace, he must act on it and be a peaceful man and condemn violence.
"Punish those who have caused problems on Madzibaba, whoever was on duty must account for what happened.
"This is what we have always said that we rush the risk of descending into chaos and the chaos is being engineered by the state, Zanu PF and those who would want to cause anarchy in our country."
In a recent update, the  Zimbabwe Peace Project  said police and Zanu PF were the main perpetrators of violence against opposition activists.
Violence during election times has been a constant feature of Zimbabwe's political environment since independence and targeted the opposition.
ZPP says 515 people were killed between 2000 and 2020 due to politically motivated violence.
According to a by-elections weekly report compiled by the Zimbabwe Human Rights NGO Forum for the week ending February 27, Zanu PF and state security agents have been major perpetrators of political violence ahead of the by-elections.
Political analyst Rashweat Mukundu accused the ruling party Zanu PF of perpetuating acts of violence against its main challengers.
"Violence has always been a method of choice when it comes to mobilisation by Zanu PF," Mukundu said.
"I will, therefore, be surprised if we don't see an increase in violence because the party always thrives in political processes through intimidation and fear mongering.
"Unfortunately, because the Zimbabwe Electoral Commission (Zec) is under the same party and its government systems I don't foresee anything being seriously done to manage the violence that we are seeing,"
He added: "What we need is for the international and regional community to stabilise Zimbabwe's political situation, which will only get worse as we go towards 2023.
"And of course, if possible there is a need for the security forces to be separated from political control of the ruling party."
Another analyst Nhamo Mhiripiri said: "Political violence has no space in a democratic space that allows for multi-party participation.
"It harms the rights of citizens who want to freely assemble or express themselves. It brutalises and dehumanises both victims and perpetrators, hence there are no outright victors.
"It tarnishes the country's image and discourages tourists and investors.
"In the worst cases, political violence has attracted negative international sanctions, especially when the government is rightfully or wrongly implicated."
Zimbabwe Human Rights NGO Forum executive director Musa Kika said police and the judiciary must deal with issues of political violence without fear or favour.
Related Topics