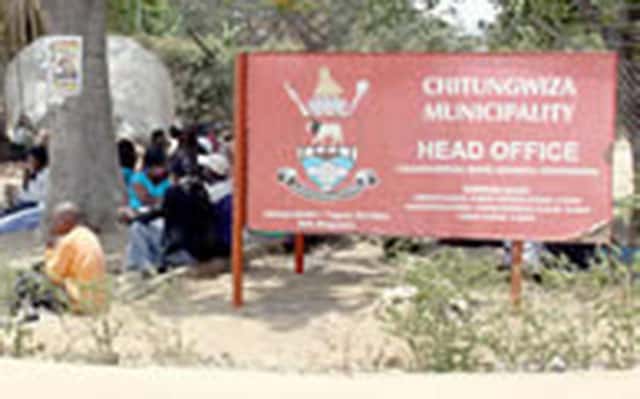 BY TAFADZWA KACHIKO The Chitungwiza Municipality has not paid its workers for the past five months, forcing many to do private jobs to survive.
Council last paid its workers in February and this has seen some employees such as plumbers and refuse collectors resorting to doing side jobs during working hours, compromising service delivery.
"We haven't received salaries for the past three months and our salaries are staggered.
"Under such circumstances plumbers do private work when there are blockages and for those that are newly connected," a council employee said.
"Depending on the work done one may be paid more or less than US$50 for the services.
For toilet blockages plumbers charge US$20.
"That's the art of survival.
Then there are those that are sick and tired of sewer blockages and are putting up septic tanks.
"We come in handy and help them with connections. Those who collect refuse resort to sorting recyclable waste for sale."
Chitungwiza Residents Trust director Alice Kuveya said their investigations showed that council employees were surviving on bribes and other corrupt activities.
"A lot happens. Some who collect money from tuck-shops and vendors are involved in corruption," Kuveya said.
"I remember some boiling sugarbeans at the workplace meaning that they can't afford buying electricity tokens and other things.
"Most of the workers can't even afford accommodation in decent areas, forcing them to go to areas like Nyatsime, where rent is affordable."
Chitungwiza Municipal Workers' Union president Ephraim Katsina told Standardpeople that council owed workers over $400 million in unpaid salaries.
"The wage bill is over $92 million per month, making it over $400 million since March in outstanding pay," Katsina said.
"The situation is so pathetic, we are in dire need of help. The workers can't breathe.
"Some turn to dumpsites for meals. Others have turned to public toilets for shelter."
He accused the council of not making use of several streams to generate revenue.
Council spokesperson Lovemore Meya admitted that the municipality was struggling to pay its workers.
"We have salary arrears from March to July and we are working on clearing them," Meya said.
"The challenge we are facing is that residents owe us $2.3 billion.
"This has affected our revenue inflows so that we could deal with day-to-day needs and salaries."
"The delay of payments was because we have to clear obligations for 2021 and we were also looking into clearing salary arrears."
Related Topics