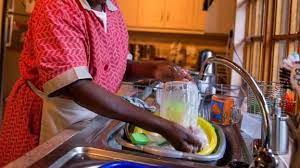 POLICE have urged people to employ vetted housemaids following rising cases of crime involving the helpers.
Midlands provincial police spokesperson Inspector Emmanuel Mahoko made the call yesterday following Wednesday's arrest of a 16-year-old girl who stole an eight-month-old baby in Zvishavane.
"We are appealing to members of the public to ensure that they employ housemaids who have traceable records," Mahoko said.
"Also make efforts to have your maids vetted by the police before employing them. This service is done for free at any police station."
In the case of the kidnapped Zvishavane child, the employed juvenile (who cannot be named on ethical grounds) got employed on April 9 by one Memory Sibanda (38) of Mandava Township in Zvishavane.
A day later, she was left at home by her employer to take care of children aged 14, 12, eight years and eight months respectively.
The teenager stole US$60 and ran away with the toddler, leaving the other three children alone.
On April 12, police acting on a tip off arrested the girl at Village 7 Sovelele, Sandawana in Mberengwa where she was found with the baby.
People usually recruit domestic workers through the help of relatives, friends and via Whatsapp groups and rarely screen the workers through police processes.
Related Topics