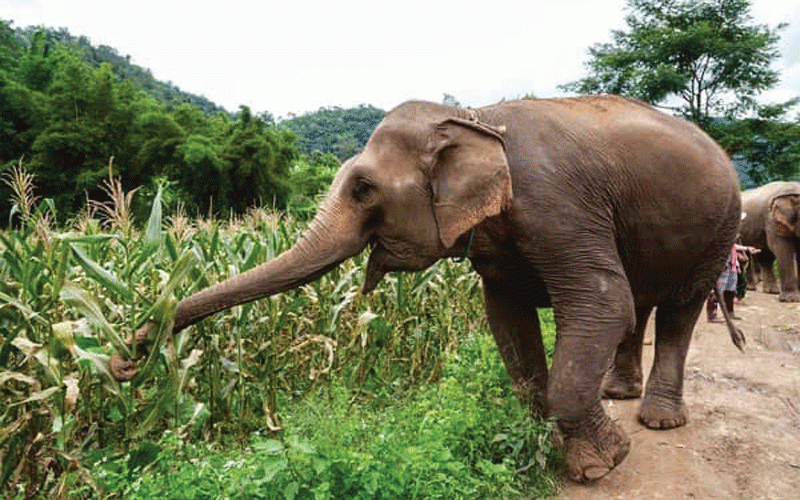 Drying water sources in Hwange, Matabeleland North are driving wild animals into human settlements in search of water and food, resulting in rising cases of human-wildlife conflict.
This follows concerns that mining activities taking place around Hwange National Park were disturbing wildlife habitat, forcing hungry and thirsty animals to storm villages.
Greater Whange Residents Trust (GWRT) chairman Fidelis Chima said residents in communities surrounding the Hwange National Park were living in fear of the animals.
"These animals' natural habitats are being disturbed mainly by coal mining companies and water sources in the national park are now dry due to climate change, forcing animals such as elephants to encroach into human settlements in search of water sources," Chima said.
"Government banned mining activities in national parks, but we want the ban to also include mining activities taking place close to the national park as these are disturbing the natural habitat for animals leading to human-wildlife conflict."
In 2021 and 2022, 66 and 68 people respectively died as result of human-wildlife conflict across the country
The Zimbabwe Parks and Wildlife Management Authority (ZimParks) has attributed the high number of deaths caused by human-wildlife conflict to the growing human population that is resulting in a scramble with animals for food and water.
Last Wednesday, the Hwange Colliery Company Limited (HCCL) issued a warning to its workers, residents, motorists and others about wildlife encounters at Chaba, South Hill and JKL Areas.
"HCCL Concession proximity to Hwange National Park increases the human-wildlife interactions, therefore, there is a need for people to be on the lookout for wild animals," the HCCL said in a notice.
"Look out for roaming lions and hyenas.
"These have been spotted around the Chaba and Pits areas.
"Avoid unnecessary movements in high risk areas such as Chaba. Avoid lone walking in identified high risk areas.
"For any elephant, hippo, lion encounters, report to HCCL Wildlife Team."
The company advised motorists to change their routes or stop their vehicles a distance away from the elephants, remain silent when they see elephants and allow them to pass.
"Do not hoot at the animals in the hope of scaring them away as they will register danger and attack," read the notice.
The company urged its contractors to provide transport for employees to and from work.
"Lions and other predators can be dangerous. Always treat wild animals with respect and give them space.
"Do not chase or threaten them. Use designated roads and avoid shortcuts in heavy foliage areas," the notice said.
In November, Cabinet unveiled a Human-Wildlife Conflict Fund to compensate families and survivors of human- wildlife conflict.
Government said the fund will be extended to include preventive measures such as providing water in the game parks and enhancing grazing pastures among others.
Related Topics