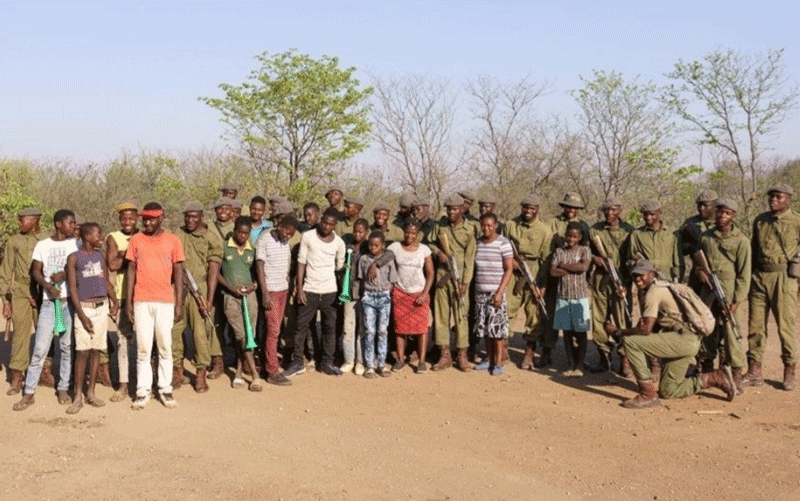 Eveline Murandu is enduring another year of struggling to put food on the table for her family after elephants destroyed most of her crops during the previous season.
It has become a familiar story for Murandu (62) and other villagers from Chiredzi's Mahenye communal area on the outskirts of the Gonarezhou National Park in Zimbabwe's Lowveld where there are constant battles between humans and encroaching wildlife.
Every cropping season villagers lose the war against the giant mammals whose population now exceeds the carrying capacity of Zimbabwe's national parks and private game reserves with harvests being drastically reduced.
Murandu said villagers are forced to invest most of their time and resources in protecting their crops from the marauding elephants with little success.
"Life has become unbearable because of these elephants, which destroy our crops every year," she said.
"We are perpetually facing starvation because our crops are always destroyed by elephants."
The Gonarezhou Conservation Trust (GCT), a wildlife conservation organisation that works with the Zimbabwe Parks and Wildlife Management Authority as well as the Frankfurt Zoological Society, said there was a spike in cases of elephants straying into villagers' fields that began in 2017.
Rumbidzai Magwiro, the GCT's monitoring and evaluation officer, said this year alone there were over 200 cases of elephants that destroyed crops in hotspots such as Malipati and Mahenye as well as other neighbouring villages.
Magwiro said their research showed that every year communities lose crops valued at about US$75 000 to wild animals that stray from Gonarezhou and other surrounding game reserves.
"For this year, it was mainly the elephants at 84% that destroyed crops such as sorghum, maize and beans for the villagers who plant them for commercial purposes after being contracted by companies such as Delta Beverages," she said.
"They destroyed 41% sorghum produce, 36% maize and nine percent beans, but we also have another 14% destroyed by hippos, mainly targeting their vegetable gardens as well as chacma baboons, bush pigs and buffalos, although the magnitude is less."
GCT, which operates from inside the Gonarezhou National Park, has since come up with initiatives to mitigate the effects of the worsening human-wildlife conflict such as income generating projects.
The organisation has introduced chilli peppers farming, a natural income-generating solution that also deters elephants from raiding crops, to boost agricultural resilience.
Herbert Pikela, the GCT community liaison officer, said pilot chilli farming projects had been introduced in villages under chiefs Chilonga and Mpapa last year.
"We started thinking about introducing chili farming not as a livelihoods programme only, but we were also concerned about elephants," Pikela said.
"We paid a scoping visit to the Kacholo Outgrow Scheme in Zaka and we learnt that chilli is a good cash crop, which is better than sorghum and we brought them here.
"Initially only 216 people agreed to be part of this project and the results have been impressive.
"We have seen other communities starting do it as a way of preventing human-wildlife conflict."
Luckmore Kazamula (38), a beneficiary of the scheme who is now almost exclusively into chilli farming, said villagers' lives were being transformed by the intervention that is also helping to fight wildlife crimes such as poaching.
"We were relying on sorghum each and every year where we would wait for the rains, but right now we are doing irrigation at our homesteads," Kazamula said.
"If you don't have an income and you don't have food, you can turn into anything.
"I think it's better for us and the conservation organisation (GCT) because no one now gets into the park to do poaching."
He said some of the chilli they produce is burnt to fend off elephants with its chocking smoke.
The chilli peppers are compacted into blocks or mixed with cow dung, which is burnt to produce a pungent smell that repels most wild animals, including elephants.
Pikela said chilli has the same effect when mixed with oil and smeared on strings or rugs hung on garden edges, although the method only works as a reactive measure.
Magwiro said GCT conducts constant reviews of human-wildlife conflict prevention programmes such as capture and translocation of problem animals.
The organisation is also giving support to farmers such as Murandu to effectively protect their crops.
Elice Pheimani, the GCT human wildlife conflict prevention coordinator, said communities close to the Jamanda Conservancy have also been losing their livestock to spotted hyenas with 40 herd of cattle and 200 goats lost to the wild animals last year.
Villagers are also losing livestock to crocodiles, leopards and snakes.
"When it comes to livestock conflict, we also try to do capture and translocation of problem animals," Magwiro said.
"For instance in the Maparadzi area there was an incident of a problem lion and after that exercise, the lions problem dropped to zero.
"So at times it's only one animal and not the whole species."
GCT also works with the communities to collect data about problem animals to inform its strategies in tackling human wildlife conflicts.
"We also try to encourage community members to be part of the community trace," Magwiro added.
"In 2020 we had an incident where a pack of wild dogs was causing havoc right across the boundary of the park.
"So we had our rangers and community members with vuvuzelas, who chased them back into the park.
"Our main strategies are to try and use non-lethal control as much as possible before we resort to lethal control."
Conservationists say human-wildlife conflict is also fuelled by the expansion of human settlements into game reserves.
Related Topics