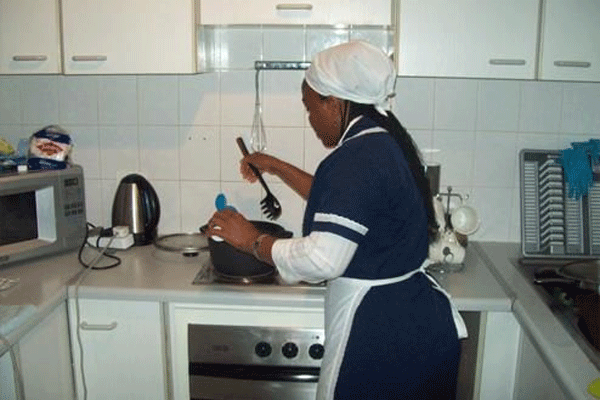 BY AMANDA NCUBE After dropping out of school in 2019, Silethemba Ndlovu (16) left her rural home in Sifanjani village in Gwanda to look for employment as a domestic worker in Gwanda town.
Ndlovu says the reason she looked for the job was to help bring income back home.
She was raised by a single mother, who could hardly afford to put her through primary education.
After completing her Grade 7, her mother told her that she could not afford to put her through school any further.
Ndlovu began assisting her mother in growing vegetables in a community garden and selling them to make a living.
This was bringing in meagre returns, and she decided to look for employment as a domestic worker.
"I have been working as a maid at a house in Gwanda town for the past six months," Ndlovu says.
"At first, the job was a huge burden on me because of the duties and responsibilities that come with being a domestic worker and maintaining a household.
"I now overlook that because I know that I need income."
Now, after getting her salary at the end of each month, Ndlovu sends some of the money to her mother back at home to assist towards the upkeep of her two siblings.
She says she desired to save some of her money to finance her studies, but she could not because of her responsibilities.
A number of teenagers that have failed to complete their education have turned to domestic work to get an income.
Others do so as they feel that would be the only option after dropping out of school.
This has seen teenagers working as maids as early as 15 years.
From Ntatale, Patricia Ncube (17) started working at 15 after dropping out of school in 2019 when she was in Form 2.
Ncube got her first job at a local grocery shop where she was working as a shopkeeper.
She later moved to Gwanda town, where she worked as a maid.
She now works as a shopkeeper at a small grocery store in the high-density suburbs.
"My mother passed away while I was in Grade 2, and my father died when I was in Form 1," Ncube said.
"I then went to stay with my grandmother, and she tried to pay my school fees so that I could continue with school.
"She was struggling, and I had to drop out of school to look for a job.
"Since I only attended school up to Form 2, I can mainly work as a maid or a shopkeeper in small shops."
Another teenager, Samkeliso Nkiwane (17), from Sitezi area in Gwanda, says her aunt advised her to drop out of school as she was not performing well.
She says she then decided to find a job as a maid as she had nothing else to do.
According to the Zimbabwe Vulnerability Assessment Committee (ZimVAC) 2021 Rural Livelihoods Assessment Report, 23% of children within the school-going age are not going to school.
The report states that the major reasons children are not in school include financial constraints, pregnancies, early marriages, and children being considered too young.
Other reasons children were not in school included illnesses, lack of interest in school and long distances to school.
The report suggests the need for urgent strengthening of the government's Basic Education Assistance Module programme and stronger partnerships with its development partners.
The report further reveals that Matabeleland South province had the highest number of children not attending school with 27% followed by Matabeleland North province with 26%.
Mashonaland West province had 24% while Mashonaland Central province had 23%, with Midlands province at 22%. Masvingo and Manicaland provinces had the lowest numbers at 18% each.
The primary data collection for the report was conducted between May 3 to 20.
Sifanjani village head Joseph Nkala says many teenagers are now working at a young age after dropping out of school.
While others are getting jobs locally, others are illegally crossing into South Africa searching for jobs, he says.
"It has become a norm for teenagers in rural areas that they don't complete their education, and then they look for employment," Nkala says.
"Some even start working at the age of 15.
"At that age, the teenager will still be a child, and she won't be ready mentally or physically to assume the responsibilities of a domestic worker.
"This is a sad reality, and something has to be done to address it."
Nkala says there is a need for the government to put in place more programmes to fund education for children from underprivileged families.
He says some children who have great potential are missing out on an opportunity to get an education and better their lives because of financial challenges.
The village head believes that no child should lose out on a chance to go to school because of economic challenges.
"Every child must go to school because it's their basic right. A child would rather go through school and not do well and not for the child's future to be destroyed because they didn't get the chance to go to school," says Nkala.
This article was originally published by The Citizen Bulletin, a non-profit news organisation that produces hard-hitting, hyperlocal reporting and analysis for the southwestern region of Matabeleland.
Related Topics