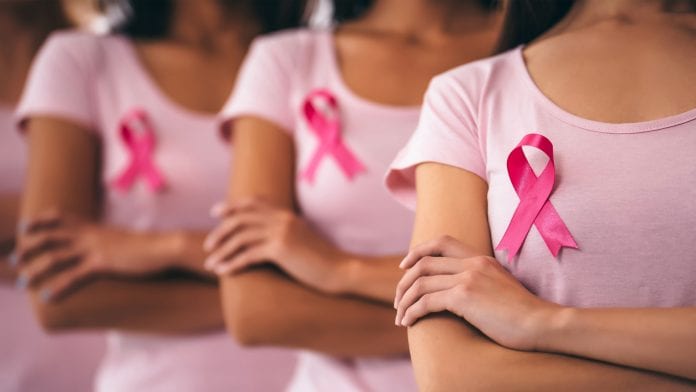 Breast cancer remains the second most common cancer among women in Zimbabwe.
Yet there is still little awareness on the disease and resultantly patients present late when there is little that can be done.
Screening, therefore, remains the most critical in early diagnosis and ultimately the treatment will be more effective.
Zimbabwe does not have a national breast cancer screening programme like that for cervical cancer. This means that  most breast cancer presentations will be symptomatic and inherently more likely to be associated with an advanced disease.
Out of an estimated 84% of the staged cancer patients in Zimbabwe 29% present with advanced stages of the disease.
October as the month set aside for breast cancer, has become synonymous with spirited efforts to ramp up screening.
Below, our  health reporter Phyllis Mbanje shares her personal screening experience for breast cancer.
For years I have consistently gone for breast cancer screening wherever it is offered and share my experiences.
I have realised women face many barriers in accessing screening.
These range from accessibility in terms of distance as well as making the initial decision to go for the examination.
Screening coverage is still limited and mostly centralised.
The Cancer Association of Zimbabwe (CAZ) is one of the organisations that have been offering promotional breast cancer screening every year for the whole of the month of October.
Making a decision to go for screening is never easy, no matter how many times you have done it.
There is always that little voice 'what if',  but I have also learnt that early diagnosis is the buffer that prevents many hospital visits and the distressful chemotherapy sessions that are costly and painful.
So after weighing my options I once again found myself at the CAZ main entrance.
Strangely there was no queue, and the security officer explained that people always rush towards the end of the promotion, which expires on October 29.
As I scribble my name chatting to the pleasant officer, a sudden morbid fear envelops me.
Taken aback I pause and take a deep breath to calm my nerves, which have gone into over drive.
Suddenly I realise I am no longer as young as I was in the previous years and the risk factor is, therefore, higher now.
The officer notices my hesitancy and says, "There are always options available. It is better to know than regret later."
It took those words to calm me and refocus again.
The sweltering heat does not help and I take a swig of water and boldly walk across to the reception area.
As my confidence peaks I tell the lady at the reception that I have come for the promotional breast cancer screening, which costs a dollar.
The receptionist offers me a seat.
Sitting there waiting, I looked at the Zimbabwe scenario and all of a sudden I realise that more needed to be done to raise awareness and to open up free screening points across the country.
My colourful imagination conjures up the image of a woman deep in Uzumba, who has no idea about breast cancer and its impact.
She is most probably going about her chores, preparing the field since the rain season is close.
For her, breasts are only important for providing milk to the baby and after weaning, she rarely gives them a second glance until the next pregnancy.
I shudder as I imagine the cancerous cells eating away flesh and growing undetected and tucked away in the milk ducts.
As years pass, they begin to be noticed.
Nipples are sucked in and the skin around the breast toughens up and take on the feel and look of an orange peel.
By then the cancer is most likely in stage three or four and hard to treat.
As all these thoughts race through my mind I am reminded of family members and friends who have succumbed to breast cancer.
I still feel their pain and anguish in their last moments.
For a disease that can be prevented, it is sad that we continue to lose productive lives.
Finally it is my turn and I am ushered into a room for examination.
The clinical white walls and pristine environment cause my heartbeat to take it a notch higher.
But as I take off my shoes and clumber onto the narrow stretcher bed I am not afraid anymore.
I guess the gentle voice of the nurse is calming.
She explains how I can also check my twin peaks at home.
As she prodes and pokes I try to follow her lecture but part of me is wary of any sign that there is something wrong.
Each time she stops I also cease to breathe.
Finally she smiles and says all seems fine, at least  for now.
I guess for the next 12 months I will religiously carry out my own examination.
As I leave the CAZ I meet a young woman, who is also coming in for the screening.
She nervously asks what it involves and I explain, letting her know it will not take long and that it is not invasive or painful.
She lingers a bit and since I was in no rush I stay a bit with her, and as she warms up she tells me why she is dreading the process.
"I have a lump in my left breast. My husband is the one who discovered it two days ago.
"It never used to be there," she says.
I reassure her that some lumps are harmless, but it is important that she proceeds with the screening by the experts, who will be able to tell if it warranted further investigation.
As I finally leave the CAZ I say a prayer for her and millions of women  across Zimbabwe.
Government and partners need to seriously consider greater investment to support improved systems for breast cancer care, particularly to improve screening, adherence and reduce loss to follow-up.
Breast cancer is highly treatable and often curable.
Available data and growing literature demonstrate the urgent need to improve breast cancer diagnosis and treatment for women especially in Africa.
Various studies have revealed a lack of awareness and comprehensive knowledge about breast and cervical cancer.
They also reveal low self-risk perception, low uptake of cancer early detection services and low capacity of the local health institution in offering cancer services.
A study in Bindura district, for example, revealed that the majority of respondents had not heard of breast self-examination and that more than half did not think that they could develop breast cancer.
As recommendation the authors said there should be scaling-up cancer information, dissemination, and early detection services must be prioritised, including training of local health institutions.
Related Topics