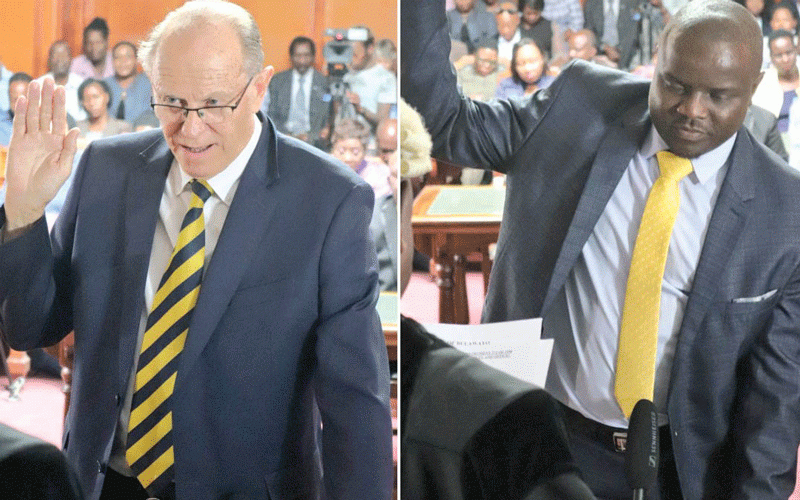 The Citizens Coalition for Change (CCC) in Bulawayo has lept to the defence of the recently elected mayor David Coltart and his deputy Donaldson Mabutho saying they were selected because of their track record.
CCC Bulawayo spokesperson Swithern Chirowodza said councillors were unanimous in selecting Coltart and Mabutho, adding that party leader Nelson Chamisa had nothing to do with their election.
Coltart was the Primary and Secondary Education minister during the tenure of the inclusive government between 2009 and 2013 where he was credited for restoring the crumbing education sector.
Mabutho was elected ward 9 councillor during the 2018 elections under the MDC Alliance before the party was taken over by Douglas Mwonzora.
He was recalled by Mwonzora, but continued to work in the same ward leading to the CCC garnering impressive votes in the August elections.
Chirowodza's remarks came a few days after some residents protested during the mayor and deputy mayor's election after it emerged that Coltart and Mabutho had won the positions.
Dumisani Nkomo had been tipped for the deputy mayor post before Mabutho was elected unopposed.
"The CCC Bulawayo councilors unanimously elected ward 4 councillor Coltart to serve as mayor for the City of Bulawayo.
"Coltart has lived in Bulawayo since 1961 and his heart has always been in Bulawayo," Chirowodza said.
"Coltart showed his passion for Bulawayo while minister of Education (2009- 2013) when he focused on promoting local indigenous languages and the rehabilitation of Khumalo Hockey Stadium and White City stadium."
The party also defended Coltart, who was involved in the setting up of the Bulawayo Legal Projects Centre.
"He has been involved in the building of schools in the city and was responsible for the setting up of a children's hospital in Bulawayo. We support his vision to restore greatness to our city," reads the post.
Chirowodza said Mabutho continued working in his ward despite being recalled by Mwonzora.
"Workaholic ward 9 councillor Mabutho was elected deputy mayor. Despite the recall by Mwonzora under MDC Alliance, councillor Mabutho completed, delivered and unveiled the highest number of projects among all outgoing city fathers," he said.
"At 5 862 votes, councillor Mabutho got the most votes among Bulawayo councillors.
"CCC Bulawayo believes among other things that the vote was occasioned by tangibles such as facilitating the construction of a pharmacy in Mpopoma and special toilets for people with disability."
The main opposition party noted that before his recall, Mabutho resolved a plus 20 year sewer problem in Matshobana while assisting in the installation of 1 112 water meters for residents with non- working meters.
In an interview, Mabutho said councillors were aware of the challenges they are facing.
"Bulawayo is crying, Coltart has spoken about many issues that are dodging Bulawayo. I will assist him in solving these problems," Mabutho said.
" We must move together, there must be no one at the front or behind but we must move side by side. Our aim is to develop Bulawayo".
"Coltart is the mayor for CCC, Zanu PF, Zapu, MRP and any other party that is here in Bulawayo. What I pray for is unity in the City of Kings.
"Where we make mistakes, advise us and this is what will develop Bulawayo."
Coltart said there were massive obstacles and challenges to be faced in their bid to restore sanity in the city.
Related Topics