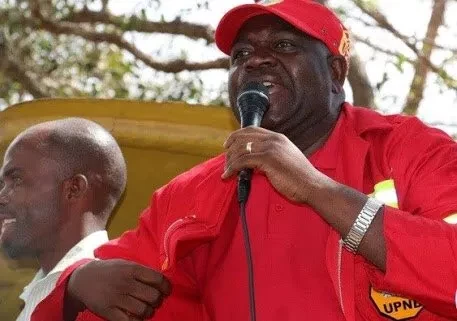 A ZAMBIAN minister has revealed that his country will soon approach the Southern African Development Community (Sadc), African Union (AU) and United Nations (UN) over allegations that Zimbabwe's ruling Zanu PF party is working with Zambia's opposition to kill President Hakainde Hichilema.
Copperbelt minister Elisha Matambo said the Zambian government would petition international and regional bodies to look into the threats on Hichilema's life.
Addressing people who had gathered to protest over Zimbabwe's alleged meddling in Zambia's affairs, Matambo claimed that Zanu PF's secretary for finance Patrick Chinamasa had admitted to having a hand in the death of Zambia's third President Levy Mwanawasa.
"I have received the petitions on the threats on the life of President Hichilema by Chinamasa and Rutendo Matinyanyire. I will deliver your petition to the Ministry of Foreign Affairs so that it can be taken to Sadc, AU and UN. Chinamasa has confessed that he killed president Mwanawasa and is now planning to tamper with the life of President Hichilema," he said.
Matambo said some people in the opposition in Zambia were allegedly working with Chinamasa to destabilise Zambia.
Zanu PF spokesperson Christopher Mutsvangwa referred questions to Chinamasa who has repeatedly not been answering his mobile phone.
Hichilema's United Party for National Development supporters denounced Zanu PF at the reopening of the Kongola copper mines in Chingola and Chililabombwe in the Copperbelt province.
The supporters, according to videos circulating on social media, accused Zanu PF functionaries, including Chinamasa, of trying to destabilise Zimbabwe's northern neighbour.
Hichilema, who is the Sadc Troika on Politics, Defence and Security chairperson, deployed former Zambian Vice-President Nevers Mumba to head the region's observer mission for Zimbabwe's elections last month.
The Sadc Troika is a group established to respond swiftly to political emergencies in the region.
Mumba's Sadc election observer mission released a damning report stating that the Zimbabwean elections did not meet democratic standards set by the region and the international community.
Hichilema boycotted Mnangagwa's inauguration held at the National Sports Stadium in Harare on Monday last week.
Mnangagwa, instead, invited Hichilema's predecessor and foe, Edgar Lungu, to his inauguration.
Since the damning report, officials in Harare have launched a spirited campaign to discredit Hichilema and Mumba, who they have described as "Western puppets", which has soured relations between the two nations formerly joined at the hip in the colonial era as Southern and Northern Rhodesia.
Related Topics