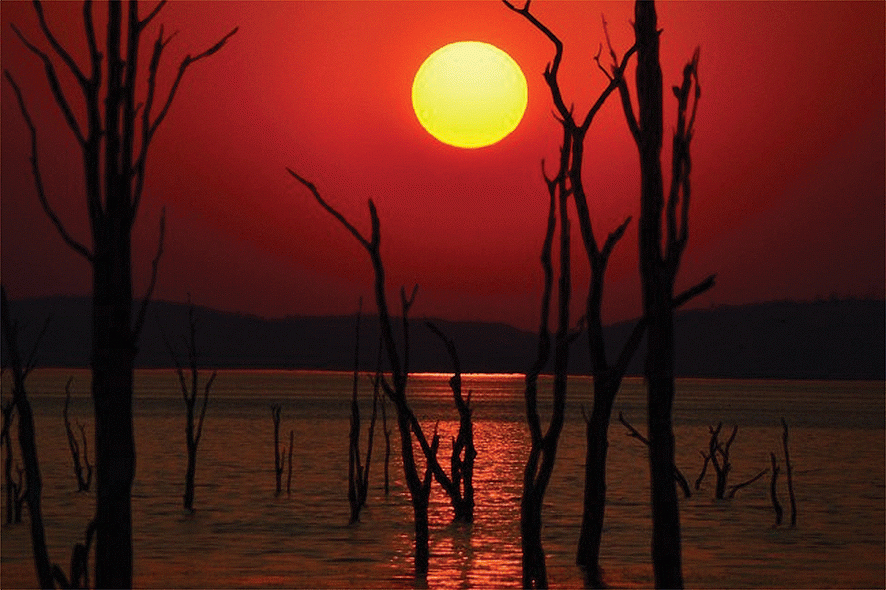 WHILE Kariba residents and villagers see no value in the ghostly tree stumps jutting out of Lake Kariba's deep waters, tourists who flock to Kariba view the grey tree trunks as part of the lake's history and a tourism emblem.
The dead tree trunks, which dot the 280km long and 40km wide water body, are among Kariba's oldest treasures.
Face of Kariba founder and director, Aloise Chimbangu said the trees were a tourist attraction as they represented a family of trees which were alive decades ago but were swallowed by the Zambezi River waters when the massive dam was built along the river in the late 1950s.
"The petrified forests are dead Mopane trees which were covered by water in the formation of Lake Kariba when water started filling up at a very alarming rate as a result of a flood.
"The petrified bush is the best spot for bream fishing or tiger fish spinning, hence ideal for tourists who visit Kariba.
"The trees can be used in the marketing of Kariba in so many ways, they can be a spot for educational tours with robust history of the formation of Lake Kariba and dam construction," he said.
"The in-depth knowledge of vegetation would help us to understand how the dead trees are valuable to the tourism of a town like Kariba," said a Kariba-based tour guide, Doubt Mutevera.
"We are privileged that the dead trees have become part of the lake's history and this is worth celebrating."
Minac Vikanovic, a tourist from Russia who visited Lake Kariba for a boat charter last week, described the dead trees as unique and a great symbol of Lake Kariba's history.
"To me, as dead as they are, these trees are a great symbol of the history and ecology of Lake Kariba," Vikanovic said.
"I have seen a lot of Lake Kariba images on various websites and social media platforms with these beautiful trees and this forced me to visit the resort town and have a look at them with my naked eyes. This is not just amazing to see, but to me, it's historical."
Meanwhile, a floristic study was undertaken to classify the vegetation colonising Lake Kariba's shoreline.
Ten vegetation types were distinguished and described floristically and physiognomically.
The dominant shoreline vegetation type is grassland, consisting of six types: panicum repens grassland on gentle sloping lower shoreline on sandy soil nearer the water edge, melinis repens grassland, eragrostis viscosa grassland, heteropogon contortus grassland and aristida adscensionis grassland on steep rocky parts of the shoreline, while the middle shoreline vegetation consists of urochloa trichopus grassland.
The influence of water level fluctuations on vegetation composition was apparent.
Vegetation of the lower shoreline has not changed in over 30 years and is still dominated by panicum repens, polygonum senegalense and ludwigia stolonifera, probably because the zone shifts downwards as the lake level recedes such that it is always within the inundation zone.
Changes in lake level have led to the establishment of a large drawdown zone where shrublands of dichrostachys cinerea, calotropis procera, acacia nilotica, indigofera tinctoria and other terrestrial woody species have established as the area has not been flooded for over 20 years.
The recent inundation of this zone following the good 1997-1998 rainy season may kill this vegetation by submergence.
The magnitude of lake level changes will influence future vegetation dynamics along the shoreline.
Related Topics