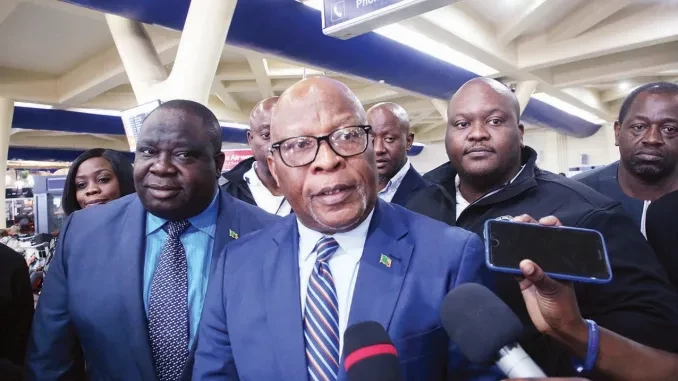 SOUTHERN Africa Development Community Election Observer Mission head Nevers Mumba has described the Zimbabwean elections as the most fraudulent in the history of the region.
Speaking in an interview with a Zambian television station, Mumba said Zimbabwe's elections were "deeply flawed" and lacked transparency.
"President Emmerson Mnangagwa can proceed with his inauguration, but the election is recognised as the most fraudulent in the history of Sadc," Mumba said.
"Let's not act like we don't know what's happening on the continent of Africa, the coups are taking place in the western parts of our continent. These are realities on the ground. They start with unruly political leaders and desperate political leaders … Zimbabwe should show that it is a member of Sadc and I'm sure they will make things right."
He said there were widespread irregularities including the disenfranchisement and intimidation of voters.
"This report is not common in the Sadc region; they expected us to just endorse everything … If we don't work hard to ensure that we have free and fair elections in our region, we create a problem for ourselves.
"People start to find other ways to express themselves, which are coups. That's why Sadc insists on all member States to comply with guidelines. The citizens of Zimbabwe only saw the ballot paper on the day of voting, they never saw it. They only knew who printed it three days before the election. They don't know how it even moved to the polling stations. The voters were disenfranchised," he said.
Mumba also condemned the attack on his mission by some Zimbabwean citizens on social media, who felt that the Sadc report was biased, saying they should go the legal route.
"What people said on social media is unfair to say that Sadc is partial. It's an insult to my integrity and dignity that they think that I can compromise my sense of judgement. I'm addicted to justice and fairness. We are not Westerners; we are not pushing Western interests. We are all Africans.
"We cannot choose leaders for Zimbabwean people, they choose for themselves. Zimbabwe must challenge this report if they think it is wrong so that we go back to their Constitution and show them where we are anchoring that report. If they have any problem, they must not come to Zambia and cannot blame President Hakainde Hichilema.
"There is no reason why they should involve him, this is totally unacceptable. Let's not react dramatically, we know there are legal routes," he said.
Last week, the ruling Zanu PF party ripped into Mumba, calling him to order after he released a damning report on the just-ended elections where he stated that they failed to meet international and regional standards.
Zanu PF spokesperson Christopher Mutsvangwa discredited Mumba as an election observer and accused him of overstepping his role by criticising Zanu PF affiliate Forever Associates Zimbabwe, which reportedly threatened voters, according to findings of the observers.
Related Topics