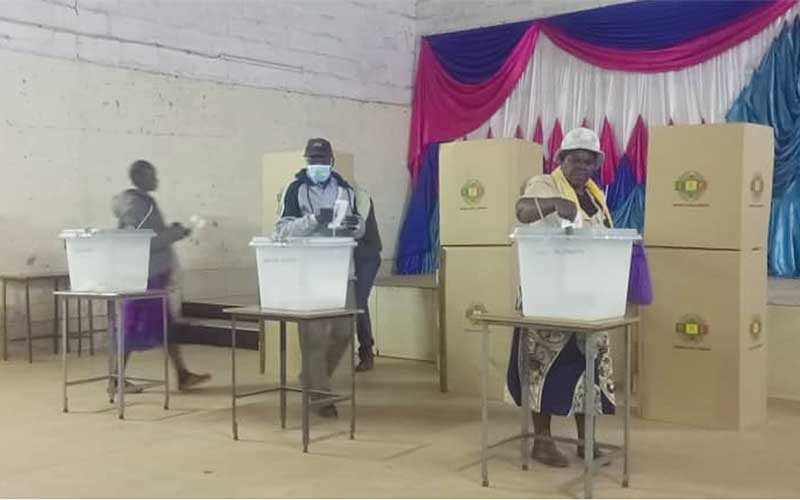 CHAOS characterised Zimbabwe's polls yesterday as the Zimbabwe Electoral Commission (Zec) failed to deliver ballot papers to some polling stations, while shadowy Zanu PF affiliate Forever Associates Zimbabwe (FAZ) intimidated voters at polling stations.
Voting at several polling stations, particularly in Harare and Bulawayo, was delayed by several hours due to late delivery of ballot papers, while dozens of desks were set up at polling stations allegedly by FAZ, where voters were being asked to submit their names, ID numbers and contact details soon after casting their votes.
Voting only started after lunch at some centres, with voters casting their ballots late into the night after Zec extended time for polling stations which opened late.
In Warren Park and Cold Comfort in Harare, NewsDay heard that ballots came at sunset, and Zec staffers took more than two hours to commence the voting process, saying they were conducting a verification exercise.
Voting began a little before 7pm in Warren Park, while at Cold Comfort Primary School polling station, voting started after 8pm.
In Bulawayo's Cowdray Park suburb, voting started after 2pm with Citizens Coalition for Change (CCC) parliamentary candidate Pashor Sibanda complaining of being denied access to the polling station.
"For some time now, I have been denied access to the polling station simply because they could not accredit me. That has been disturbing, that has been discouraging," Sibanda said.
Voting was expected to extend beyond midnight to cover up for the lost time.
CCC leader Nelson Chamisa said Zec had dragged Zimbabwe to the Stone Age era because of its antiquated rigging tactics.
Addressing a Press conference yesterday evening, Chamisa said his party had engaged Zec on several occasions over various electoral irregularities.
"We had hoped that we would have a normal election, but the election is not normal," Chamisa said.
"Zec seems to be weak, incapable and out of capacity to deal with the issues. Those issues that we have raised have not been addressed by Zec, and it's a cause of concern.
"Zec seems to have confirmed our fears that they have probably failed to pass the credibility test, the professionalism test, the independence test, and the constitutionality test."
Zec said all polling stations that opened late would be allowed to enjoy the stipulated 12-hour voting period, a situation that saw voting continuing until this morning.
"The fact that they have targeted Harare, Bulawayo is an indication that they are scared of people in urban areas," Chamisa said.
"If we are talking about people in the urban areas, we are talking of 1,2 million voters who have been disenfranchised. This is a clear case of voter suppression.
"A classic case of Stone Age antiquated rigging, where you say we have all the other ballot papers, the presidential, the National Assembly, but the local authority is missing.
"This is in Harare, where the printing is done, but you have them in Mudzi, Uzumba, Mutoko where there is no printing press. It tells that there is a big rat smelling."
At some polling stations in Marondera, Mashonaland East province, ballot papers were said to have run out as the election continued to be dogged by logistical nightmares.
In Mutare's Dangamvura constituency, ward 7, voters could be seen returning home in frustration at about 2pm, seven hours into the election.
Zec presiding officers said they were still waiting for ballot papers from Harare.
Meanwhile, FAZ, which is run by the Central Intelligence Organisation, added to the confusion by setting up what were termed "Exit Survey Poll Desks" outside polling stations, where it was recording names of people after casting their votes.
CCC Gweru Urban candidate Josiah Makombe witnessed the intimidation of voters by FAZ members.
"I have moved around the constituency and my main worry is this situation, whereby FAZ has set up desks writing names of people who are voting, which is an intimidation tactic," Makombe said.
Norton candidate Temba Mliswa (independent) furiously said: "FAZ is intimidating people and the playing field is uneven."
Some voters were left frustrated after failing to vote as their names were not on the voters roll.
Independent candidate for Masvingo Urban, Collen Maboke, said: "The information I received from my polling agents is that the polling stations opened late and also there were challenges as many people could not find their names on the voters roll."
CCC Bulawayo member David Coltart said this was the worst election the country ever held since independence in 1980.
"The run-up to these elections have been fraught with illegalities," Coltart said. "This is the most illegal election that I have participated in. There have been numerous breaches to the Constitution and the Electoral Act."
The only female presidential candidate, Elisabeth Valerio, who leads the United Zimbabwe Alliance (UZA) party, was not happy either.
"My photo on the ballot is smudged and completely unrecognisable," Valerio, who voted at Main Camp Primary School in ward 19 of Hwange Rural District Council, Hwange East, said.
"UZA supporters at many polling stations have been waiting for hours to cast their votes as ballot papers are arriving late. Some have reported intimidation, but we remain determined and optimistic."
Human rights watchdogs observing the elections raised the red flag over the manner the elections were conducted.
"Perhaps, the most worrisome trend for this election has been the mass shortage of voting materials nationally," the Zimbabwe Human Rights NGO Forum said.
"In other instances, polling agents from political parties have highlighted that the voters roll supplied to polling stations (is) incomplete and not in alphabetical order."
Heal Zimbabwe Trust said: "In most rural areas, human rights monitors reported the presence of the shadowy Zanu PF affiliate, FAZ, intimidating voters working with village heads."
In a joint report, the Zimbabwe Election Support Network and the Election Resource Centre said the late delivery of ballot papers in urban centres compared to rural areas raised eyebrows.
"While observers reported a relatively routine set-up process in the polling stations that opened on time, the acute disparity of voting delays between urban centres and the rest of the country raises questions regarding voter equity and access," the two organisations said.
In Mashonaland Central, voting started at 7am, although reports indicated that disgruntled voters who support self-exiled former Zanu PF commissar and Cabinet minister Saviour Kasukuwere spoiled ballots in protest over the exclusion of their candidate from the race.
Mashonaland Central provincial elections officer Thenjiwe Mnkandla told NewsDay that Zec was facing communication challenges.
"Voting started as scheduled with no recorded challenges. Our major challenge is communicating with rural polling stations, where we are unable to communicate with the centres," she said.
Related Topics