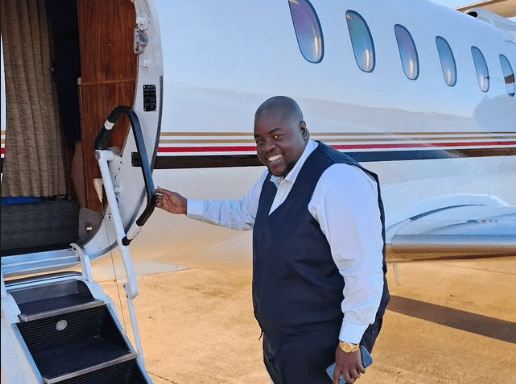 THE flamboyant businessman who shot to fame after clinching a controversial multimillion-dollar solar deal with national power utility, Zesa Holdings about five years ago this week showed off an expensive private jet but claimed it was not his.
Intratek boss Wicknell Chivayo, however, told the Zimbabwe Independent that he had capacity to purchase more than one such aircraft.
Known for his flamboyancy and extravagancy, Chivayo has been a subject of public debate over his source of funding for the shock acquisition since pictures of him at an airport tarmac parading the jet went viral last week.
However, it has since emerged that he was at the privately-run Lanseria Airport in South Africa, where he had hired the aircraft.
Chivayo told the Independent that he never told anyone that the aircraft belonged to him.
"At no given time did I say I bought a private jet, although I can afford three of those jets with my eyes closed," he said.
"I don't have the time and energy to correct critics on social media when they rush to make noise. Let them say and assume what they want."
The lid over the jet's ownership was uncovered by sources close to the businessman, who told the Independent that even if the jet was branded with his name, it belonged to a commercial airline.
"He doesn't own the aircraft," the source said.
"This is a hired jet from Lanseria Airport in South Africa."
At one point, Intratek was embroiled in a controversial US$183 million tender for the construction of a 100-megawatt solar plant in Gwanda.
It was later cancelled and then re-instated in 2015.
The Zimbabwe Power Company, a subsidiary of Zesa Holdings, subsequently accused Chivayo of failing to deliver on the project after he was paid US$5,6 million and shopped him to the police for fraud.
Chivayo and his company were initially charged with four counts of fraud, money laundering and violation of exchange control regulations upon his arrest.
He was eventually acquitted.
Related Topics