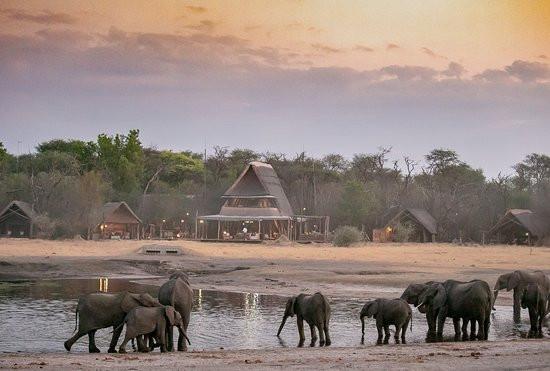 A TEAM of tourists to Hwange National Park recently experienced a rare spectacle: three leopards trudged along the road, in close proximity to their all-terrain vehicle, as they glided into the vast wildlife enclave's main camp.
It was an extraordinary and rare occurrence. Reclusive and largely shy, leopards only exist in fragmented populations, and tend to avoid people.
According to the Natural Habitat Adventures magazine, in addition to their small populations, leopards are famously stealthy and primarily nocturnal.
Because the wildlife population in Hwange is teeming due to successful conservation efforts by the Zimbabwe National Parks and Wildlife Authority (Zimparks), there have been sightings of these nocturnal animals.
It is difficult to see lions in the wild, but in Hwange these have become common sight, thanks to Zimparks' conservation efforts.
With the largest elephant population across the world, an encounter with a prancing elephant or marauding giraffes, kudus, impalas, zebras and ostriches has drawn many tourists to Zimbabwe. All these are results of a successful wild conservation programme being spearheaded by Zimparks and several international partners.
Zimparks has also penned a 25-year funding programme with the International Fund for Animal Welfare (IFAW) to enhance Zimbabwe's wildlife management and conservation efforts.
The partnership has culminated in the establishment of a US$500 000 modern-era camp for ranger within the national park to prevent wildlife crime and safeguard communities in the remote southern region of the iconic national park.
The rangers' camp, a milestone project, is part of a US$5 million five-year conservation agreement between IFAW and Zimparks.
In an exclusive interview with the Zimbabwe Independent in Hwange National Park recently, IFAW executive vice-president Jason Bell said the agreement with Zimbabwe sought to get more room for wildlife to roam.
The partners also want to see wildlife and people to live side by side, in peace.
"Zimbabwe is a critical piece for that, Hwange National Park, one of the biggest parks in Africa, is an important part of the Kavango-Zambezi Transfrontier Area," Bell said. "So if you want to be serious about elephants and other wildlife in the area, you have to be serious about people living with the wildlife in the area.
"We have a long MoU (Memorandum of Understanding) with the Zimbabwean government for 25 years and we are looking at many other opportunities here."
Bell hailed the partnership, adding that his organisation was committed to helping Zimbabwe in wildlife conservation efforts.
Zimparks spokesperson Tinashe Farawo also confirmed that the partnership, which started in 2019, would be renewed.
Initially, the partnership was expected to run for five years.
"They (IFAW) have been investing about US$3 million into this partnership every year and this is part of millions of (United States) dollars, which form part of infrastructure development," Farawo said.
Farawo said Zimparks was targeting partnerships with international organisations to rave up its conservation efforts, which are often affected by lack of funding.
"So, over the past few years, we had partners that have been assisting us in the North West of Matabeleland. "We are working closely with IFAW. In mid-Zambezi, we are working with other partners like African Wildlife Foundation and there is also World Wildlife Fund. If you look at South East Lowveld, we are working with the Frankfurt Geological Society to form the Gonarezhou Conservation Trust."
He said Zimparks was also working with the African Parks in Sebukwe and Matusadonha National Park.
"We are doing this for posterity. We are doing this for the communities, for the benefit of our generations to come," Farawo said.
The partnerships between Zimparks and its partners have also been bearing fruit in reducing poaching incidences.
"Over the past two or three years, we have not lost a single elephant to poaching in the greater Hwange National Park. It speaks volumes and also speaks to the importance of partnerships where we are putting resources for animals to be safe."
He said putting communities as the first line of defence for wildlife has also played a huge role in the protection of wildlife.
"They teach communities about animal conflict, what to expect, what needs to be done because we want them to see animals as an economic opportunity where their jobs, infrastructure, schools, clinics and other infrastructure can be realised," he said.
Hwange National Park boasts of a large herd of elephants, with an estimated population of more than 50 000, against a carrying capacity of 15 000.
"This is our biggest park at 14 620 square kilometres. This is where we have the biggest concentration of elephants, probably in the whole world, and it is an important part of us. It is iconic and has a rich history, and animals, as you can see.
"The biggest threat to our animals is lack of habitat. If you travel around the park, elephants prefer acacia trees. You can hardly see an acacia tree because the elephants move around, knocking down trees. As they move around knocking down trees, it means loss of habitats."
Meanwhile, Zambezi Valley Conservation Network project co-ordinator Jaeninne Norris applauded partnerships between Zimparks and other wildlife conservation organisations.
"Wildlife conservation throughout Africa requires substantial resources, which in most cases are unavailable through governments, given the numerous national demands," Norris said. "These financial, technical and human resources gaps can, therefore, be filled through appropriate partnerships that can effectively deliver sustainable conservation activities while simultaneously assisting the needs of rural communities living near protected areas."
She added: "In Zimbabwe, we have seen significant conservation impact delivered through strategic partnerships, where various co-management and development agreements have allowed for the free flow of finance and expertise to be deployed efficiently."
She said benefits of these arrangements were being realised in the maintenance of wildlife and habitat, improvements in infrastructure and staffing, increased tourism revenues, as well as the provision of community programming that can reduce conflict with wildlife and improve livelihoods.
"Furthermore, there is evidence that long-term lease tenure agreements on large areas of vulnerable wilderness can attract private sector investments, both via philanthropic and development capital, which helps to improve the economic stability and long-term maintenance of these fragile ecosystem services," Norris said.
Related Topics