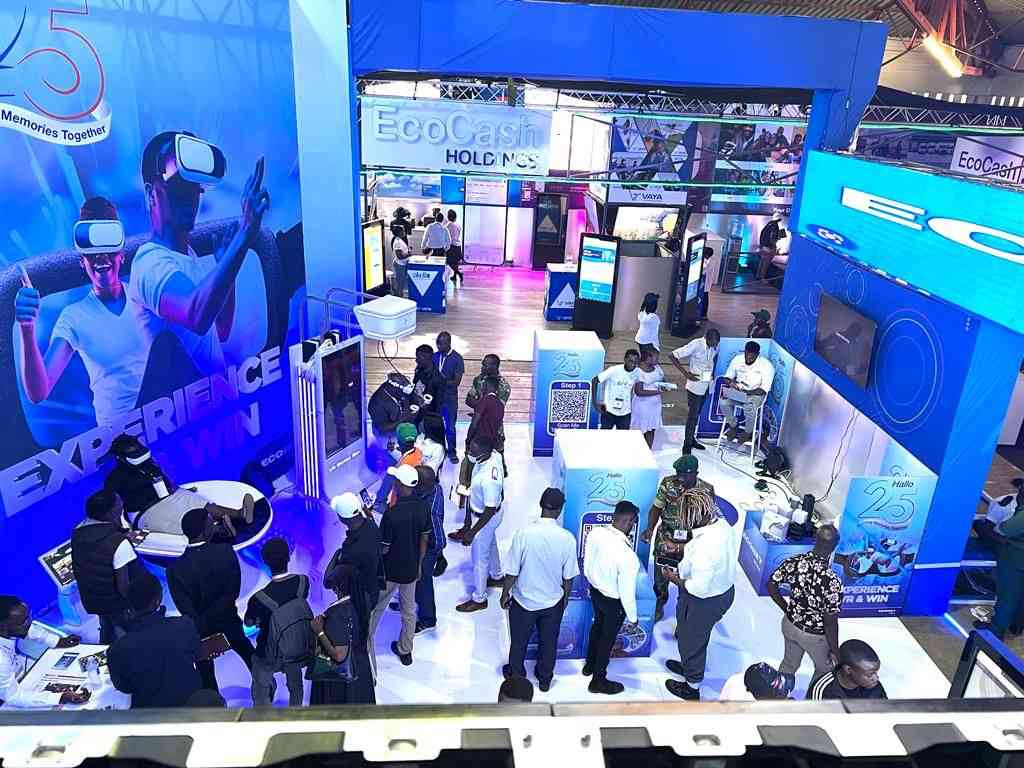 Econet Wireless Zimbabwe's stand at the ongoing Zimbabwe International Trade Fair (ZITF) is attracting a large number of visitors because of its eye-catching, digital displays and on account of the customer friendly, innovative technology products and services that are on display.
The imposing double-deck stand – covering a total of about 500 square meters (400 square meters on the ground floor and 100 square meters on the upper deck) – is adorned with multiple LED screens, the latest virtual reality games, a customer-friendly shop and several modern business solution counters manned by supportive and well-drilled staff, ready to assist any visitors.
The stand, which does justice to this year's ZITF theme "Transformative Innovation, Global Competitiveness" epitomizes innovation and has been buzzing with activity since the Fair started yesterday (Tuesday, April 25, 2023).
The stand has double staircases leading to the upper deck, where Econet has allocated further hospitality and meeting space, dedicated to business meetings and other one-on-one engagements.
At the very top of the stand, the company fitted suspended flying LED light boxes, nicely branded and highlighting the company's upcoming 25th anniversary, themed "Building Memories Together".
Ahead of the ZITF, Econet's Group Chief Executive Officer, Dr Douglas Mboweni said the company was excited to be participating at this year's Trade Fair.
"For us, the ZITF is a great opportunity to show our consumer customers as well as our prospective B2B (business-to-business) clients the wide array of innovative digital and technology-based products and solutions we have to address their needs and solve their problems," Econet's group chief executive officer, Douglas Mboweni, said.
"We are therefore excited to be participating at this year's Trade Fair, whose theme 'Continuous innovation, Global competitiveness' echoes something that we, as a business live and breathe, and are fully committed to," Mboweni said.
The company's Chief Operating Officer, Kezito Makuni, who said he now looks forward to the annual premier business exhibition with anticipation, invited various stakeholders – customers, business partners, suppliers and the public at large – to visit and experience Econet's state-of-the-art pavilion.
"We will be showcasing multiple products and services, including 5G consumer and commercial use cases, a full array of Econet Business Solutions, 3D gaming, the latest devices and much more," he said.
Yesterday he added that he was delighted with large number of visitors turning up at the Econet stand and "trying out and enjoying the wide array of customer-centred innovations and products on display".
"We are delighted with the interest that our products and services are generating, as evidenced by the large turnout at our stand," he said. "We are most grateful for public's interest and engagement with us, and highly value the market's support and feedback," the top Econet executive said.
The Econet stand is also providing visitors and exhibitors to the Trade Fair with their telecommunications solutions, such as roaming activations, local SIM card purchase and replacements, mobile data solutions as well as the purchase of new mobile devices and smartphones.
An very popular part of the stand is the one exhibiting virtual reality (VR) games, where both the young and the old are getting experientially immersed in the latest games, played on a VR game box and a state-of-the-art VR slide, which are testing customers' intellect, reflexes and nerves to the limit.
The section is also hosting a live FIFA tournament across large LED screens, with participants playing opponents from different parts of the world in real time.
Visitors also have the opportunity to get videos taken on a 360-photo booth, designed to capture 360° high-resolution videos.
A hologram showing a wide variety of Econet products is also on display at the Econet stand, which the company's GM for Marketing, Tariro Muchena, said is part of reconnecting with the market as the company kicks off its 25th Anniversary celebrations this year.
"This year's Trade Fair coincides with our company's 25th anniversary themed, 'Hallo 25! Building Memories Together'. And so, we are excited to use this platform to start the celebrations with our customers because without their support and business, our company's successful journey over the past 25 years would not have been possible," said Muchena, speaking from the Econet Stand at the Trade Fair yesterday.
Related Topics