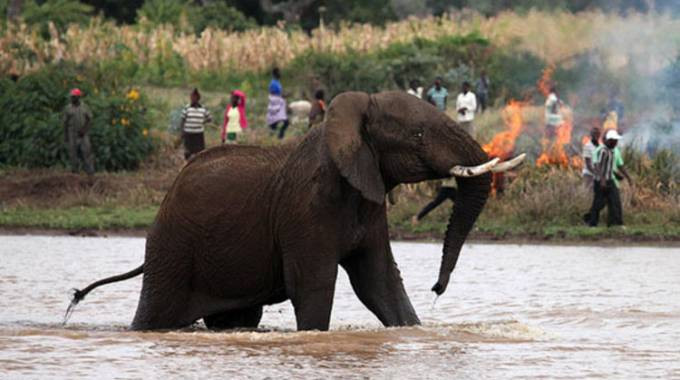 Communities living close to wildlife conservancies in the Midlands province have expressed concern over the rise in cases of human-wildlife conflict, with 50 villagers reportedly injured in recent weeks.
Human-wildlife conflicts are more prevalent in Gokwe districts, with animals coming from the neighbouring Chizarira, Chirisa and Nyaminyami game parks.
Elephants, whose huge bodies require a lot of food, are invading human habitats in search of food and water, resulting in the conflicts.
Manager Mnkuli, a villager from Gokwe North, said while the conflicts date back to the 1990s, the cases have become more prevalent due to climate change-induced droughts.
"The human-wildlife conflict has increased in Gokwe North because most people stay close to wildlife migratory corridors. These animals usually come from surrounding game parks," Mnkuli said.
He said villages near animal conservation areas such as Mareka, Mazenge, Vumba, Maririme and Manyuli were the worst affected.
Brighton Mlingo Magumbedze, a 37-year-old from ward 28 under Chief Chireya said wildlife attacks had increased in recent times.
"Wild animals such as elephants, hyenas and jackals have invaded human settlements. These animals straying from Chirisa, Chizarira and Nyaminyami game parks have become a menace especially in ward 28," Magumbedze said.
"The elephants are not only a threat to our lives, but they are also destroying our crops.
"Last week, another villager was attacked by a stray elephant as he was guarding his field. He died as he was being transported to the hospital. That same day, a vicious elephant attacked dogs at my homestead at around 3am."
Magumbedze added: "Elephants are destroying our fields. No action is taken when an elephant kills people, however when people kill an elephant, park officials quickly take action to come and beat up people. It now appears as if elephants are more important than human life."
Fourteen people have been killed by wild animals across the country since the beginning of the year, Zimbabwe Parks and Wildlife Management Authority (ZimParks) said early this week.
According to a research conducted by the Zimbabwe Environmental Law Association (Zela), human-wildlife conflicts across the country have increased by nearly 300% from 619 to 1598 between 2016 and 2021.
In 2021, a total of 72 lives were lost.
"ZimParks should at least construct clinics in our communities from the sales of ivory, this will give us a better option to ferry the injured individuals to a clinic for medical treatment," Magumbedze said.
Another Gokwe North villager, Pauline Moyo, said they were now living in fear of wild animals.
"We do not travel at night because we are living in a jungle, anytime anyone can be attacked by elephants. The other challenge is if an elephant is attacked somewhere in another village, it charges and becomes vicious such that by the time it arrives at another village, it will be extremely vicious," Moyo said.
Ward 28 councillor, Mabhandi Matsika, expressed concern over rising cases of human-wildlife conflicts, with victims not getting any compensation.
"We are facing an increased incidence of human-wildlife conflicts after some of the animals were displaced from their habitat to pave way for a Zion Christian Church," Matsika said.
"We plead with ZimParks to help us deal with this issue as we are living in a dangerous area. Countless people were trampled by elephants and we will gladly accept any form of help."
ZimParks spokesperson Tinashe Farawo said wild animals causing human distress include elephants, hyenas and snakes.
"They are a threat to life. We have responded to these distress calls, mostly scaring them away," Farawo said.
Government announced last year that it had set up a scheme to assist victims with burial and hospitalisation, but remained silent on the issue of compensation.
Farawo said they were regularly engaging communities affected by the human-wildlife conflict situations.
In Kariba, a fisherman, Alexander Chakabva, was attacked and killed by a hippopotamus near the lake on Tuesday.
"We were on our way home in the early hours of Tuesday when the incident happened," a witness said.
"The hippo charged at us and we ran in different directions. I got home where I waited for my friend who did not arrive. Little did I know that the hippo had ripped his leg and he was left bleeding profusely.
"I only discovered this when I went back to the scene to check on him. By the time we arrived, he had lost a lot of blood. We took him to Nyamhunga Clinic for help but unfortunately he died along the way."
Kariba Urban ward 1 councillor, Max Mubaiwa, confirmed the incident saying: "I am concerned about the rate at which our people are losing their lives due to human-wildlife conflicts."
Recently, a family in Magunje was forced to bury only the lower torso of their relative who was mauled by a hippo in yet another case of human-wildlife conflict.
Crisswell Paratema was mauled to death by the hippo while fishing on the Nyaodza River near Lake Kariba.
Kariba Rural ward 1 councilor, Lovemore Negande, said: "Cases of human-wildlife conflict are a serious concern in Kariba. People are losing lives from attacks by hippos, crocodiles and elephants."
Related Topics