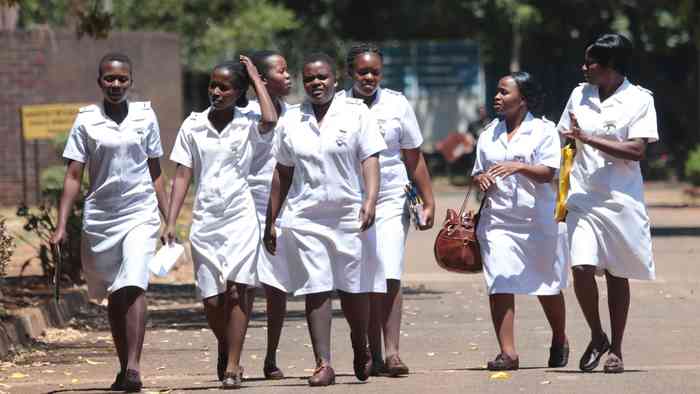 AN undercover Public Service International (PSI) investigation has exposed the state of collapse of the country's health sector including gross labour rights violations and corruption.
PSI carried out the investigation from the Covid-19 period up until this year, and targeted the living conditions of health professionals as well as the state of the public health sector in Zimbabwe.
The documentary titled: 'Behind the Mask' has 13 chapters - Lost salaries map, Inside the hospital, The protest, Power players and Government's budget among others.
The Standard is in possession of the documentary that is yet to be shared with other media groups and on social media platforms.
Interviewed nurses gave chilling tales which included how they are treated at their workplaces while being paid poor salaries.
The documentary followed their lifestyle from home to the workplaces.
In some cases, drones were used.
A number of nurses did not reveal their names as they feared being victimised by the government.
One nurse, Trish has since fled to Scotland fearing for her own safety.
In the documentary, Trish narrated how the Covid-19 funds were squandered by the government.
"The money that was meant for our personal protective equipment (PPE) was sent to bank accounts in Switzerland," she said.
"I felt depressed and betrayed by the system. Switzerland benefited from the dirty money."
In 2020, former Health minister Obadiah Moyo was fired and arrested in connection with the awarding of a multimillion dollar contract for Covid-19 medical supplies without the consent of the Procurement Regulatory Authority of Zimbabwe. He was later acquited in court.
The interviewed nurses said the health sector in the country was in dire straits with most nurses incapacitated.
"We have a lack of resources; there are not enough syringes, the CT scanners are not working," said one of the health professionals.
"There are no emergency drugs to give patients, especially if one gets involved in an accident. Government is misusing funds that are meant for the health sector.
"We are demotivated in terms of salaries. There is no open door policy.
"We have been trying to have dialogue with the employer but our grievances were ignored.
"If we try to protest on the streets we are arrested; if we don't report for duty we are suspended. We have no hope in the current regime."
Salary negotiations have yielded little and have resulted in perennial job action and deadlocks, the report reads.
PSI claims in the report that President Emmerson Mnangagwa has barred health professionals from staging protests.
"When we asked the police, they said they were responding to a call from hospital management to arrest the nurses as they were doing their duty," said a health worker.
Eleven nurses were arrested in 2020 in Harare for staging a protest over poor working conditions.
PSl said there was a need for Zimbabwe to invest in the health sector so that the workers could earn decent salaries and better working conditions.
"Zimbabwe has 500 citizens or patients per nurse. Globally, we face a shortage of over 18 million health workers by 2030. Looking at Zimbabwe, without urgent investment and training for new health workers, conditions for nurses will get tougher," it said.
The organisation raised concern over Zimbabwe's failure to allocate at least 15% of the budget to healthcare in line with the Abuja Declaration
"In 2001, Zimbabwe signed the Abuja Declaration, promising to spend at least 15% of the Government budget on healthcare. But in 2019 less than 9% of the Zimbabwe budget went to healthcare," it said.
Repeated efforts to get comment from the Health ministry spokesperson Donald Mujiri were fruitless as he was not picking up his phone.
Health experts said corruption was bleeding the health sector.
Community Working Group on Health (CWGH) executive director Itai Rusike said misuse of resources remained endemic in the health sector, reducing patient access to services.
"Examples include medical staff that divert drugs and spend more time in private practice when they are supposed to be working in public hospitals," Rusike said.
"This has led to unacceptably long waiting times, poor service delivery characterized by insufficient drugs and stock-outs in most health care facilities in the country.
"The health care workforce which is the bedrock of effective and efficient health care systems has continued to suffer significant disturbances, yet they remain invisible and suffer vulnerabilities including the Covid-19 impact on them, their workmates and close family members."
Medical and Dental Private Practitioners Association of Zimbabwe president Johannes Marisa said general working conditions of the country's workforce is deplorable.
"There is poor infrastructure and we implore the government to improve the conditions of health workers. Health workers do not have proper accommodation, decent means of transport; they need vehicles," Marisa said."
Zimbabwe has recorded a mass exodus of skilled workers escaping from poverty back home.
The country lost at least 3 000 nurses to the United Kingdom alone in the past two years.
Zimbabwe was recently placed on the red list of countries that the United Kingdom and other countries cannot actively recruit health and social care workers from to save the health sector from total collapse.
Related Topics