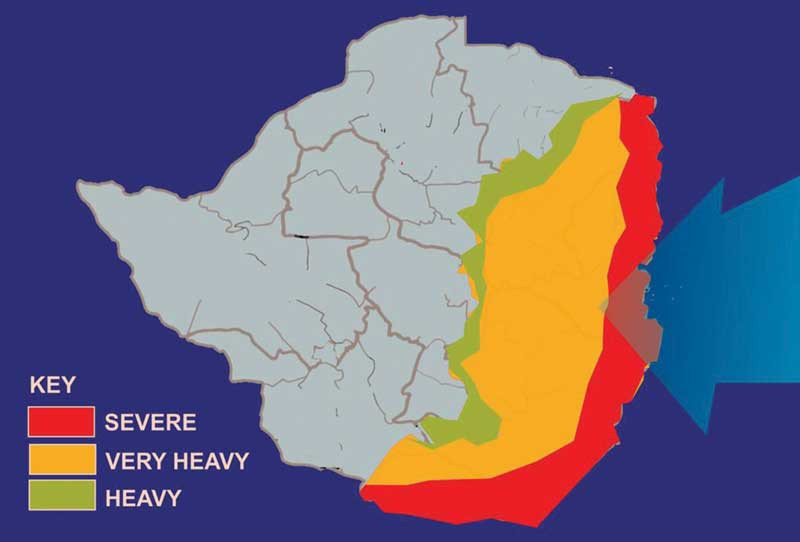 THE Department of Civil Protection (DCP) has warned the public to be wary of possible lightning strikes and to avoid parking vehicles under trees as remnants of Cyclone Freddy drenched some eastern parts of the country.
According to the Meteorological Services Department (MSD), Nyanga received 102mm, Mukandi 97mm and Chisengu 83mm as a result of the moisture stemming from the now crumbling Tropical Cyclone Freddy.
The northern provinces, Mashonaland West and Mashonaland Central had isolated thundershowers, while Matabeleland South and Masvingo provinces were cloudy and cool with rain and drizzle in places.
The only warm and dry areas were the northern parts of Midlands or Matabeleland North.
In a statement, the MSD forecasted isolated showers in Mashonaland East and Central as well as Harare Metropolitan provinces.
"Cloudy and mild morning conditions are expected in Mashonaland Central, Mashonaland east, Mashonaland East, Harare Metropolitan Manicaland, and Masvingo Provinces becoming less cloudy and warmer as the day progresses," said MSD.
"Isolated showers are expected in Mashonaland East and Central as well as Harare Metropolitan, with light morning rain and drizzle in Manicaland, Matabeleland South and Masvingo provinces. Matabeleland North, Midlands and Mashonaland West provinces should be mostly sunny and warm in the afternoon becoming mild in the evening."
The MSD said on March 15, Masvingo, Manicaland, Harare Metropolitan and all Mashonaland Provinces should be mostly cloudy and mild with morning light rain in places.
"Midlands and Matabeleland South Provinces are expected to be briefly cloudy and mild at first becoming warm later. Matabeleland North and Bulawayo Metropolitan should be mostly sunny and warm by day, becoming mild towards evening."
Related Topics