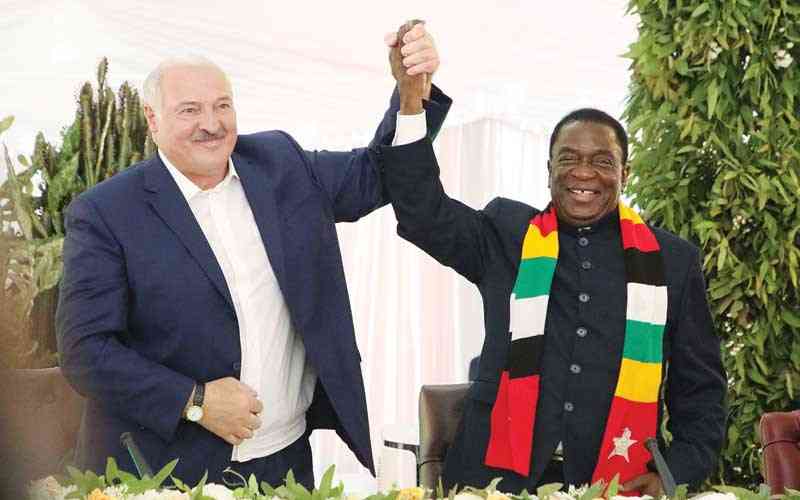 BELARUSIAN President Alexander Lukashenko's visit to Zimbabwe could draw the country into the Russia-Ukraine conflict with reports linking the trip with President Vladimir Putin who reportedly endorsed it as Russia seeks to consolidate its influence in Africa.
Observers who spoke to the Zimbabwe Independent this week said the growing relationship between President Emmerson Mnangagwa and Lukashenko was endangering the country's re-engagement efforts with the West.
Mnangagwa hosted Lukashenko during a three-day state visit last week with political observers saying the Belarusian leader's visit sends Zimbabwe into the geopolitical quagmire involving Russia and the Western world.
Lukashenko arrived in Zimbabwe on Monday last week with reports that several deals in key sectors of agriculture, mining, infrastructural development, science and innovation were to be signed.
He was in sub-Saharan Africa for the first time and the two leaders witnessed the signing of various Memorandums of Understanding and agreements.
Belarus has no diplomatic mission in Zimbabwe and Russian Ambassador to Zimbabwe Nikolai Krasilnikov was at hand to receive Lukashenko and was quoted in the state media saying the visit was important "to develop cooperation with Zimbabwe".
Mnangagwa and Lukashenko held several meetings including on defence and security while a business delegation from Belarus held talks with their Zimbabwean counterparts.
Presidential spokesperson George Charamba early this week confirmed on the microblogging site Twitter that Mnangagwa and Lukashenko had indeed discussed issues to do with arms.
"Indeed it would have been grossly uncharacteristic for these two great leaders of revolutionary nations to meet and forget to discuss defence and security matters. Of course, as expected, they did, and the rest is history. Zimbabwe continues to forge great partnerships with progressives," Charamba said.
Lukashenko, during a state banquet hosted by Mnangagwa, said Belarus was ready to "assist" Russia against Ukraine although he added that Putin did not need the assistance.
In 2019, Mnangagwa visited Belarus where the two countries signed an MoU establishing a Joint Permanent Commission, as part of Zimbabwe's engagement and re-engagement drive.
University of London Professor of Politics Stephen Chan told the Independent that Lukashenko was in Zimbabwe both with the knowledge and approval of Putin.
"It was Putin who helped Lukashenko emerge from the protracted hail of citizen protest in Belarus when he claimed victory in fraudulent elections. Putin keeps Lukashenko afloat and, in turn, Lukashenko allows Russian troops on his soil — which neighbours Ukraine.
"In hosting Lukashenko, Zimbabwe is hosting the place-man of Putin. Lukashenko is offering mechanical goods, tractors for example. This is because he has nothing 21st century, such as cutting-edge electronic technology, to offer. In more ways than one, Zimbabwe is hosting a man of the past," Chan said.
Political analyst Eldred Masunungure said there was a need to accept the complexity of international relations generally and the domain of geopolitics.
"These areas tend to be black boxes that mystify many and that is probably why many countries outside Europe and North America (especially in Africa, including its big powers like South Africa) have elected to take a fence-seating and even indifferent approach to the Russian-Ukraine war," he said.
Masunungure said in respect to Lukashenko's visit to Zimbabwe, what was publicly revealed is important, but what remained hidden remained more vital.
"It is a rarity for a head of state to fly from Belarus to visit one country in a continent of 54 countries only to reciprocate an earlier visit," he said.
Masunungure said this gave credence to the rich speculation that Lukashenko was Putin's envoy to Africa.
"As such, there is more to it than meets the eye. Whatever the case, Zimbabwe demonstrated an unusually high level of autonomy consistent with the President's 'we are a friend to all, an enemy to none' mantra in inter-state relations.'
"This may have its virtues but this was also a highly risky course of action in the context of sparks flying between Belarus/Russia and the West. It is also potentially very costly in terms of the President's re-engagement diplomatic doctrine," he added.
Another political commentator Maxwell Saungweme said Zimbabwe enjoyed cordial relations with both Russia and Ukraine before the war.
"We imported fertiliser from Russia and grain from Ukraine. We had Zimbabwean students in both countries. Zimbabwe is best left that way as an ally of both instead of falling to the war mantra that 'my enemy is your enemy'.
"But hosting the Belarusian president at this juncture is politically miscalculated, not that it matters, but it gets Zimbabwe painted as siding with one side in a war between its two friends," he said.
Meanwhile, Foreign Affairs and International Trade spokesperson Livit Mugejo dismissed the reports while responding to inquiries by the Independent.
"President Lukashenko's visit responded to the gesture shown by His Excellency the President Dr ED Mnangagwa in January 2019. Our engagements with Belarus preceded the Russia-Ukraine conflict. Moreover, Zimbabwe and Belarus are pursuing mutually beneficial deals in line with our national interests. The two nations are pursuing what is in their common interest," he said.
Mugejo said relations between Zimbabwe and Belarus date back to the days of the liberation struggle with the latter being part of the Union of Soviet Socialist Republics (USSR) until the dissolution of the bloc in 1991.
"Subsequently, diplomatic relations between Zimbabwe and Belarus were established on April 16 1992. However, cooperation has grown significantly in the last few years," Mugejo said.
Mnangagwa, now president, visited Belarus in January 2019, as part of efforts to deepen ties with the country.
Belarusian Deputy Prime Minister Piotr Parkhomchik visited Zimbabwe in October last year as part of High Political Consultations paving the way for Lukashenko's visit to Zimbabwe.
On the government's failure to augment agreements entered into with other countries, Mugejo said the materialisation of the mega-deals arises from the extensive background diplomatic engagements.
"Work of this nature is elaborate as it involves advancing our respective bilateral interests. His Excellency President Mnangagwa has been at the forefront of championing economic diplomacy.
"This entails that all our engagements are centred on ensuring economic dividends for the benefit of our two nations and in particular, the targeted sectors," he said.
Mugejo said respective ministries and agencies would follow up on all deals while getting ready for the implementation phase.
"Zimbabwe will ensure that it follows up on the areas of cooperation for the benefit of our two nations. Through the ongoing engagements, the first sitting of the JPCC is earmarked to sit within the first half of the year. Belarus has also expressed its commitment to host the second round of political consultations later on," he said.
On Zimbabwe being drawn into the Russia-Ukraine geopolitical vortex, Mugejo said Zimbabwe remains committed to being a friend to all and an enemy of none; pursuing a policy of Re-affirmation, Engagement and Re-Engagement; and that Zimbabwe is Open for Business.
He said Mnangagwa's visit to four Eastern European countries, namely Russia, Belarus, Azerbaijan and Kazakhstan, tallied with his foreign policy pursuits as part of efforts to explore new frontiers beyond all our traditional partners, whom we continue working with positively.
"We have embraced the 'world' and therefore our engagements with Belarus have no bearing on the geopolitical order which you allude to. Our current foreign policy trajectory is to be a friend of all and an enemy of none. Zimbabwe wishes not to be entangled in conflicts that do not involve her.
"If at all we are to be involved, we will be involved on the side of encouraging dialogue for the peaceful settlement of such disputes," Mugejo said.
In an interview, Russian embassy press secretary, Egor Kuropiatnik said Belarus was a sovereign state adding that the embassy had no information that Lukashenko's visit was on Putin's behalf.
"We have not received such information. Based on the history of friendly and fraternal relations and strong ties between Zimbabwe and Russia, the Russian Federation has always supported the Republic of Zimbabwe at various stages of its development as an independent State.
"Therefore, it cannot be said that only Russia's special military operation in Ukraine has built a vector of strengthening relations between our countries," Kuropiatnik said.
Related Topics