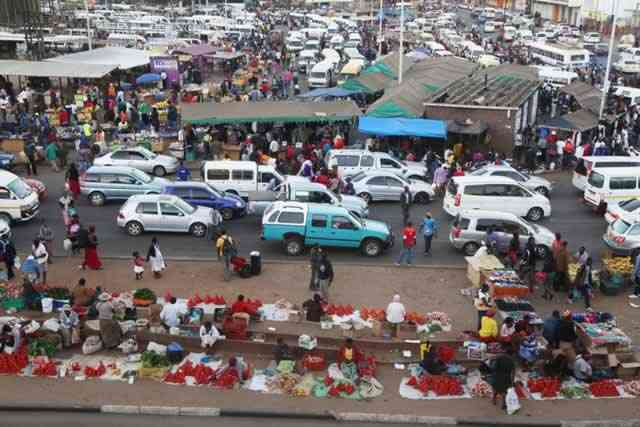 A Bulawayo City Council top official has claimed that illegal vendors crowding the city's streets, blocking pavements and other roads are not originally from the city.
Town clerk Christopher Dube said the city has a total of about 10 000 vacant vending stalls in residential areas, but informal traders were not interested.
According to Dube, the 'outsiders' preferred to play cat and mouse with municipal police in the central business district (CBD) in confrontations that have sometimes turned violent.
The local authority has been involved in running battles with illegal vendors who were allocated vending bays by Zanu PF officials along 5th Avenue in July this year, blocking the road.
At the launch of the shadowy group Vendors 4ED recently, its chairperson Samora Chisvo vowed that they will confront the local authority for allegedly victimising Zanu PF members occupying 5th Avenue.
The council has also been having challenges in trying to remove informal traders illegally operating from street pavements.
Last week, council held a consultative meeting with different political parties and other stakeholders on the matter and it was revealed that 10 000 vending bays in residential areas are vacant.
"Vending stalls are lying idle in suburban areas, people move from wherever they live to come to sell in town," Dube said.
"The city is congested with illegal vendors selling their products on shop corridors, which is now affecting shop owners who are paying rent."
He said illegal vendors should go to the municipal offices to get registered to become legal.
"The illegal vendors roaming around our streets are not from here because Bulawayo people respect their city which is why from long back it was rated the most clean in the whole country," Dube said.
"Now I am confused as to what has gotten into people because the city is filthy.
" I am even afraid to say l run the city because this is not the city l grew up knowing.
"Therefore this is the reason why we have been engaging all these groups so that they may assist us because we cannot single handedly deal with the fight against illegal bus terminals , illegal vending."
Dube said vending stands in the CBD are only meant for registered people who dwell in ward 1.
"The vending issue is supposed to be ward-based because it is meant to decongest the CBD," he said.
"People should sell from wherever they live to reduce congestion in town."
Last week, the council had planned a Murambatsvina type crackdown against illegal vendors, but the exercise was suspended at the last minute after police said they were not ready.
Bulawayo chamber secretary, Sikhangele Zhou said police advised council to wait for the outcome of a security meeting that was to be held at the office of the Provincial and Devolution Affairs minister Judith Ncube.
Operation Murambatsvina, also officially known as Operation Restore Order, was a large-scale Zimbabwean government campaign in 2005 to forcibly clear slum areas across the country.
Related Topics