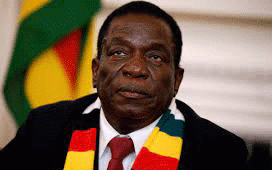 ZAPU and Zipra ex-combatants have finally agreed to work together to push for the return of their properties seized by the Zanu PF government soon after independence.
Ex-Zipra cadre and top Zanu PF politician Tshinga Dube in November last year advised fellow combatants and Zapu members to speak with one voice on the seized properties, saying divisions were delaying the process.
According to Dube, a meeting involving Zapu and Zipra ex-combatants was held in Entumbane suburb in Bulawayo last month, where a steering committee was set up to co-ordinate processes leading to the election of a substantive committee.
"I organised a meeting with all Zipra war veterans regardless of their affiliation last month at Emaplankeni, Ntumbane, where a steering committee was formed to facilitate the election of a substantive committee," Dube told Southern Eye early this week.
"We will meet again on January 28 for the election of this substantive committee, which will be assigned to go and meet Kembo Mohadi (Zanu PF second secretary) so that we get our properties back."
President Emmerson Mnangagwa reportedly assigned Mohadi to lead the talks over the properties.
"We should work together. Divisions will never produce any positive results,'' Dube said, adding he recently wrote to Mohadi to speed up the return of the properties, which include farms and commercial buildings.
Government seized the properties under the Unlawful Organisation Act (Caveat Number 15 of 82) in the 1980s alleging that it had discovered arms caches on farms owned by Zapu and Zipra, precipitating Gukurahundi massacres.
According to a Zapu inventory, seized party properties include farms and hotels, among them Magnet House, which now houses the Central Intelligence Organisation offices in Bulawayo, Castle Arms in Bulawayo, Green Haven — a huge entertainment facility along the Victoria Falls-Bulawayo Highway, and several residential properties.
Justice minister Ziyambi Ziyambi once claimed that government would not return the properties because PF Zapu joined Zanu to form Zanu PF under the December 22, 1987 Unity Accord.
In 2008, the late Zapu leader Dumiso Dabengwa led a number of former Zapu members like the late Thenjiwe Lesabe in a break-away from Zanu PF to revive Zapu, signalling the collapse of the Unity Accord.
However, Zanu PF members insist that the Unity Accord is till alive.
Related Topics