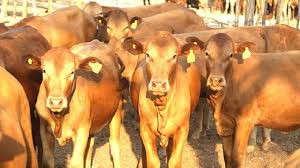 ZIMBABWE and Botswana have joined forces to deal with cross-border stocktheft.
Speaking today at the mid-term review of the third session of the Zimbabwe-Botswana Bi-National Commission (BNC), Foreign Affairs ministry secretary James Manzou said stopping cross-border livestock rustling between the two countries was an urgent matter.
"Despite the significant progress made in a number of areas, there are other sectors that are still lagging behind. The resolution of the boundary issue between our two countries at Kazungula, and the establishment of the joint ministerial committee on combating cross-border livestock rustling are some of the urgent areas that need our concerted efforts," Manzou said.
"We have also had other exchange visits at both the ministerial and technical levels. These include the ministerial consultations, which were convened in Harare in October 2022, to discuss possible solutions to the foot and mouth disease. Soon after, a joint technical committee meeting was held in Selebi Phikwe and produced a draft framework agreement on livestock rustling", he said.
Manzou said joint border operations, which included joint patrols and investigations led to a remarkable reduction in the illegal movement of livestock along the common border, which is a conduit for the spread of the foot and mouth disease.
Botswana's Foreign Affairs ministry secretary Gladys Mokhawa said both countries were working hard to combat the devastating effects of livestock rustling as well as conducting joint operations to eradicate the foot and mouth disease.
"I note with satisfaction that progress has been registered in a number of areas. Most importantly, we had the inaugural joint technical meeting on combating livestock rustling, which was held in Selebi-Phikwe, Botswana, in October 2022. In addition to assessing progress in the implementation of BNC decisions, regarding the livestock rustling issue, the meeting was able to finalise the draft framework agreement between Botswana and Zimbabwe on combating cross-border livestock Rustling, which I understand is now ready for signature," Mokhawa said.
Follow us on Twitter @NewsDayZimbabwe
Related Topics