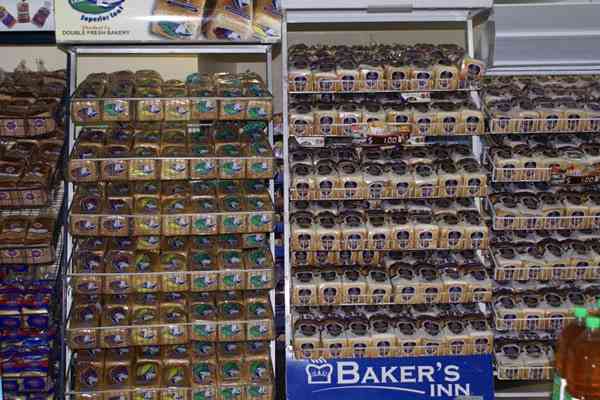 WORLD Bank (WB) statistics released in November showed that Zimbabwe had the highest food inflation globally, underlining the depth of a cluster of internal shocks, along with Russia/Ukraine conflict–induced cost pressures, which have been sweeping across global markets in the past few months.
The global lender said Zimbabwe's aggregate food inflation stood at 321% during the period, a notable leap ahead of second placed Lebanon, whose rate was estimated at 208%.
Only one other African country, Rwanda, featured on the "Top 10 Countries Hit Hardest by Inflation" list, with 41% food inflation.
Local economist Eben Mabunda says the high food inflation ravaging Zimbabwe was the manifestation of internal and exogenous factors with the former weighing heavier on inflation dynamics than the latter.
"In the case of exogenous factors, supply chain disruptions owing to the Russo-Ukrainian conflict have increased the demand for food commodities and pushed food prices higher," he said.
The price of bread in Zimbabwe has soared to more than US$1 a loaf since Russia's attack on Ukraine in February. This price is beyond the general public's reach.
The world over, between July and October, wheat and maize prices were 5% and 19% higher year-on-year, respectively, and 25% and 29% higher, respectively, than in January 2021.
Maize is a staple food in Zimbabwe, and while rice had previously been seen as a luxury, more consumers are turning to it as an important part of their diet.
But rice prices were 10% higher year-on-year in the November World Bank (WB) report.
In October, the WB had revealed how the Russia/Ukraine conflict had affected the global economy, with pass on effects on countries like Zimbabwe.
"The war in Ukraine has altered global patterns of trade, production, and consumption of commodities in ways that will keep prices at high levels through the end of 2024 exacerbating food insecurity and inflation," the WB said.
Last month, the global lender also revealed that between July to October this year, inflation was high in almost all low-income and middle-income countries.
Its report, which presented a difficult year for global economies, said 83,3% of low-income countries, 90,7% of lower to middle income countries and 95% of upper to middle income countries had inflation levels above 5%.
Countless others recorded double-digit inflation.
Wheat demand vs output
Zimbabwe requires between 350 000 and 400 000 metric tonnes of wheat annually.
For many years, Zimbabwe has been producing about 200 000 tonnes, until recently when domestic output exceeded the 200 000-tonne threshold.
Crucial to the matrix is the fact that Zimbabwe produces "soft wheat", which still needs to be supplemented by imports to meet the country's demand.
Experts say this import component must be bought even if the country meets the 350 000 to 400 000 tonnes target.
In fact, the 2022 output is expected to reach 380 000 tonnes, a near 60 year high; outperforming 2021's 300 000 metric tonnes outturn.
Zimbabwe imports 30% of its wheat requirements from Russia and Ukraine, but the conflict means it has had to scout for alternative sources.
But the landed costs of wheat from other markets will be much higher, experts say, noting that the implications of inflation and cost of bread would be dire.
Wheat hectarage
Land used for growing wheat increased from 66 000 hectares in 2021 to 75 000 hectares this year.
But government, determined to effect radical import substitutions to save scarce United States dollar stocks, has put in place plans to increase area under wheat to 100 000 hectares next season.
This would be a marked surge from 43 000 hectares in 2017, when President Emmerson Mnangagwa took over the reins.
Local economist Victor Bhoroma said: "The government has increased its guaranteed funding for wheat farmers under Agro Yields. The hectarage under wheat has also been increased to ensure yield is over 380 000 tonnes. This may be slightly short of domestic demand at 400 000.
"We need 30-35% wheat grown under snow or extremely cold conditions to be able to blend with local wheat. That means that even if we meet the 450 000 tonnes demand. We still need to import."
Security of Land
Mabunda said it was imperative to allow farmers' security of land to promote private sector-led agricultural reforms.
"This will revitalise the malfunctioning farming ecosystem, which has been inefficiently financed by quasi-fiscal activities for over a decade now,' he said.
"This would make the land bankable, attract financing into the sector, secure inputs, and guarantee results. To take a jog down memory lane; when Zimbabwe still enjoyed "breadbasket" status, white farmers had land security. This allowed banks to extend credit efficiently and providers of inputs to engage with the farmers directly and indirectly through the banks," Mabunda said.
He said a revitalisation of this setup could be set in motion by allowing farmers security of land.
"As the government would want to guard against land ownership by foreign banks, a redemption scheme can be arranged and put in place. Once this ecosystem is revived, in the medium-term food security can be attained and sustained," Mabunda said.
Bhoroma said local banks should offer concessionary facilities to fund wheat production.
"The local financial sector is unable to fund because of legacy tenure issues. Most of the farmers do not have title deeds. Most farmers do not have the know-how to grow wheat. They need training," he said.
Below are challenges facing wheat farmers as stated by the Zimbabwe Coalition on Debt and Development (Zimcodd) senior economist Zvikomborero Sibanda:
Inadequate/aging irrigation systems across the country.
High production cost relative to the entire region because of electricity supply interruptions. This is affecting irrigation hence subduing crop yield.
Fuel is needed to power tractors for land tilling and is also a substitute for electricity during load shedding. Yet, Zimbabwe fuel prices are the highest in the region. This reduces hectares a farmer can put to use per each farming season.
High cost of other inputs. These include seeds, chemicals, pesticides, labour, etc.
Lack of access to adequate financing (many farmers do not have quality collateral security. They are holding land leases that are not bankable)
Corruption leading to waste of public resources. State subsidies to farmers are distributed on a wasteful partisan basis and prone to abuse.
Impact of Ukraine and Russia war on food security
The Russia-Ukraine war, which started in late February, has created major global trade and commodity disruptions, hitting Africa the worst in terms of food commodity supplies.
The crisis has put a strain on critical supply chains in commodity markets, prices of agricultural products and inputs, such as cereals and fertilisers, which are skyrocketing.
This has in turn put pressure on African states, which heavily relied on these supply chains for basic goods such as wheat, leading to price increases that have raised the vulnerability and food insecurity and building unsustainable pressure on already struggling African states.
Russia is the world's largest exporter of wheat, accounting for more than 18% of international exports.
In 2019, Russia and Ukraine together exported more than a quarter (25,4%) of the world's wheat, according to the Observatory of Economic Complexity.
Wheat is the second most-produced grain in the world after corn.
According to the Hunger Hotspots Food and Agriculture Organisation of the United Nations and World Food Programme early warnings on acute food insecurity, October 2022 to January 2023 Outlook, Zimbabwe is among the hunger hotspots.
"Economic concerns are additionally driving acute food insecurity. The world economy – still recovering from the Covid‑19 pandemic – has slowed down due to monetary‑tightening measures adopted by major economies to curb rising inflation rates, new global supply‑chain disruptions, and mounting macroeconomic risks in developing economies," read part of the report.
"The war in Ukraine has put an upward pressure on already elevated food and energy prices, with major effects on acute food insecurity and operational costs."
On Zimbabwe, the report said continued currency depreciation has contributed to a steep rise in annual inflation rates, significantly eroding households' purchasing power.
"Furthermore, elevated global prices of essential commodities including cereals and fuel – which were pushed sharply higher by the ripple effects of the war in Ukraine – have both amplified inflationary pressures and increased the country's import bill; this is straining the finances of a country in debt distress," it says.
"In July, the annual food‑inflation rate exceeded 300%. In response, the central bank increased the benchmark interest rate to 200% – the highest in the world – and reintroduced US dollars as a legal tender and gold coins as a store of value.
"Production prospects for the forthcoming 2022/23 season are being constrained by elevated prices of agricultural inputs. Coupled with fertiliser shortages, this could result in a reduced planted area and lower crop yields.
"During the upcoming peak lean season (January–March 2023), an estimated 3,8 million people are projected to face acute food insecurity, based on the government's assessment – a deterioration of 29,8% compared to last year," states the report.
Zimbabwe economist Chenayi Mutambasere said while Zimbabwe did not have direct trade with Russia or Ukraine on basic commodities, the country relies heavily on import trade, such that the shocks to global trade make a substantial adverse impact on the economy.
"Zimbabwe will have to join the line in competing for commodities such as wheat that they are importing from Zambia as other countries that relied on Ukraine will move on to look for new suppliers," she said.
"This will in turn increase prices. Rising price of wheat particularly between January and May 2022 further exacerbated food insecurity in Zimbabwe, meaning the poorest continue to be the hardest hit."
How much food has Ukraine shipped
After Russia invaded Ukraine, its navy imposed a blockade on Ukraine's Black Sea ports, trapping about 20 million tonnes of grain meant for export inside the country, along with other foodstuffs such as maize and sunflower oil.
However, the two sides signed the Black Sea initiative on July 22, creating a safe corridor for shipping.
According to the UN, the first ship sailed from Ukraine on August 1, and up until October 28, more than 9,3 million tonnes of food had been exported through the Black Sea.
In September, Ukraine exported four million tonnes of food through the Black Sea, according to the BBC.
Before Russia's invasion, it had been shipping five million tonnes every month.
The BBC stated that exports have not returned to pre-war levels partly because many companies refuse to send their cargo ships into the corridor.
However, UN figures show that the bulk of Ukrainian food exported in the last three months has been going to Spain, Turkey, Italy, China and the Netherlands.
Africa finding alternatives
The flow of wheat and grain has been disrupted and economic sanctions on Russia and the military action has had a significant effect on the cost of food as importers seek to find alternatives.
According to Equity Axis, a financial media firm offering business intelligence, economic and equity research, "as such, African countries have turned out to use cheaper wheat alternatives amid inflated process of the commodity for months now courtesy of Russia's invasion which squeezed exports from Ukraine while its own exports are subdued by the sanctions from the United States and allies.
"Recent reports from the media revealed that food producers in Kenya, Egypt, the Democratic Republic of Congo, Nigeria and Cameroon are mixing cheaper alternatives into their bread, pastries and pasta with local rice, manioc flour and sorghum substituting for wheat.
"This can also be adopted by the majority of African countries, including Zimbabwe where bread prices have been on the rise with bakers citing soaring wheat prices as the reason for the hikes.
"According to researchers, world annual sorghum production is over 60 million tonnes, of which Africa produces about 20 million tonnes, hence opting for the crop instead of wheat is more viable," it said.
Related Topics