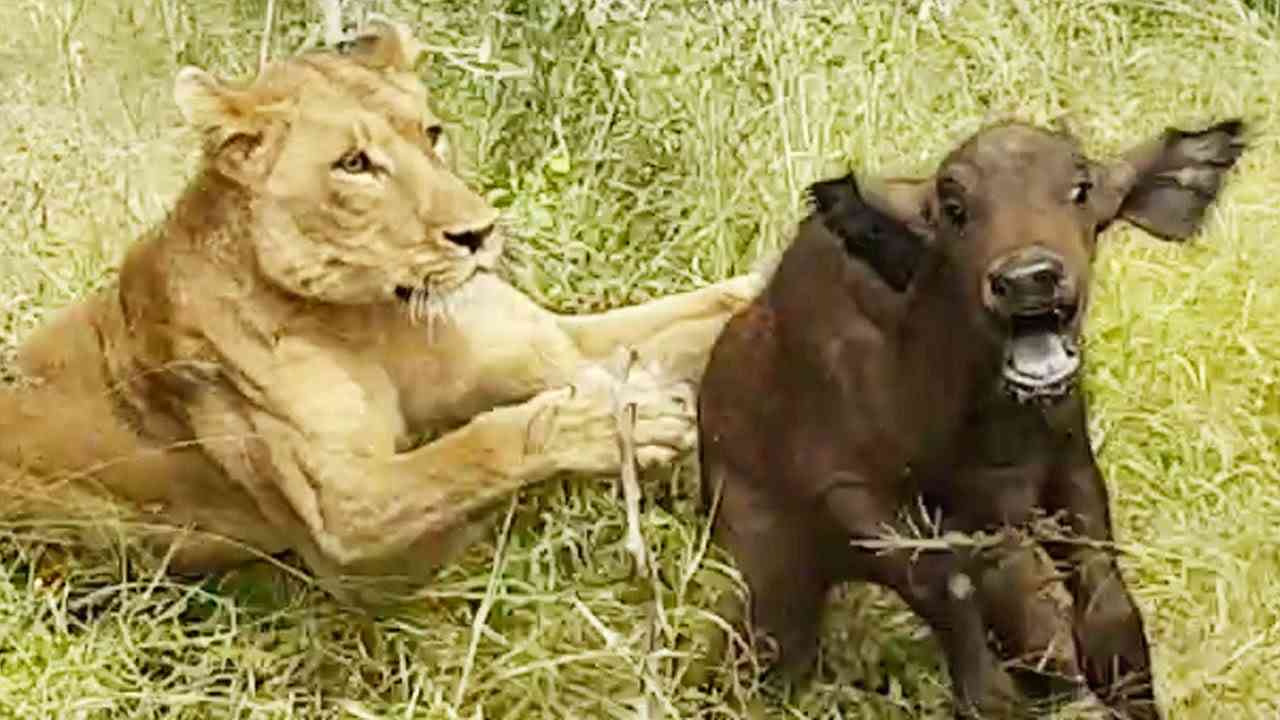 Sixty seven year-old widow Jenifer Khupe's world collapsed around her after she received a call informing her that lions had killed almost her entire herd of cattle and goats in their kraals overnight.
Khupe from the Chief Mvuthu area in Matabeleland North's Hwange West district was particularly devastated because the deadly invasion by the predators on the night of September 8 happened when she was in the process of selling one of her cows in order to replenish the family's depleted food reserves.
Her family, like most households in the area, is running low on food supplies because their crops were destroyed by elephants during the previous farming season as worsening human-wildlife conflicts continue to threaten livelihoods in areas close to wild life zones.
A total of seven lions killed seven of her 13 herd of cattle that night and 10 goats.
"I was in Plumtree when I received a phone call from my son who told me that lions had killed almost all our livestock," said a distraught Khupe.
"Our kraal was secured in a way that repels predators. It was secured even at the rooftop, but because these lions are now used to marauding around people's homesteads even during the day, they have become so daring that they can dig deep to gain entry into the kraals.
"My son was sleeping at home and he was awoken by neighbours who heard noise from the kraals and they mobilised themselves to scare the lions away."
By the time the villagers intervened, Khupe's herd of cattle had been almost wiped out and only a few goats remained.
She was still trying to recover from the incident as the family's wealth had been wiped out overnight.
"What we witnessed was beyond comprehension," Khupe added.
"The lions killed the entire herd of cattle through suffocation and devoured the carcasses, so much that we couldn't salvage any meat.
"As for the goats they just killed seven of them, but left the carcasses untouched."
A local wildlife conservation organisation bought the cattle carcasses for less than US$150.
"All the inheritance that my husband left us is gone," she said.
"To make matters worse I had identified one cow that we were going to sell in order for us to raise money to buy food because we are running out of grain as elephants destroyed almost all our crops last season."
Khupe's case is not an isolated one as another villager from the same area watched helplessly while his herd of cattle was devoured by lions while he was herding them last week.
Human-wildlife conflict has become a significant problem among Zimbabwean communities adjacent to game reserves and other protected areas.
Subsistence farmers are losing crops and in some instances people are being killed by wild animals while trying to protect their livestock or crops.
According to Victoria Falls Wildlife Trust, a conservation group operating in Hwange West district, 159 herd of cattle were killed by lions between 2020 and last year.
Livestock such as cattle and goats are a significant safety net for most smallholder farmers in Zimbabwe and during droughts they augment their food supplies by selling livestock.
Due to frequent droughts, the competition for food and water is intensifying, leading to conflicts between wild animals and people in communities bordering game reserves.
Dangerous animals such as elephants, lions and buffalos have been straying into villages, causing loss of farmland and lives across the country.
Mutuso Dhliwayo, the Zimbabwe Environmental Lawyers Association chief executive officer, told a recent event to discuss human wildlife conflict organised by USAID's Resilence Anchors Activity programme that problem animals reports had increased by 293% between 2006 and 2021.
Zimbabwe Parks and Wildlife Management Authority (Zimparks) spokesperson Tinashe Farawo said areas that were most affected by human-wildlife conflict were adjacent to protected areas or areas with wildlife.
In Matabeleland North the areas stretch from Lupane to Gwayi, Tsholotsho and Matetsi in Hwange district.
"This is mainly because in some cases communities do graze their livestock in areas with predators and some of these predators such as the lions have learnt to follow the sounds of the bells on the cattle until it's dark and then attack them (in their kraals)," Farawo said.
"In some cases villagers do not properly pen their livestock, which again exposes them to attacks by predators.
"We carry out periodic awareness campaigns in these communities to warn them of the dangers of leaving their livestock unsecured."
He said Zimparks was working closely with respective rural district councils in responding to problem animals that they either kill or capture depending on the situation on the ground.
Farawo said such exercises were, however, too expensive to carry out.
"There is a need for resources such as vehicles, capture equipment and fuels," he added.
Zimbabwe says most of its parks are overpopulated and there is scarcity of food and water due to climate change induced droughts, leading to deadly human-wildlife conflicts.
Zimparks said 45 people were killed by wild animals between January and July this year and 40 others were injured.
Besides communities surrounding the Hwange National Park, areas adjacent to the Save Conservancy, Gonarezhou National Park and Mana Pools National Park are susceptible human-wildlife conflicts.
Related Topics