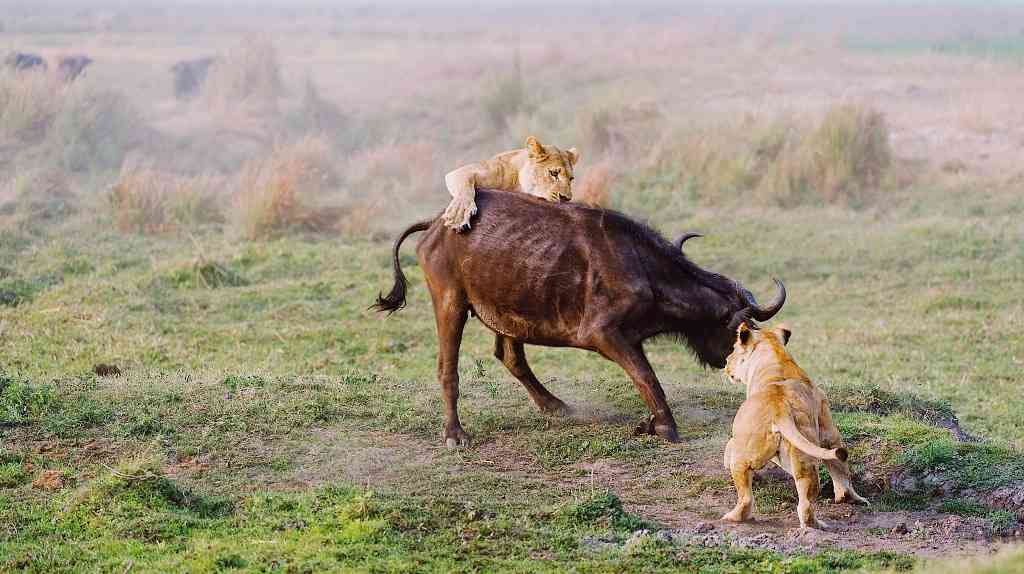 Communities bordering Zimbabwe's game reserves are battling an upsurge in livestock diseases acquired from wild animals such as rabies, foot and mouth disease (FMD) and January disease, it has emerged.
The land reform programme that began in 2000 saw some wildlife sanctuaries being parcelled out to landless people and this saw livestock coming into contact with wild animals.
In areas that border Zimbabwe's largest game reserve, the Hwange National Park, livestock often strays into wildlife zones, leading to a resurgence of livestock and wildlife diseases.
The Zimbabwe Parks and Wildlife Management Authority (Zimparks) last year warned people living around the Hwange National Park to stop buying game meat from unlicensed dealers after three lions succumbed to Tuberculosis (TB).
Zimparks veterinary doctor Columbus Chaitezvi said there were various well-known diseases that were transmitted between livestock and wildlife that were rife in communities adjacent to national parks.
Chaitezvi said these diseases included TB, rabies, tsetse and FMD, which were impacting negatively on both the livestock sector and wildlife.
"Scientifically, wildlife harbours diseases which can easily be transferred to livestock and human beings just like TB, which is a disease known for wildlife and cattle bovine, a disease which can easily be transmitted to people and can kill," he said.
"The most reported notorious species for diseases are buffalos for FMD transmission and January disease. They are just a carrier because they do not suffer from any deaths due to the diseases, but it affects especially cattle.
"So because of this, most people who have livestock near game parks have suffered some losses, although there has not been documented studies from the communities (to indicate the extent of the problem."
Keith Dutlow, a veterinary doctor from conservation group Aware Trust Zimbabwe, said 70 domesticated dogs have been treated for rabies since the beginning of the year in districts such as Tsholotsho which is closely situated close to the Hwange National Park.
Other cases have been reported around the Gonarezhou National Park. The dogs contract rabies from wild dogs.
"As an organisation we work closely with these communities in trying to alleviate the issues and stop taking the diseases into the wildlife areas," Dutlow said.
"Diseases such as rabies among dogs can easily be transmitted from lions and wild dogs and we are trying to solve that problem by targeting the domesticated animals, including donkeys because they often have interactions with wild animals such as hyenas due to the close proximity of their communities and the parks.
"We have recorded most of the incidents in Tsholotsho and Gonarezhou and the response has been positive from the communities who have suffered from these diseases.
"On our donkey project, we managed to vaccinate 80 000 donkeys because they are helpful to people.
"So our aim is to eradicate rabies from both the wild and livestock."
Aware Trust Zimbabwe said since 2016, 52 648 dogs have been vaccinated and 2 532 treated for rabies.
Chaitezvi said wild animals were also contracting diseases from domesticated animals as there was a suspicion that the three lions which succumbed to TB last year could have contracted the disease from humans.
"Some (diseases) are suspicious because there is are research that suggests that this can be vice-versa like TB, and currently we have a case of suspected TB in lions in Hwange which looked like human TB, but that is still to be confirmed," he added.
"We also have some parasites which can easily transmit diseases to wild animals such as ticks, but with them it's usually not a problem because they are very strong and resistant.
"So there is a conflict between humans and wildlife and more research is needed because once we start thinking how much they kill their livestock, they can kill the wildlife.
"When wildlife was introduced in some parts of the country, people didn't like it because of bad diseases that were being pointed to as emanating from wildlife.
"Some wild animals harbour tsetse, which can be easily transmitted to the livestock.
"So in some areas wildlife was being wiped out so that they can create room for livestock until such a time when it was discovered that it was at the expense of biodiversity."
Chaitezvi said Zimparks, through partnerships with non-governmental organisations, had managed to do some research and preventive methods at community levels to counter the spread of the diseases.
A recent report by the American Society of Animal Science said increasing wildlife-livestock interactions enhanced opportunities for pathogen transmissions and biodiversity erosion.
The report said this was mainly caused by competition for land and resources.
"They include morbidity and mortality due to infectious diseases, impacts on people due to reduced food security, zoonotic disease or economic burden, and death or injury of livestock due to predator–prey interactions," the report said.
The report added that, although domesticated animals played a critical role in diversified farming systems, wild animals can help to manage pest populations and contribute to biodiversity.
"Biosecurity measures are needed, but rethinking of livestock production in high biodiversity regions is also required," the report read.
"A cross-sectorial trans- disciplinary approach is required for the effective management of risks at the wildlife–livestock interface.
"It is urgent to find models and approaches that allow a better balance between protein production and biodiversity conservation."
Related Topics