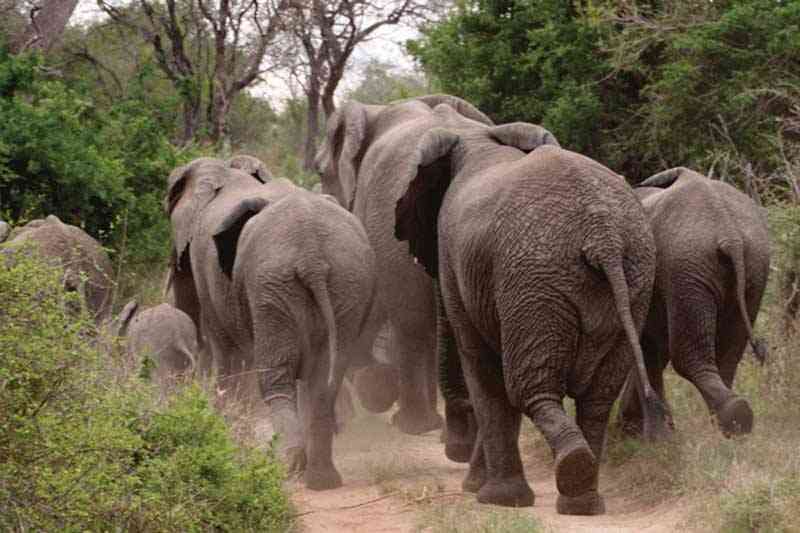 BY SILAS NKALA
A herd of elephants has invaded Bubi's ward 19 area in Matabeleland North, destroying vegetation and infrastructure including homes.
A latest report by local civic organisation Habakkuk Trust reveals that villagers were living in constant fear after the elephants stormed their villages in search of water and food.
"The elephants are wreaking havoc, destroying the community's water infrastructure and natural vegetation. The elephants believed to be from Hwange National Park are suspected to be over 50 in number excluding calves," reads the Habakkuk Trust report.
A villager quoted in the report, Gertrude Khabo said school going children were failing to report for school fearing attacks by the jumbos.
According to the report, some pupils in the ward have to walk an estimated over 10km through bushes to attend school, a situation that puts their lives at risk.
"We have since stopped our children from going to school as we fear that they will encounter elephants on their way," Khabo is quoted saying.
This is at a time when learners have started writing their final year examinations.
"The presence of elephants in the area has impacted negatively on the socio-economic activities of women in the ward.
"Women bemoaned loss of income after they failed to harvest seasonal broom grass in fear of encountering elephants in the bush. Women are increasingly finding it difficult to fetch firewood and water as they fear being attacked."
Habakkuk Trust's Community Advocacy Action Team Convenor for Bubi ward 19 Nelia Moyo said elephants are targeting their water points.
"We are scared of being attacked while fetching water," she said.
A village head only identified as Mlozwi said urgent attention is needed to avert human fatalities which are seemingly imminent.
"I have received reports of boys being chased from grazing areas by marauding elephants and this is worrying,'' he said.
"Efforts to ward off the elephants through the use of traditional means such as banging of tins and the use of fire were said to be ineffective."
The country has the second largest elephant population in the world with over 100 000 jumbos against a holding capacity of about 45 000.
Bubi Rural District Council chief executive officer Patson Mlilo said a team of hunters will be dispatched to handle the problem animals.
Efforts to get comment from Zimbabwe Parks and Wildlife Management Authority (ZimParks) spokesperson Tinashe Farawo were fruitless.
At least 60 people have been killed by elephants so far this year, according to ZimParks.
Related Topics