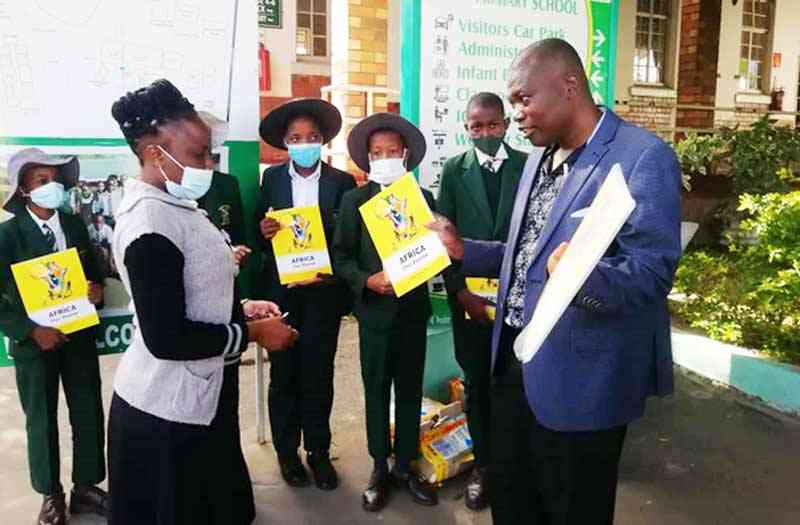 A senior Zimbabwe Parks and Wildlife Management Authority (Zimparks) officer is going beyond the call of duty to educate communities about wildlife crimes to curb cases of poaching.
Amos Gwema, a principal wildlife investigation and security officer, said he was pushed to do the awareness campaigns after a realisation that criminal syndicates tend to take advantage of poor villagers by luring them into poaching in return for a small fee.
Gwema said communities living around the Hwange National Park – the largest game reserve in Zimbabwe – were vulnerable to manipulation by the poaching syndicates.
In 2013, eight villagers from Hwange and Tsholotsho districts were jailed in connection with the deaths of tens of elephants at the Hwange National Park, which were poisoned with cyanide.
Several villagers in Matabeleland North have also been arraigned before the courts in Hwange and Victoria Falls after they were found in possession of ivory.
Gwema said he decided to carry out the awareness activities two years ago after winning a major award.
"In 2020 after I won the Tusk Ranger of the Year award I pledged to do awareness campaigns to inform the public about the dangers of committing wildlife crimes," he said.
"I had realised that some community members were being taken advantage of by urban dwellers, who promise them hefty rewards for elephant ivory and pangolins.
"The community members are not being told about the dangers of committing wildlife crimes, hence the aim of my awareness campaigns is to inform the community members about the other side so that they will make informed choices."
In Zimbabwe, possession of ivory or a pangolin attracts a minimum mandatory sentence of nine years and Gwema said villagers in areas such as Binga, Hwange and Tsholotsho are often lured into poaching by syndicates from neighbouring Zambia or from urban areas.
According to court records, 14 people were arrested in the three districts after they were caught with ivory between January and June this year.
Among them were four villagers from Binga and Hwange who were arrested alongside a Zambian national after they were found with four elephant tusks, which they were trying to sell on the streets of Kamativi.
The suspects included villagers aged 67 and 65.
"There is a danger of being shot dead and also the young ones can lose personal savings through legal fees and in the end still go to jail," Gwema said.
"So this is what pushed me to do wildlife awareness campaigns to inform the public that crime does not pay at all, but you will lose out and go to jail.
The top ranger has become famous in the communities for his slogan "If you see something say something and do something."
Gwema said this was meant to encourage people to report wildlife crimes as soon as they see them being committed in their areas.
He moves around schools in Matabeleland North province teaching children about the importance of wildlife conservation.
"So far I have donated 250 books in Hwange, Binga, Tsholotsho, Lupane and I am waiting for a delivery of other books from the Pan African Conservation Education (PACE) which we donate for free," Gwema added.
In some areas the awareness campaigns are so successful such that villagers end up volunteering information about poachers operating in their areas, he said.
"They also inform the authorities about the presence of those who sell game meat in the community," Gwema added.
"This have resulted in the arrest of poachers outside the protected areas whereby ivory, firearms, cyanide, snares were recovered.
"This has also resulted in poaching cases going down, especially around the Hwange National Park and I believe that communities are our first line of defence for effective wildlife conservation."
His goal is spread the campaigns across the country and into the region, but he is constrained by limited funding.
He said the media could be used more effectively to educate people about wildlife crimes and the penalties.
"When someone is convicted for a wildlife crime I propose that (authorities) issue a media statement in vernacular languages so that the message could be understood by all," Gwema added.
"That will greatly help our people to desist from committing wildlife crimes and thus helps conserve our wildlife."
His efforts have not gone unnoticed as he was early this year given the Lifetime Award in Conservation by Bhejane Trust and other conservations groups in Victoria Falls.
In 2019, he won the Rhino Conservation Award, which was a special recognition for his contribution to endangered species conservation.
Some of his achievements in the past 10 years include smoking out poachers that had stashed ivory at a guest house.
He also orchestrated the arrest of a teacher, who was trading ivory for cooking oil.
Gwema was behind the arrest of 150 people that had committed wildlife crimes, which led to successful convictions.
He works closely with Bhejane Trust, Save the Africa Rhino Foundation, Shangano Arts, PACE Tusk UK and Zimparks director-general Fulton Mankwanya who offer him guidance in conservation.
Related Topics