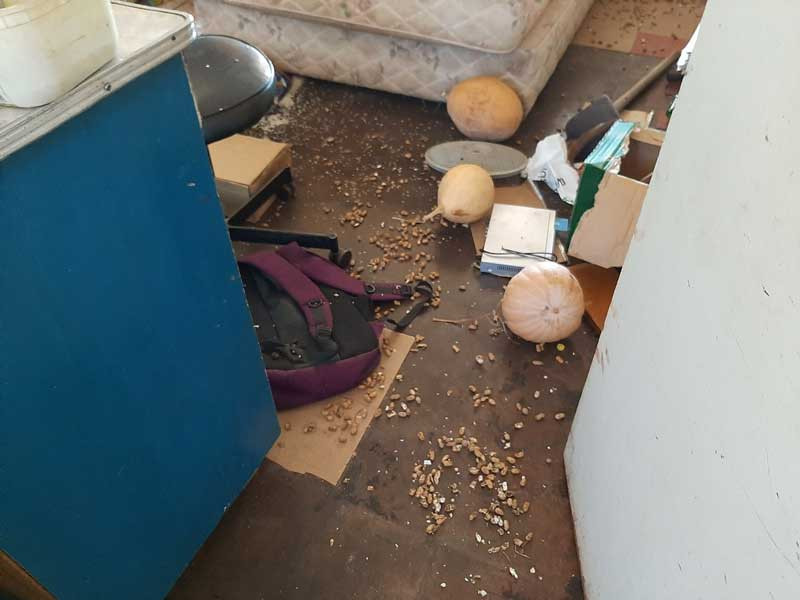 The Zimbabwe Parks and Wildlife Management Authority (Zimparks) says traditional methods to stop baboons from raiding people's homes in Matabeleland North districts such as Hwange and Binga have become ineffective against the animals that are pushed from their habitat by climate change induced droughts.
A number of residents in Victoria Falls, Binga and Hwange have had their property destroyed by baboons, which break into houses through windows and rooftops while searching for food.
The baboons also attack women and children.
A video shared by a Mpumalanga resident in Hwange that has gone viral on social media shows a troop of baboons ripping apart the rooftop of his house before they gained entry.
Zimparks has since embarked on an exercise to capture the baboons, but its Matabeleland North regional manager Samson Chibaya said it was proving to be a herculean task.
"Baboons are a perennial nuisance in Hwange urban and other areas such as Binga and Victoria Falls," Chibaya said in an interview.
"They cause damage in hotels, lodges and homes and their behavior includes destruction of property and taking food from kitchens, off the buffets and tables."
He said it was becoming increasingly difficult to capture the baboons because they now know how to avoid baits.
"Capture and translocation is no longer effective because the baboons no longer come to the baits," Chibaya said.
"Shooting is also ineffective as the baboons are so elusive and flee once they see armed people in uniform.
"They are (also) territorial, once a troop is wiped out another different one quickly moves in within a week or two."
Zimparks rangers put the captured baboons in cages before moving them deep into the Hwange National Park around the Sinamatella area.
Mary Mulinde, a Hwange resident, said the situation had gone out of control and urged Zimparks to find better ways of controlling the population of baboons.
"It is so bad because they target children walking to school and snatch their satchels," Mary Mulinde said.
"They are also targeting houses without anyone inside and they gain entry through windows, doors and rooftops that they would've vandalised.
Chibaya attributed the increasing cases of human wildlife conflict in urban areas such as Hwange to droughts caused by climate change and poor solid waste management.
"Poor solid waste management is another factor as baboons are attracted to leftovers food and addible waste," he added.
"Most raids in residential areas happen where houses are not manned, and sometimes in the presence of children and women.
"Ecologically, most of the areas around towns have no food and fruits for baboons, hence (they) rely on waste from residential area."
"The problem worsens during the hot and dry season when food availability is less available.
"Baboons generally have a high recruitment rate and do not have a lot of predators to feed on them, hence the high survival rate and a high population density."
He said Hwange town was surrounded by areas with a high population of wild animals such as the Hwange Colliery Concession, private farms, state land and protected areas under Zimparks and this meant that animals such as baboons would stray into residential areas.
According to a 2019 game census for Hwange National Park and surrounding areas conducted by Wildlife and Environment Zimbabwe, there was an increase in species such as the chacma baboon, impala and zebra population from 14 882 in 2011 to 22 544 in 2019.
Chibaya urged Hwange residents to assist Zimparks in controlling the baboon population by refraining from giving them food and disposing waste in undersignated areas.
He said alternative ways to control the baboon population was killing the problematic ones through poisoning and tightening security in homes.
Related Topics