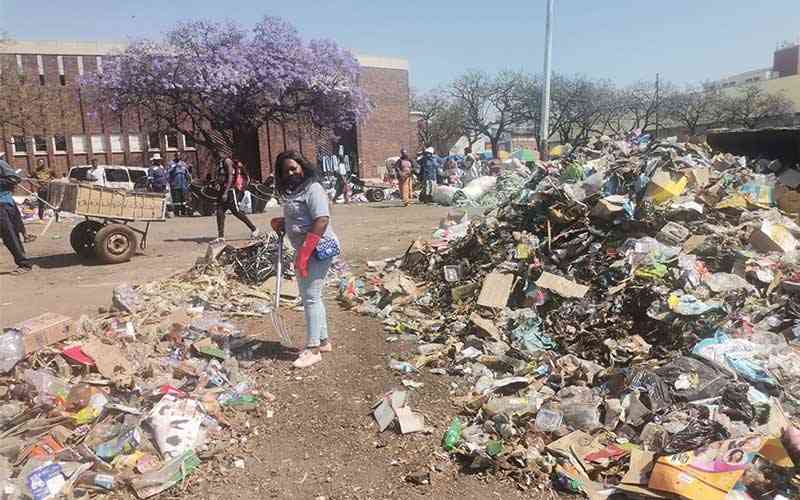 Bulawayo City Council yesterday said it had identified 35 illegal dumpsites in the city centre which have turned the central business district into an eyesore.
Councillors recently highlighted a cocktail of misgivings that characterized the city such as non-collection of waste, illegal vending and illegal dumpsites.
Mayor Solomon Mguni said the issue of illegal dumpsites had been affecting Bulawayo for the past months.
He said the council was embarking on a week-long spring cleaning drive to restore sanity in the city.
"The challenges of a clean and safe environment have been affecting our city, with increasing littering and dumping in the city and this has been worsened by challenges of refuse collection due to a broken down fleet of refuse trucks, further exacerbated by the poor economic environment that we find ourselves in," he said.
"The city centre has been most affected. Today we kick off spring cleaning in a bid to do away with dumping hotspots which have been affecting us."
Mguni said the council will conduct night cleaning to ensure a clean environment in Bulawayo. He urged the residents to take part in keeping the city clean and shun a littering culture.
"As a city, we have marked 35 dumping hotspots within the CBD which are an eyesore. This, however, does not mean that other places are neglected. We observe that the challenge of failing to collect refuse weekly in the CBD has been aggravated by illegal dumping," he said.
Ward 1 councillor Mlandu Ncube said the council should revisit its littering by-laws to curb the rampant illegal dumping of waste.
"The problem of littering has been increased by informal traders, according to council who are not licensed to work from here, we are going to look for vending bays for these people to ensure cleanliness," he said.
Bulawayo Metropolitan Affairs minister Judith Ncube urged residents to keep their city clean to avoid outbreak of diseases and reclaim the position that the city once had of being one of the clean cities in southern Africa.
"We all have a mandate to keep Bulawayo clean. I appeal to the mayor of Bulawayo to talk to informal traders as there are some who use water bottles as toilet chambers, the stench is too much. It is surprising that some will be selling their goods near a pile of litter. Let's keep our city clean by maintaining the standards that as people of Bulawayo have," she said.
Ncube encouraged the residents to make use of refuse bags to avoid having litter all over.
Environmental Management Agency, Terracotta, Tendy Three Investment, Bulawayo Vendors and Traders Association representatives, residents among others, took part in the cleaning exercise.
Related Topics