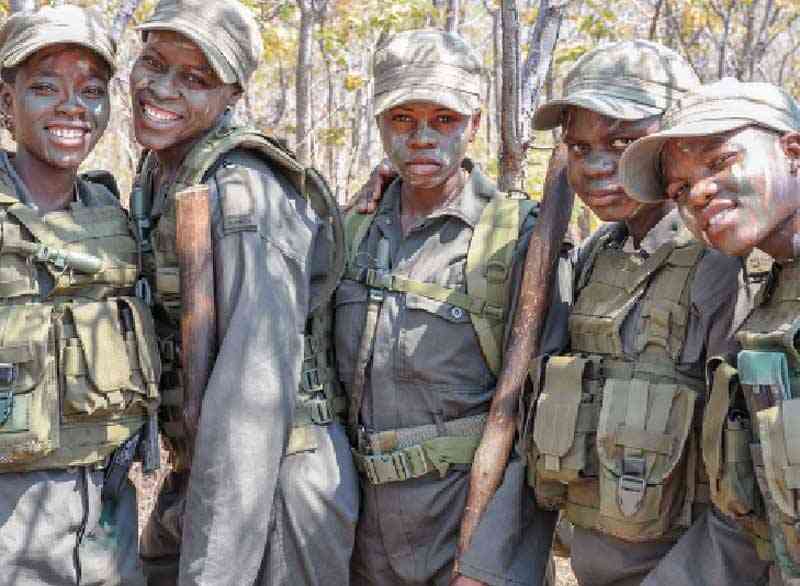 The International Anti-Poaching Foundation (IAPF) has received a US$700 000 grant from the Judith Neilson Foundation, which will be used to strengthen its Akashinga– Nature Protected by Women programme.
Akashinga is Africa's first armed, all-female anti-poaching unit currently protecting eight nature reserves in across Zimbabwe — or 1,3 million acres of wilderness — in Zimbabwe.
The Akashinga (a Shona word which means the Brave One) programme is a community-driven conservation model which deploys women into frontline conservation roles. It has been a catalyst for change across the Southern African region as a whole, focusing on social impact to achieve conservation at scale, with the empowerment of women central to its strategy.
IAPF is an independent organisation which operates Akashinga as well as the Lead Ranger programme, based in Kenya, which delivers tailored training, long-term support and mentoring to develop wildlife crime enforcement leaders and instructors.
The grant, according to a statement from IAPF, will be used to recruit additional women as wildlife rangers to defend the expanding wilderness portfolio under Akashinga's mandate, including one of the largest remaining elephant populations on Earth in the Zambezi Valley, and to develop community-based infrastructure.
These projects are in partnership with local communities, where the women recruited for service reside.
In 2021, IAPF appointed two women – Moreangels Mbizah and Dominique Noome — to key roles as the organisation geared for a major expansion across Southern Africa.
Mbizah took the position of Lead Ranger programme scientist Zimbabwe and Noome as director of Akashinga Africa.
Judith Neilson is an Australian businesswoman born and raised in Zimbabwe. Her commitment to the Akashinga programme comes as she looks to increase her philanthropic work to social justice issues alongside her existing commitments to journalism and the arts.
The Sydney-based Neilson's philanthropic work has been recognised through her appointment as a Member of the Order of Australia and the awarding of an honorary doctorate by the University of New South Wales.
She said: "Akashinga's strong focus on supporting marginalised women in rural areas, alongside delivering infrastructure upgrades for healthcare, education and clean water are vital for community-led conservation having impact at scale. The women of Akashinga have proven this and I am excited to be supporting them as they expand their work in Africa."
IAPF founder and CEO Damien Mander said: "The IAPF team is very grateful for Judith's generosity and trust. The commitment in honouring her Zimbabwean roots through the women of Akashinga, who are building new futures for themselves and communities while protecting the natural heritage of Zimbabwe, is indicative of the shift needed in global philanthropy. The health of the planet supersedes the health of all else, and this begins with community upliftment and empowerment. Without nature, we simply have no future."
Mander, a former member of the Australian Army's Special Operations unit, moved to Zimbabwe in 2009 and founded the IAPF following three years of service in Iraq. The Akashinga programme started in 2017 with a group of 16 women, all survivors of gender-based violence and abandonment, many impacted by HIV and Aids. Their efforts had a rapid impact, dismantling local poaching syndicates and driving a downturn in wildlife crime across the region.
Six years later, the programme has expanded from Zimbabwe to protect some of the largest wild landscapes left in Africa. With 3,7 million hectares of wilderness under the custodianship of more than 500 personnel, the women of Akashinga are increasingly making substantial impact of global magnitude.
The IAPF's goal is to expand its wilderness portfolio to 12 million hectares by 2030, empowering hundreds of communities and thousands of women.
Nyaradzo Hoto is one of the original 16 women trained under the Akashinga programme. She was recruited after being forced to drop out of high school due to financial challenges, and subsequently into a violent marriage.
After divorcing her husband, she went on to become a sergeant major of the Akashinga team and a recent recipient of the International Union for Conservation of Nature's (IUCN) International Ranger of the Year Award.
In December, she received a Bachelor of Science Honours degree in Wildlife, Ecology and Conservation at Zimbabwe's Chinhoyi University of Technology.
Hoto's story is one of many in the Akashinga movement.
IAPF executive director Melody Westen said: "Neilson is a visionary. Her wide-ranging focus on supporting social justice issues is a continuing legacy for us all to consider. While we can't change the world alone, we can do it together. We hope her generosity continues to inspire others to believe in the goodness of humanity and our link with nature."
Related Topics