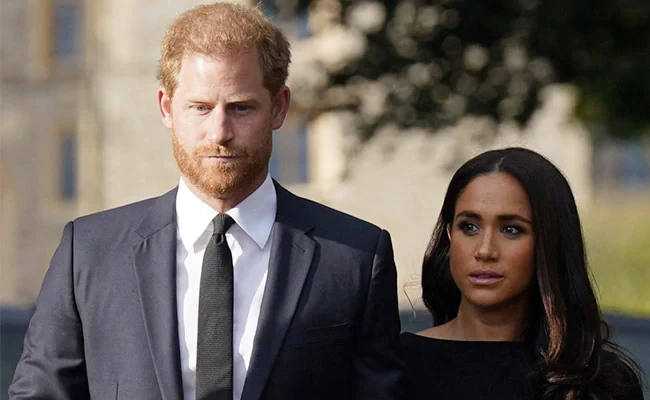 Nigerians currently have many major issues to contend with, such as mysterious fuel scarcities, ubiquitous insecurity and imminent presidential elections.
Nevertheless, heartfelt conversations about Prince Harry and his wife Meghan following their Netflix documentary and the publication of Spare, the memoir of the UK monarch's youngest son, are ongoing even in our mothers' and aunts' WhatsApp groups - the ultimate sign of a topic's popularity in the country.
While there may be many Nigerians who have watched the documentary and read the book, I do not know of any. Yet the stream of headlines has been widely discussed in this former British colony.
My mother, who rarely reads any British newspapers, seems to have more details of the saga than I do - and plenty of other alleged insider information. Nigerian WhatsApp groups are a notorious breeding ground for fake and outlandish news.
From the headlines we have seen so far, Africa has come up a number of times in Harry's and Meghan's stories. The couple talked lovingly to Netflix about their Zimbabwean nanny and how they allowed her to carry their son Archie on her back, tying him with a cloth, which is commonplace in many African countries.
Harry revealed in the documentary that they had wanted to move to South Africa but scrapped that plan after it was leaked to the media.
The prince has been particularly involved in Lesotho, which is surrounded by South Africa and where he first went as a 19-year-old and continued to visit regularly - becoming friends with Prince Seeiso.
Together they set up a charity in 2006 to help vulnerable children, especially those affected by the HIV epidemic.
"Lesotho gave me the space and the freedom to breathe, to live and to grow. I've got a second family out there and a group of friends that literally brought me up," he told Netflix.
In his book he also described a later dispute with his older brother William over who should own the Africa charity brief.
They are both passionate about nature conservation on the continent and Prince William is patron of the wildlife charity Tusk Trust.
"Africa is my thing, you can't have it," Harry says William told him in what could be considered a modern-day scramble for Africa.
The supernatural
Yet neither this sibling rivalry nor other mentions of the continent seem to have garnered as much interest amongst Nigerians as Harry's description in Spare of an incident in 1999 with a leopard in Botswana, which he interpreted as a message from his mother, the late Princess Diana.
He took a step towards the leopard, which had come into their safari camp one evening, until some aides grabbed him away.
"I thought of my mother. That leopard was, without a doubt, a signal sent by her," Harry wrote.
He separately described consulting a medium, who also gave him a message from his mother.
"You're living the life she couldn't. You're living the life she wanted for you," the unnamed woman told him.
However, the narrative going viral in Nigeria seems to have conflated the two incidents, giving the impression that Harry consulted a medium in Africa.
This fake news story has generated quite a bit of amusement here, based on the stereotype of Africa and our penchant for the supernatural.
Nigeria's hugely successful movie industry, known as Nollywood, often produces films featuring people consulting traditional priests who claim the ability to see into the past, future and the world of the dead.
But while the drama has been a source of intrigue and comedy, many Nigerians find the entire situation heart-breaking, and continue to express hope of a royal family reconciliation.
Nigerian cultures differ and individuals do not all share the same thoughts and attitudes, but we are generally a family-focused people. Family bonds are one of our core values.
Many of us have parents from polygamous homes, and vast extended families, where drama is rarely lacking.
Clan punch-ups
The Nigerian way to deal with this is to call a family forum - with the presence of many relatives - to resolve the major conflicts that arise. All sides are invited to present their case and air their grievances in the presence of respected family members, including supporters of each opposing party.
The atmosphere can get heated, fingers pointed in faces and punches attempted or thrown. Family members present are usually on standby to ensure that these bust-ups do not get out of hand.
Growing up, I watched my father mediate over family issues in his role as the first son of his late father, who had three wives and more than 20 children.
In more recent years when my father became the oldest member and therefore head of the entire Nwaubani clan, I have watched his role of mediator expand to cover more families, in disputes from those between siblings or cousins, to couples or in-laws.
By the time each party has said their say to their fill, it often becomes clear that recollections really can vary, as well as perspectives and interpretations.
You could go into one of these meetings convinced that a woman is a selfish spendthrift, and come out convinced instead that her husband is a tight-fisted tyrant.
Even if a resolution satisfactory to both parties is not reached, everyone at least goes away fully aware of the intricacies of the issue - and not from a third party, like the media.
Perhaps this kind of African family meeting could help the British monarchy at this difficult time?
Related Topics