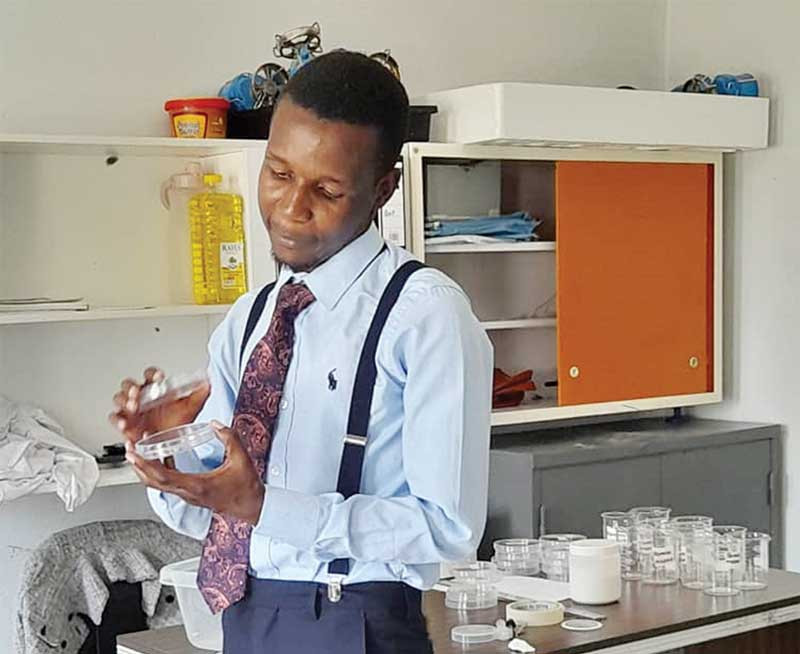 BY TENDAI SAUTA
ZIMBABWEAN science teacher Godknows Pomerai, aka Elginos, who is also a fine artist and specialises in oil painting, believes that science and art are closely related and the best way to go on in life is to understand both worlds.
Pomerai, a biochemist and chemistry teacher by profession, feels that his success as an artist is as a result of his well-natured upbringing and his perseverance in perfecting his artistry.
Pomerai advises the youth and all school children to follow their dreams through self discipline.
Advice
"One should remember that dreams are not what you see when you are asleep, but those goals which make you lose sleep. Don't be too hard on yourself, but set yourself realistic targets so that you stay positive," he said.
On his capability on producing striking colour contrasts and tantalising beauty out of paint, Pomerai said: "Well, there is the art of science and the science of art. For example, the pigments used in art such as titanium dioxide is commonly known by artists as titanium white. In chemistry, we learn why compounds of transition elements are coloured. In short, this is due to electrons being promoted between non-degenerate orbitals. Art and scientific study are both records of experimentation."
Discovering love for art
Pomerai discovered his love for art while in primary school and most of his drawings were displayed in the classroom by his teachers.
"It was only in Form 1 when I started believing in my artistic ability. I vividly recall me and my friends drawing portraits of wrestlers such as the famous Undertaker, Bautista and Rey Mysterio just to name a few. Truth be told, I was not the best artist in our crew, but I was exceptionally good. Instead of giving away my finished artworks, I started documenting them."
Pomerai rediscovered himself after a short break to concentrate on his Advanced Level studies through a university friend named Joe, who was also an artist.
The two shared notes and up until now, have grown to be artists of repute.
"An exhibition in the Africa Unity Square and effective usages of social media has helped me to gain mileage in art. On that occasion, I managed to sell one painting and the climax was meeting the Minister of Youth, Sport, Arts and Recreation, Honourable Kirsty Coventry. After that, I never looked back no matter how dry the market gets at times."
Biggest surprise
If I tell it out it ceases being a surprise. I can only promise you that come 2023 I have something special to all Elginos Art followers, so help me God.
Improvements in the arts sector
"We kindly ask for promoters to invest in visual art just like they do with musicians. We need more local art galleries so that we are not over-reliant on the international market, but rather instil the love of art in the local populace. By the way, I am currently based in Mutare and I would be very thankful if there are more art shows in Mutare.
What's unique about Pomerai's art?
"Well, I can say I love people and animals, so you will find that my portfolio mainly contains human and animal portraits. I also do surrealism. It's my favourite because it gives me a break from reality and opens the doors for unlimited imagination and creativity. I am quite obsessed with art, so everyday I make sure I do something like sketching, painting or maybe stretching canvas.
Social media presence
Personally, I think the internet is a great tool for artists but there are two sides of the coin. It can work, for you or against you. On the positive side, online sites and social media platforms expose your work to the international market which increases your chances of selling. I also use my Instagram and Facebook pages as a quick run through my portfolio to show people what I do and to keep track of my progress. On the negative side, the online community can be cruel. Imagine after putting in a lot of effort and you don't get any likes. To be frank, it's demotivating even if you are not there for the likes. Also, there is cyber-bullying which can crush you down as an artist.
Parting note
I would like to thank my wife, family and all Elginos Art followers for their unwavering support. To all artists, let's keep pushing.
Follow us on Twitter @NewsDayZimbabwe
Related Topics