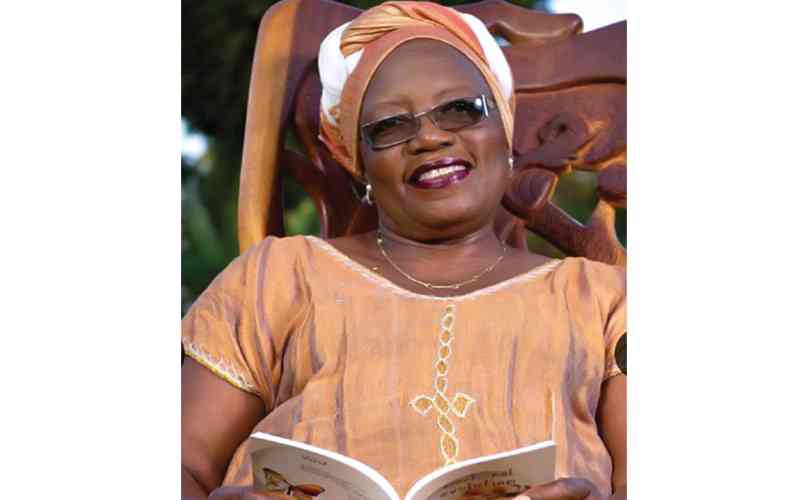 AS long as your heart is still beating, it is never too late to pursue your passion because it only takes determination, confidence and belief to turn one's dream into reality.
There are many who have lost hope and patience thinking that time was no longer on their side to achieve their dreams, but for 70-year-old Angela "Pikitayi The Poet" Rugara (pictured) it is a different story.
Delayed by the demanding profession as an administrator and the need to raise and nurture her two children as a single mother, Pikitayi The Poet kick-started her poetry career at the age of 67 after retirement.
The Belvedere-based poet is an epitome of women who had their dreams delayed by the roles of motherhood, single parenting, while working to fend for the family.
Despite bearing the burden of being a single parent and professional woman, Pikitayi also said her other challenge was to prove her ability as a woman in a "man's world".
"Being a single mom and a professional woman had great challenges. I was a woman leader in various international non-governmental organisations that included the International Federation of Red Cross and World Vision International. As a woman you work twice or more as hard as a male leader because you have to prove yourself capable as well as taking care of a home," she noted.
"I also had to enhance my education to meet the demands of my career. For example, I graduated with a Masters in Business Administration when I was 48."
The poet narrated how she managed to cope with her struggle with the help of the family, adding that it was not easy.
"I was involved in a lot of travelling internationally and locally. I had to have reliable home helpers. This was one of the biggest challenges. My mother was a professional woman as well, so she could only help here and there," she said, adding that her sisters also chipped in overseeing the children when she travelled, but they had their own careers and families.
"So, balancing my career and my children was not easy, but I made good use of it and I am truly grateful to the Almighty. So, taking poetry up during that time would never have worked as it would not get the attention and passion it deserves."
Pikitayi The Poet reckons that it is hard for women to excel in the arts industry as compared to men since it needs more time, dedication, commitment and sacrifice to perfect the skill.
She further notes that marriage holds back many women because of its demands and what is expected of them by their husbands.
"Nowadays women are being given opportunities to excel compared to my era, though they are still suppressed to some extent. Had it not been for my two children, I would have given poetry a try earlier in my life," she said.
Pikitayi The Poet notes that women are capable of matching men in any field, but they are not selfish to neglect their children to match the competition.
"As mothers we like to be at the top in companies or organisations, we like competing with men and we excel better than men if given a chance but we won't compromise our children, we would rather wait until they are grown ups," she told NewsDay Life & Style.
"For me I can say it has been a blessing in disguise to start poetry at such a later stage in life. I believe the experience and wisdom I have acquired through the years instilled confidence in me to share my ideas and beliefs without fear of failure or fear of being judged."
So far she has published three anthologies and she shows no signs of stopping anytime soon.
She published her first anthology in 2020 titled Emotional Evolution and her second Sahara Rose was published in 2021, while Under My Skin is her recent one. She is currently working on her fourth anthology and a novel too.
At 70, Pikitayi The Poet has a rare deep love for poetry driven by life experiences and her desire to share what she observed around the world.
"Life's experiences keep me going. I have so much to share from local and international interactions I had through my travels. I love poetry because of its sophistication which challenges my mind. I prefer poetic language to disseminate my message.
"I love poetry because it gives me the ability to express myself in a creative and artistic manner which gives open or hidden meanings in the messages. Poetry speaks to me in a way that challenges my thinking," she explained.
She added: "I find poetry to be more expressive as it brings multi-dimensions in its language. Sometimes you say little yet say so much or you say so much, but saying very little. Another reason why I chose poetry was to share information which nurtures the youth and the old in life skills."
Pikitayi The Poet's wish is to leave a legacy in written poems to nurture ubuntu and also to entertain through constructive means.
Follow us on Twitter @NewsDayZimbabwe
Related Topics