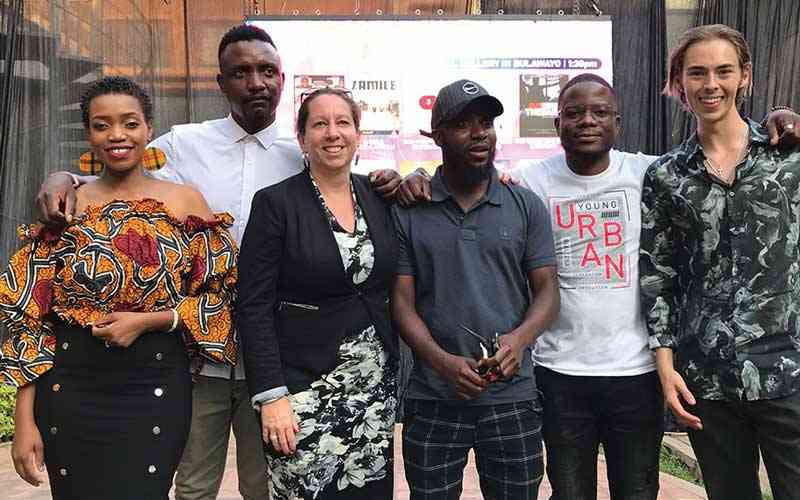 LOCAL filmmakers and actors have cried out for more financial support from various stakeholders to improve the local television and film industry.
The call was made by creatives last week when they converged at the European Film Festival held at Bulawayo Art Gallery.
The local film industry has enormous potential to contribute to the country's gross domestic product, but has been suffocating from underfunding and national incapacitation for decades, they said.
In an effort to revitalise and expand the country's television and film industry, the Youth, Sport, Arts and Recreation ministry in June launched the Unesco African Film Industry report. The report highlights several issues, including the potential revenue and jobs that can be generated from the sector if it is taken seriously.
Among the attendees at the festival was veteran television actor Precious Makhulumo famed for her role on Amakorokoza; The Signal director Daniel Lasker, Amanxaba's Alex Marowa, rapper ASAPH and Skyz Metro FM's DJ Donna N.
Makhulumo says her heart breaks whenever she considers the state of affairs of the acting industry.
"When we began 20 years ago, we would knock at every company and say can you please sponsor Amakorokoza, because that is what the late Cont Mhlanga was telling us to do. It was ok because at that time the economy was not in shambles," she recalls.
"We wish they could just come in and support us financially, maybe we should have a day where we sit down and have dialogue with them (industry stakeholders) as artists and explain what we go through."
Makhulumo notes that passion has been the only driving force that kept her going in the industry.
"I am diabetic, and I have a heart problem and all that needs expensive medication every month. My husband pays for that because I have no regular job. I am an actress, and I cannot do anything else. Yes, I may sell tomatoes here and there, but my passion is acting, and I think of nothing else when I am off set," she said.
"I have been doing this (acting) for 20 years and I have got to have something to show for it, but nevertheless, I cannot let my dream die."
In support, Lasker said at some point he also had to rely on personal resources.
"For my first film I used what I had, I used my cellphone and I spoke to my friends and convinced them to be part of my production. Little by little, I got bigger and better as an artist until corporates started funding my films in Zimbabwe and outside the country," he noted.
The award-winning Donna N said there was a lot of potential in Zimbabwe as far as talent was concerned, adding that the industry should be commercialised to empower actors.
One of the festival curators, Roberta Wagner said they were happy to be showcasing Europe to Zimbabwe post-COVID-19 pandemic.
"These productions are so amazing, and they will fly internationally. We are growing and reflecting the local industry. Next week (this week) we are off to Harare," Wagner said.
More than 40 films were submitted for this year's edition of the festival and the top four winners from Zimbabwe were Basket Weaving in Binga for Best Documentary, Exodus for Best Sound Editing, Chingwa for Best Narrative and Eruption for Best Diaspora production.
Follow us on Twitter @NewsDayZimbabwe
Related Topics