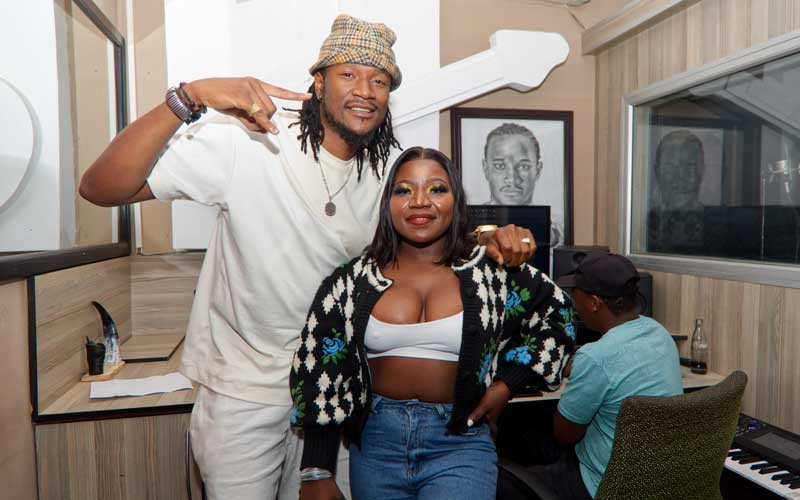 WHAT started off as social media banter between two music heavyweights separated by the Limpopo River has resulted in another duet which has the potential of being one of the best hits of the year.
About six months ago, South African music sensation Makhadzi flew to Harare for a performance at the inaugural JamAfro Festival at Alex Sport Club in the capital.
In a post on her official Facebook page after the performance, Makhadzi said she was ready for another studio joint effort with Jah Prayzah, born Mukudzei Mukombe.
"I owe you a song and I am in Zimbabwe, what do you think?" she said.
In response, Jah Prayzah said Makhadzi's call was irresistible.
"You know I believe in your vibe always. Let's create more magic. Studio has been cleared for you today," he said then.
Days later, pictures of Makhadzi and Jah Prayzah in the studio emerged but fans had to wait patiently for almost half a year to know what was brewed at JP Studios owned by the Kutonga Kwaro hitmaker.
Finally, on Wednesday, the meal was saved as Jah Prayzah and Makhadzi's fans got something to smile about after the release of Dzima, the duo's latest single.
The song, produced by Rodney Beats at JP Studios in Harare, follows the earlier successful release of Makokovha a duet by the two stars found on the Mzansi songbird's Muya Wanga album released in 2020.
What a timely release, the latest song will be performed live for the first time for the duo's fans when they share the stage at the Makhadzi & Jah Prayzah Live in Kadoma concert tomorrow at Odyssey Lodge.
The multi-award-winning Mzansi singer born Ndivhunzannyi Ralivhona makes a return to Zimbabwe to stage her maiden performance in the mining town of Kadoma, courtesy of 2 Kings Entertainment.
"Jah Prayzah + MAKHADZI. (Dzima) is available https://youtu.be/u2crGFk9r4M. We will perform it for the first time in Zimbambwe in Kadoma!! ," Makhadzi posted on Wednesday on her social media page.
On the song, Jah Prayzah, as usual embraced his mother tongue through the use of deep Shona proverbs and interestingly Makhadzi also sang few lines in Shona.
He talks about how men in the African culture are expected to help each other, however, before endeavouring to do anything, he notes that one should scrutinise the situation before getting into a mess.
Makhadzi opens her verse on the song in her native language as she sings about being troubled such that she needs a helping hand.
The two artsites on either side of the Limpopo made the track authentic with the potential of becoming an African hit as both their vocals give a smooth connection to the Afro-house beat.
Within 12 hours of its release, the song had already garnered 60 000 views on YouTube.
In an interview with NewsDay Life & Style yesterday, Jah Prayzah's manager, Keen Mushapaidze, said they recorded the song during Makhadzi's last visit to Zimbabwe.
"Our latest song with Makhadzi is about having fun, depending on how people interpret the music, to some it might come out as a bit naughty, well at least so we heard from some who listened to it," Mushapaidze explained.
Only time will tell whether Jah Prayzah and Makhadzi will or will not record the song's video.
"No solid plans yet to record Dzima's video, but time will tell. For now, we are concentrating on pushing just the audio which is performing well. Getting more than 100K views in 17 hours on YouTube is a big milestone," Mushapaidze noted.
He said they looked forward to performing the song at the Makhadzi & Jah Prayzah Live in Kadoma concert, promising revellers an amazing time as they have prepared well for the show.
"We will rehearse the song before the event (Makhadzi & Jah Prayzah Live in Kadoma concert) and hopefully the audience in Kadoma can get to enjoy witnessing the song being performed for the first time by the two superstars," he said.
Apart from Jah Prayzah, the concert organisers have roped in urban groover EXQ, songstress Marceline "Marcy" Janyure, dendera musician-cum-preacher Charles Pintec and DJ Lroy for a potentially explosive show.
One of the concert co-ordinators Dee Nosh said the stage was set for the concert, urging fans to come in their numbers.
"Everything for the Makhadzi & Jah Prayzah Live in Kadoma concert is set. Tickets for the show are pegged at US$15 and US$30 for the standard and VIP tickets, respectively.
"Tickets that are in different packages are available at Odyssey Lodge in Kadoma, selected Booties pharmacies and Coloursel Furniture shops," he said.
"There is a limited number of golden tickets for the show that come with two VIP tickets plus accommodation for two at US$150. It must be clear that the availability and where one wishes to stay will be determined on a first-come first-served basis."
Related Topics