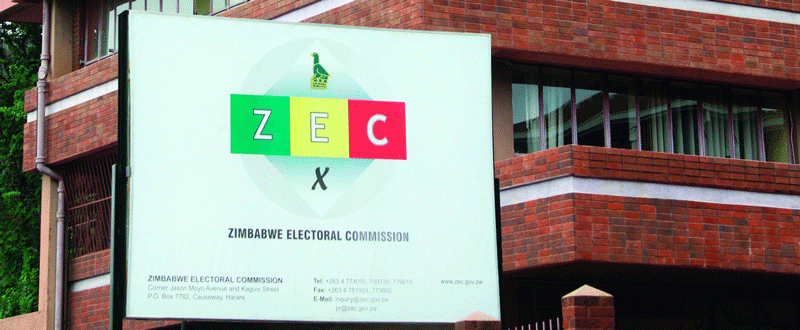 THE Zimbabwe Election Support Network (ZESN) expresses concern over the scope of the proposed changes that are contained in the recently gazetted Electoral Amendment Bill.
The gazetted Bill which seeks to amend the Electoral Act [Chapter 2:13] proposes the removal of the driver's licence as proof of identity for electoral purposes; seeks to disqualify previously convicted persons from contesting in elections and provides a timeframe (21 days) when a candidate may withdraw from contesting in a National Assembly or local authority elections.
The Bill also provides for the incorporation of the youth quota in the National Assembly and the women's quota in local authorities which are both products of the Constitution of Zimbabwe Amendment (No. 2) Act, 2019.
ZESN believes that the Bill addresses nominal and administrative reforms while ignoring pertinent reforms that may have a direct bearing on the transparency and credibility of elections in Zimbabwe.
For instance, the removal of a driver's licence as proof of identity is purely nominal as the Zimbabwe Electoral Commission (ZEC) has always declined it as proof of identity for election purposes for example during voter registration and voting.
ZESN is irked by the fact that the Electoral Amendment Bill is silent and does not address some of the key principles of electoral systems and processes on the conduct and management of credible, peaceful, free and fair elections as enshrined under Section 155 of the Constitution. Section 155 (2) of the Constitution states that: "The State must take all appropriate measures, including legislative measures to ensure that effect is given to the principles set out in subsection (1)."
These principles include peaceful, free and fair elections, conducted by secret ballot, based on universal adult suffrage and equality of votes, which are free from violence and other electoral malpractices. Further, ZESN is concerned by the lowering of Constitutional standards as elaborated in the recently gazetted Electoral Bill.
The Bill creates a ceiling of 30% of women councillors as part of the quota system for women's representation. However, this does not represent the fullness of the Constitutional Amendment (No. 2) provision which seeks to create a minimum threshold for women in local government at 30% on a ward basis through a Proportional Representation.
The Bill further violates the Constitution as it contains a proviso which will result in the decrease of the women's quota percentage when a political party fails to present a full list of candidates for the local authority women's quota. The provision makes women losers for their political parties' negligence, maladministration or incompetence. -ZESN
No excuse for child abuse
I write this letter out of frustration at the lack of an established national child sexual prevention program in this country.
While I am not pointing any finger at any individual, entity, government, or organisation, the need for such a programme is long overdue. As a country, just recently, we have witnessed two cases, that of a nine-year girl from Masekesa village in Tsholotsho who gave birth to a baby boy after having been allegedly raped by a close relative, while another nine-year old-girl from Bindura is reported to be six months pregnant after being raped by two 17-year-old brothers. This is disheartening to see the rate of abuse being faced by these minors.
This fight is not only about today's children, but the future generation.
It is about protecting all children. It is about safeguarding families. And building more healthier communities where all children can thrive.
We must continue the fight for justice for these girls. We cannot rest on our laurels.
The welfare of our children in this country is paramount. And the impact of unresolved childhood traumas, brokenness, and despair is insurmountable. We need everyone on board in this fight.
Today I stand with every advocate who came before me and stand beside those who continue to fight. I know this is a difficult topic to discuss and extremely sensitive in nature. But, if not now when? -Disgruntled
Zim celebrates World Children's Day
ZIMBABWE Human Rights Commission joins the Government of Zimbabwe (GoZ) and the rest of the world in celebrating World Children's Day (WCD). WCD is commemorated globally each year on November 20 to celebrate the adoption on November 20,1959 Declaration of the Rights of the Child by the United Nations General Assembly.
The Declaration of the Rights of the Child was later transformed into the United Nations Convention on the Rights of the Child (UNCRC) in 1989 making it an international treaty on childhood. The UNCRC sets out the civil, political, economic, social, health and cultural rights of children.
It is the most widely ratified human rights treaty indicative of the commitment by world leaders to ensure that all the encompassing rights of children are promoted, protected and fulfilled. World leaders put emphasis on the fact that children are individuals with their own rights, and with the capacity to think for themselves.
The Convention makes it clear that childhood is separate from adulthood and lasts until a person attains 18 years. During childhood, a person is entitled to protection, should be allowed to grow, learn, develop and flourish with dignity.
The 2022 theme for the WCD commemorations is A Better Future for Every Child. The theme entails inclusion of all children and urges duty bearers to advocate, celebrate and promote children's rights to secure better future of every child. The future of every child canbe secured by ensuring that their rights to life, survival and development are fully enjoyed.
Survival encompasses fulfilment of children's rights to health, nutrition and social protection among others. The right to development encompasses education, which brings both physical and mental development.
The right to education should be accessible to all children, no matter their status. Global changes, like the rise of digital technology, environmental change, prolonged conflict and mass migration are also issues that are changing childhood. Today's children face new threats to their rights, but they also have new opportunities to realise their rights.
The GoZ ratified the UNCRC in 1990 and went further to domesticate it through Section 81 of the Constitution on the rights of children, and other child protection laws and policies. The Commission applauds the GoZ for the enactment of Marriages Act [Chapter 5:15] which has harmonised all marriage laws in Zimbabwe and prohibits child marriages by setting 18 years as the minimum age for all marriages. The GoZ also amended the Guardianship of Minors Act. -ZHRC
Related Topics