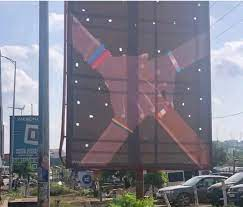 A giant billboard mounted in Ghana's capital, Accra, to mark pride month – to celebrate lesbian, gay, bisexual, transgender and queer communities – has been pulled down.
The sign had gone up over the weekend on the N1 Tema motorway, a major highway in the city, according to media reports.
But some MPs objected to it, giving the head of police a 24-hour ultimatum to remove it.
It is still unclear who actually removed the billboard.
Gay sex is punishable in the West African nation with a prison term of three years.
A local journalist has tweeted a picture of the sign:
LGBTQIA+ billboard on Tema N1 Motorway removed after Sam George's press conference earlier today. #LGBTQI pic.twitter.com/hUvdNldlC3
— Community Journalist (@Teye_Kojo) June 9, 2022
Ghana MP Sam George confirmed in a tweet on Thursday evening that the billboard had been removed.
"We salute the authorities for their swift response. We are a country of laws and would fight till the end to protect our cultural sovereignty," he said.
"We can get results from the authorities if we unite and collectively demand the changes we desire. True power belongs to the people. The billboard has fall 'frat'. Power to our cultural sovereignty," he added.
Ghana's parliament has been debating a bill that proposes to impose harsh penalties on the LGBT community.
Rights groups say the bill is the "worst homophobic document ever". -BBC
Related Topics