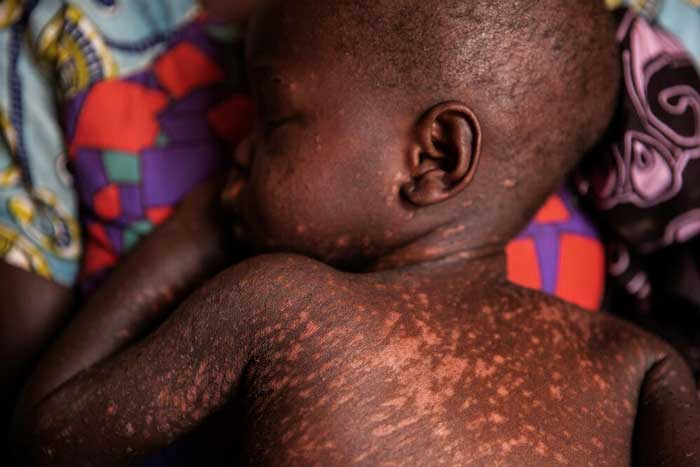 Dr Johannes Marisa Measles is a highly contagious viral disease which remains an important cause of death among young children globally despite the availability of a safe and effective vaccine. The virus is a Millivirus that is found in the nose and throat mucus and it spreads through coughing and sneezing.
Vaccination has drastically reduced global measles deaths — a 73% drop between 2000 and 2018 worldwide, measles is still common in many developing countries, particularly in parts of Africa and Asia.
More than 140 000 people died of measles in 2018. The overwhelming majority of those who die of measles are from countries with low per capita incomes and weak health infrastructures. Countries that top measles outbreaks in the world include Nigeria, India, Pakistan, Liberia, Ethiopia, Afghanistan, DRC, Indonesia and Ivory Coast.
The World Health Organisation raised an alarm last April about Africa having an implosion of preventable diseases due to delays in vaccination. Measles cases jumped by at least 400%.
The cumulative number of measles cases in Zimbabwe has risen to 2056 as per August 15 with mortality being put at least 157 deaths since April 2022, a figure that sends chills along our spines. It is unfortunate that many kids are succumbing to the viral disease when the country has done all it can to contain the virus.
Although Covid-19 slowed anti-measles campaigns between 2020 and early 2022, our country remained on high alert to contain the dreaded measles. The immunisation programs never stopped even during the hot peaks of the Covid-19 pandemics.
The world has to remain alert about measles which can present with high fever, cough, runny nose, red watery eyes, a rash that usually starts as flat red spots that appear on the face at the hairline and spread to the neck, trunk, arms, legs and feet.
These symptoms and signs usually appear from between seven to 14 days after exposure to the virus. The white spots (Koplik spots) may appear inside the mouth two to three days after the first symptoms appear. This calls for vigilance from everyone in the country if we are to successfully stem the viral disease. Complications are more in those below five years of age and those that are above the age of 20 years.
Zimbabwe should not relax in the face of the outbreak of the viral disease that is still threatening many children. The unvaccinated children are at higher risk if the spread is not contained. Many factors seem to be behind the sluggish uptake of the measles vaccines despite all the efforts that government is putting to tackle further spread of measles.
Anti-disease campaigners have faced challenges when dealing with some religious sects that do not believe in Western medicines which they see as taboo to their survival. This seems calamitous considering the need to fight contemporary health issues that are threatening the global village.
Many public health practitioners are blaming the Apostolic sect that prohibits members from seeking medical care hence children become vulnerable. The country needs to protect the health of its citizens and many measures can be taken in order to smoothen processes that deal with health service delivery. The following measures can be taken if we are to expedite the vaccination drive:
More resources should be channelled towards accelerated measles vaccinations for the involved healthcare workers, acquiring, storage and transportation of the vaccines. Shortages of the vaccines should never be tolerated.
Engaging traditional and faith leaders in order to garner their support in the vaccination drive. Most of the seriously affected children are unvaccinated children. Special attention should be given to the Apostolic sect where vigorous health education should be done. No one should skip the measles vaccinations if the country is to be successful. The complications that arise from measles are frightening and these can include blindness, pneumonia, encephalitis, ear infections, severe diarrhea, vomiting and resultant dehydration.
A special legislation can be enacted to make it mandatory for every child to be vaccinated against all the documented killer diseases that are in the country. This measure will surely stimulate or coerce parents or guardians to take their children for vaccinations.
It should be sooner than later when action is taken to contain the measles outbreak as we may lose many children in the coming few days. Encourage all unvaccinated babies to get the measles immunisations if they are due for them. Case management should be robust to avoid complications.
Related Topics